So, this is a weird one. Jim Harbaugh's future is hanging in the balance as the Early Signing Period approaches on Wednesday. Though most of the current commitments will sign with Michigan early, if a coaching change happens, we'll be back here with a different looking Final BGRC ahead of National Signing Day in February as some recruits will likely look for a new opportunity and some new names will be added.
But until something changes, we'll act as if the reports are correct and it's more likely than not that Harbaugh returns with a much different looking coaching staff. That means he'll need to keep this class intact and, according to the latest reports, he may do just that.
See how it could all come together:
Class Size:

There is likely going to be a lot of attrition this offseason. Not only is a bad season, questions surrounding the coaching staff, and the new on-time free transfer weighing in here but add in a very tough COVID riddled year, and don't be surprised to see plenty of players leave their current programs. That's at Michigan and pretty much any other school.
That being said, this class has always looked like a full 25 man class but as momentum slowed, this class may finish around 22-23 spots so there's more room for transfers.

Class Attrition:

WR Markus Allen and LB Casey Phinney have already left the class and more could be on the way. DE/LB Branden Jennings has had a couple of of Maryland Crystal Ball predictions come in while WR Xavier Worthy will be announcing his final decision between Alabam and Michigan on the 16th, not to mention LB Jaydon Hood and CB Ja'Den McBurrows are flip candidates. Other names could potentially not sign early and leave before NSD as well. Stay tuned.

Chances Key:

Excellent – Top Team/Favorite to Land
Very Good – Top Three/Realistic Possibility
Good – Top Five/In the Running
Fair – Puncher's Chance/Questionable Take
Check out my fourth 2021 Best Guess Michigan Football Recruiting Class Prediction:
1. QB JJ McCarthy, 6'3″ 195lbs. La Grange Park, IL (IMG Academy)
The leader of the class has made it well known that he's signing with Michigan on Wednesday and will continue to lead this class to the finish line. But even more may be expected out of the five-star signal-caller as he'll be the fan favorite to start game one in 2021.
Commitment Date: 5/11/19
Composite Ranking: Five-star, #22 Overall, #2 Pro-QB, #7 in Florida
2. RB Tavierre Dunlap, 6'0" 195lbs. Del Valle, TX (Del Valle)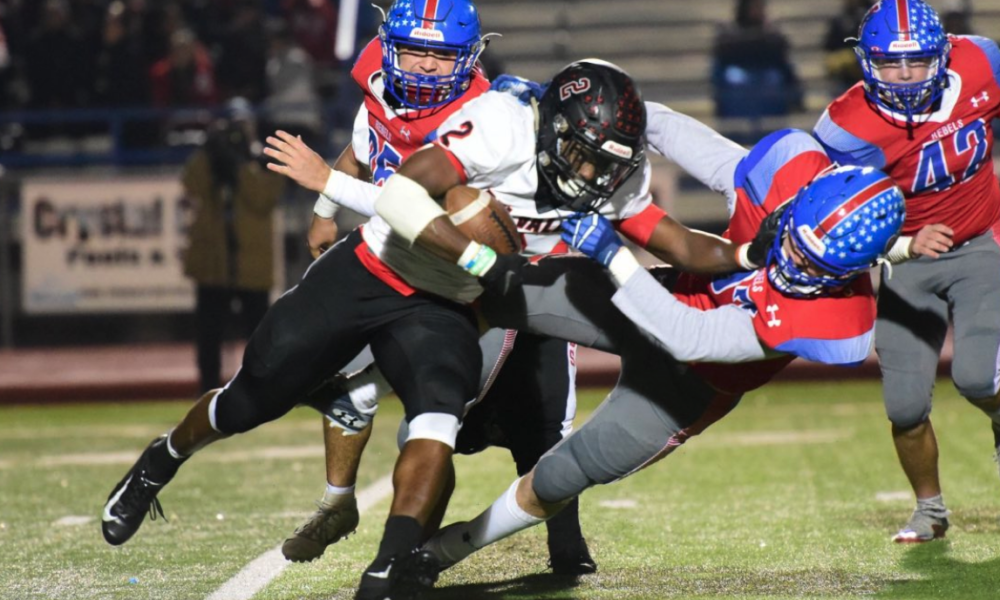 The talented Texan joined the class in September, giving Michigan its first 2021 running back and a commit that continues to get overlooked. According to TMI's Brice Marich, the coaching staff had a virtual in-home visit with Dunlap ahead of the Early Signing Period. There hasn't been any noise about him not sticking with Michigan, I'd be a little surprised if he didn't sign on Wednesday.
Commitment Date: 9/12/20
Composite Ranking: Three-star, #402 Overall, #19 RB, #56 in Texas
3. RB Donovan Edwards, 5'11" 195lbs. West Bloomfield, MI (West Bloomfield)
The pessimistic fans will say there is no way a top-50 talent like Edwards would sign with Michigan with all of the questions surrounding Jim Harbaugh's future and the lack of productivity at the position in 2020. However, those people forget recruits are not beaten down fans. They look at schools and coaching staffs in a very different way, and that's what Edwards is doing. With an announcement plan now in place for Wednesday, all Crystal Ball predictions and 93% of FutureCast predictions are still riding with the Wolverines. It won't be over until that ink is dry and Georgia has been a threat throughout but even with all the uncertainty in Ann Arbor, I'd still be a little surprised if it were anyone but Michigan for Edwards.
Offer: Yes
Visit: Yes
Michigan's Chances: Excellent
Composite Ranking: Four-star, #44 Overall, #4 RB, #2 in Michigan
Rivals FutureCast: Michigan
Crystal Ball Favorite: Michigan
Other Options: None
4. WR Cristian Dixon, 6'2" 190lbs. Santa Ana, CA (Mater Dei)
Dixon is a guy that became a common visitor to campus during the season as he made the trek multiple times across the country with his mom to see Ann Arbor. Things have gone pretty quiet around him heading into the Early Signing Period but he was purely positive even after Michigan's 2020 season struggles. This would be another shocker if he didn't sign with the Wolverines.
Commitment Date: 6/25/20
Composite Ranking: Four-star, #222 Overall, #38 WR, #21 in California
5. WR Xavier Worthy, 6'1" 165lbs. Fresno, CA (Central East)
Along with Donovan Edwards, all eyes will be on Worthy as the Michigan commit will be announcing his final decision between the Wolverines or Alabama Crimson Tide. Yeah, it only kinda makes sense. He made a visit down to Tuscaloosa in late November and clearly was impacted by that trip and Michigan's struggles. You'd think that he'd obviously be picking Alabama but he's still extremely close with Josh Gattis and loves Michigan. Is that enough? What is Gattis is gone after this year? The Wolverine's EJ Holland reported that Alabama's side has been losing confidence in the flip though you can never fully count out the Crimson Tide ($). I have no idea which way this will go but with no definitive noise about him choosing Alabama at this point and Tide insiders feeling he sticks with Michigan, I'm leaning with him signing with Michigan. We'll see if anything changes between now and Wednesday at 4pm EST.
Commitment Date: 6/10/20
Composite Ranking: Four-star, #76 Overall, #12 WR, #7 in California
6. WR Andrel Anthony, 6'2" 175lbs. East Lansing, MI (East Lansing)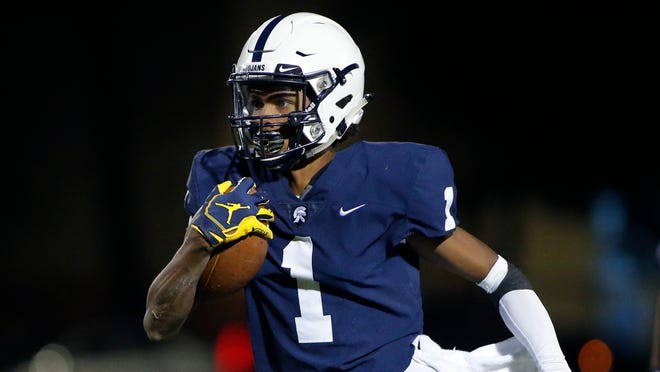 Out of the three wide receiver commits, Anthony is the only one to ensure his signing on Wednesday as the in-stater will look to enroll early and try to make an immediate impact for a receiving corps in need of some bigger receiving options.
Commitment Date: 7/31/20
Composite Ranking: Three-star, #523 Overall, #81 WR, #14 in Michigan
7. TE Louis Hansen, 6'5" 225lbs. Needham, MA (St. Sebastian's)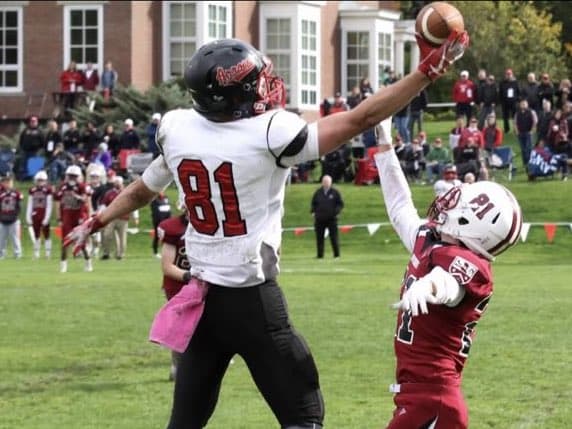 Hansen is going to be the only tight end in this class and that should be just fine. He's a stud prospect that continues to grow into a well-rounded tight end and will look to push for playing time by the time he arrives on campus.
Commitment Date: 4/2/20
Composite Ranking: Four-star, #257 Overall, #11 TE, #2 in Massachusetts
8. OT Willie Allen, 6'7" 340lbs. New Orleans, LA (Louisiana Tech)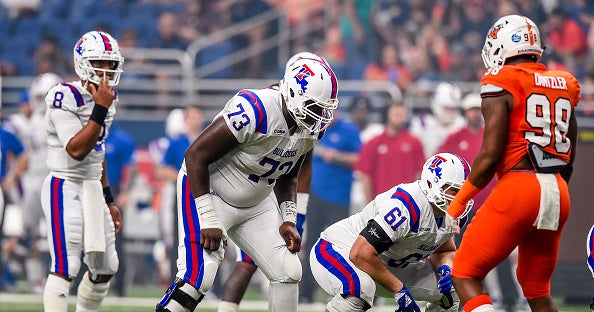 Now, Allen isn't a 2021 recruit but is eligible to play in 2021, so he's on the list. It's also because he's clearly that tackle prospect the staff wanted to bring in next year whether it be in this recruiting class or through the transfer portal. The former top 100 prospect in the 2016 class should be a favorite to replace Jalen Mayfield if/when he heads to the NFL Draft following the 2020 season.
Commitment Date: 10/15/20
2016 Composite Ranking: Four-star, #183 Overall, #17 OT, #11 in Louisiana
9. OT Tristan Bounds, 6'8" 285lbs. Wallingford, CT (Choate Rosemary Hall)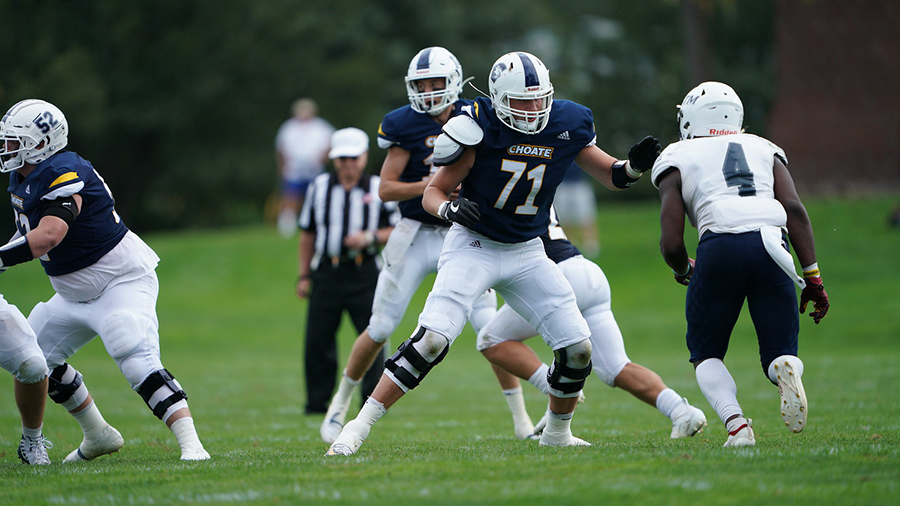 Bounds is one of the biggest projects in this class both literally and figuratively. With that frame and athletic level, he's got the chance to be a stud tackle for Michigan. He still needs to add more size and strength but that'll come as he gets into a college weight and nutrition program. He's fully committed and will sign with the Wolverines on Wednesday.
Commitment Date: 6/1/20
Composite Ranking: Three-star, #416 Overall, #35 OT, #2 in Connecticut
10. OL Giovanni El-Hadi, 6'5" 305lbs. Sterling Heights, MI (Adlai Stevenson)
El-Hadi was the first commit of the class and has been as steady of a commitment as you could ask for. He's also continued to live up to his early lofty rankings. Will he stick on the outside at tackle or will he end up moving to guard? He's a legit prospect up and down the offensive line but could slide inside in college, which will be at Michigan as he's never been a candidate to flip.
Commitment Date: 4/19/19
Composite Ranking: Four-star, #85 Overall, #12 OT, #4 in Michigan
11. G/C Greg Crippen, 6'4" 285lbs. Milton, MA (IMG Academy)
Crippen was a longtime top target for Ed Warinner and Michigan that they're thought they lost to Notre Dame throughout 2019 before he eventually flipped between the two blue bloods and committed to the Wolverines just a couple of weeks after leaving the Fighting Irish in March of 2020. Whether he ends up at center or guard, he has the potential to be a multi-year starter for Michigan.
Commitment Date: 3/25/20
Composite Ranking: Four-star, #254 Overall, #5 OC, #36 in Florida
12. C/G Raheem Anderson, 6'3" 300lbs. Detroit, MI (Cass Tech)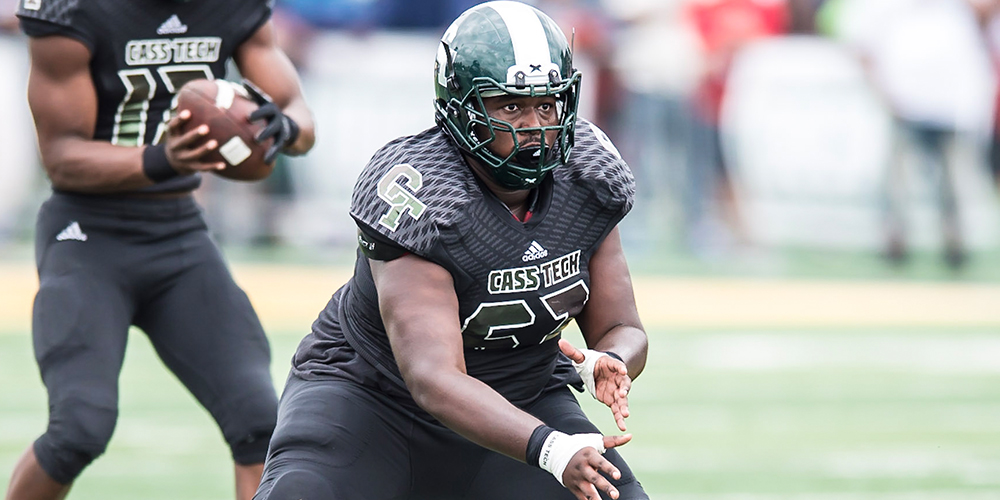 Like Crippen, Anderson has the ability to play either guard or center position. There is room opening at both center and guard so it may just be where he fits best. But either way, he's a guy I believe has a very high ceiling and could be another top lineman and future NFL draft pick. He's been all Michigan and solidified his standing as he'll sign on Wednesday.
Commitment Date: 4/12/20
Composite Ranking: Four-star, #211 Overall, #2 OC, #7 in Michigan
13. DT Dominick Giudice, 6'4" 275lbs. Freehold, NJ (Mater Dei)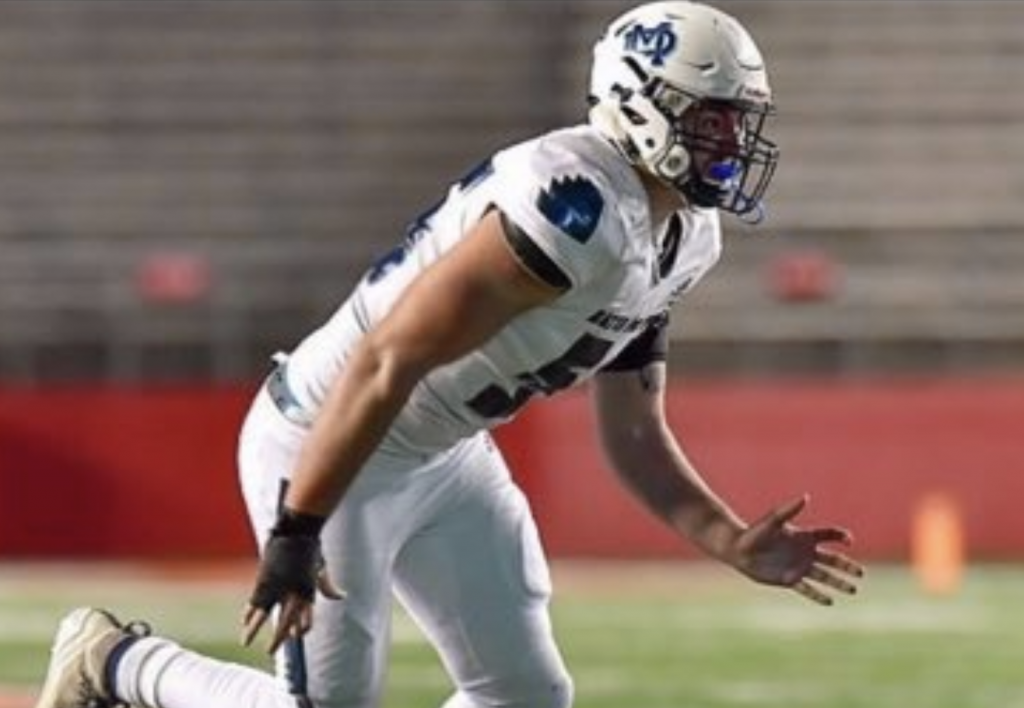 Giudice has put on a lot of good size and weight since he committed back in March. Once a defensive end, he's now well on his way to starting his college career at defensive tackle. The quick-twitch and violent hands are still there. Though he's the lowest-ranked name on the commitment list, I believe he'll outplay his ranking during his college career. And even with Don Brown's likely departure, all signs point to him signing on Wednesday.
Commitment Date: 3/25/20
Composite Ranking: Three-star, #1982 Overall, #100 WDE, #42 in New Jersey
14. DL TJ Guy, 6'4" 240lbs. Mansfield, MA (Mansfield)
Guy is a defensive end with the frame to move inside which makes him a valuable piece of this recruiting class. So, it's a good thing he's confirmed his commitment and announced that he'll be signing with the Wolverines on Wednesday.
Commitment Date: 4/17/20
Composite Ranking: Three-star, #925 Overall, #49 WDE, #6 in Massachusetts
15. DE Quintin Somerville, 6'1" 235lbs. Scottsdale, AZ (Saguaro)
Somerville was part of that commitment run over the summer and hasn't wavered since. Though there are questions surrounding the entire coaching staff, including DL coach Shaun Nua who has the closest connection to Somerville, he's confirmed that he's fully committed to the Wolverines and will sign on Wednesday before enrolling early.
Commitment Date: 6/20/20
Composite Ranking: Four-star, #220 Overall, #16 SDE, #4 in Arizona
16. EDGE Kechaun Bennett, 6'4" 225lbs. Suffield, CT (Suffield Academy)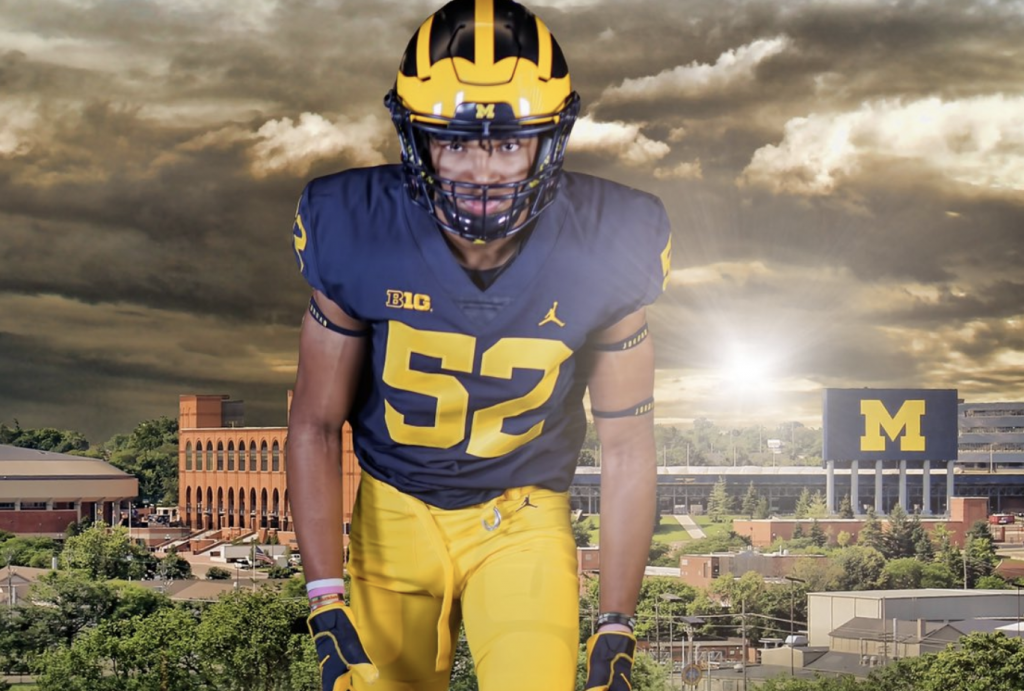 Getting good pass rushers is always a goal of any coaching staff in a recruiting class and Bennett is one of the best the Northeast region has to offer. He has the athleticism to stand up or have his hand in the dirt. Either way, his pass-rushing ability will have him fighting for playing time early on for a new-look defense.
Commitment Date: 5/27/20
Composite Ranking: Four-star, #347 Overall, #22 SDE, #1 in Connecticut
17. LB Tyler McLaurin, 6'2" 215lbs. Bolingbrook, IL (Bolingbrook)
McLaurin has been a solid commitment since the day he joined the class back in May. He's another long, versatile linebacker that could play multiple spots in the defense. We'll see where he fits in Michigan's new look defense in 2021 and beyond.
Commitment Date: 5/9/20
Composite Ranking: Three-star, #494 Overall, #30 OLB, #12 in Illinois
18. ILB Jaydon Hood, 6'1" 215lbs. Fort Lauderdale, FL (St. Thomas Aquinas)
Hood is a really tough call. He's been committed to Michigan since May but has been getting plenty of attention from other schools throughout that time, especially Miami and Minnesota. According to multiple reports, the local Hurricanes continue to make a push and with so many questions on the Wolverines coaching staff, this is one to watch closely. Per TMI's Sam Webb, he's not expected to sign until February ($) so if he holds to that plan, expect the staff to put plenty of focus on him over the next two months. I'll lean into keeping him on the list but this may come down to who stays and who goes on the coaching staff.
Commitment Date: 5/25/20
Composite Ranking: Four-star, #297 Overall, #12 ILB, #48 in Florida
19. LB Junior Colson, 6'2" 225lbs. Brentwood, TN (Ravenwood)
Colson is one of the gems of this class and he's been all Michigan ever since his commitment. He'll also be signing on Wednesday. which is big for the class moral as he'd be one of the potential five top100 signees that could come during the Early Signing Period.
Commitment Date: 5/24/20
Composite Ranking: Four-star, #95 Overall, #5 OLB, #2 in Tennessee
20. FS Rod Moore, 5'11" 180lbs. Clayton, OH (Northmont)
Moore is Michigan's one and only commitment out of Ohio and though plenty of schools have continued to recruit him following his Michigan commitment back in May, including Notre Dame, Indiana, and Washington State, he's remained committed to Michigan and announced his plans to sign on Wednesday.
Commitment Date: 5/10/20
Composite Ranking: Three-star, #501 Overall, #37 S, #17 in Ohio
21. CB Ja'Den McBurrows, 5'10" 165lbs. Fort Lauderdale, FL (St. Thomas Aquinas)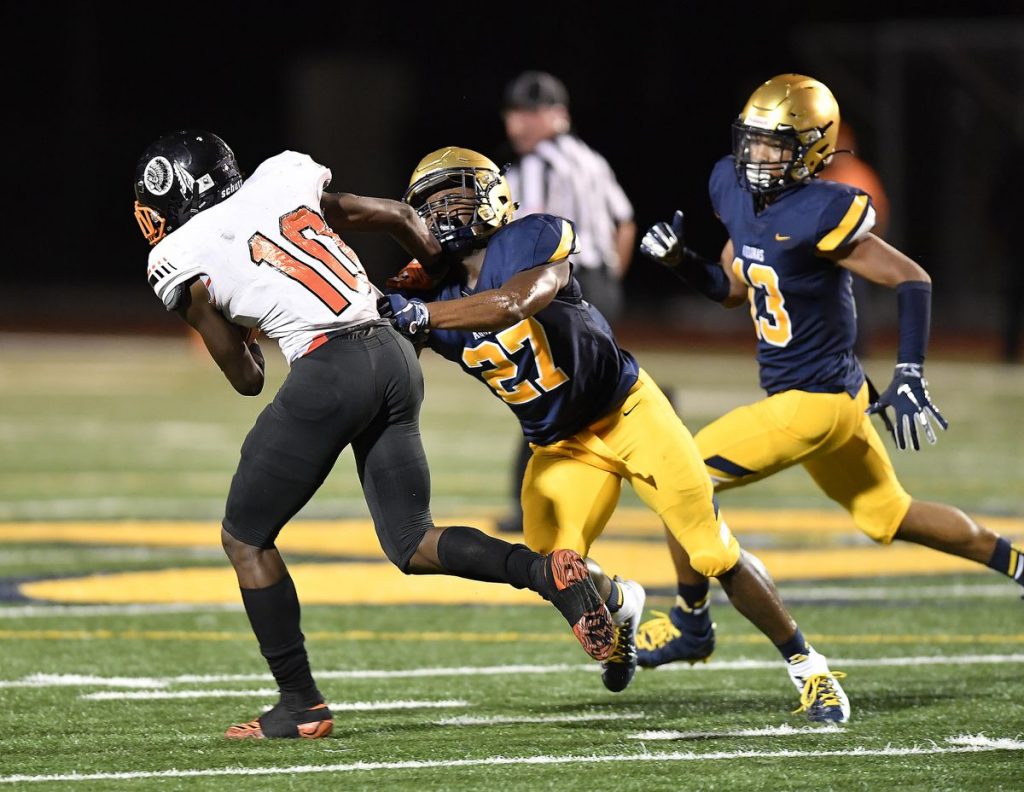 Like his teammate Jaydon Hood, Burrows is a big question mark for this class. He's been solid to Michigan since he committed but as the coaching staff questions continue to arise, nearby Miami is making a big push. The Wolverine's EJ Holland reported on Monday that he could see this going either way on Wednesday ($). Michigan really needs this win as McBurrows is the staff's only cornerback commitment in a class that needs cornerback commits. TMI's Sam Webb felt confident in Burrows as recent as Sunday, hearing the three-star corner is "locked in" ($). Will he stick with the Wolverines on Wednesday? I'm slightly leaning towards yes but this one will be one to pay close attention to tomorrow.
Commitment Date: 4/24/20
Composite Ranking: Three-star, #552 Overall, #43 CB, #79 in Florida
22. CB Omarion Cooper, 6'0" 170lbs. Lehigh Acres, FL (Lehigh)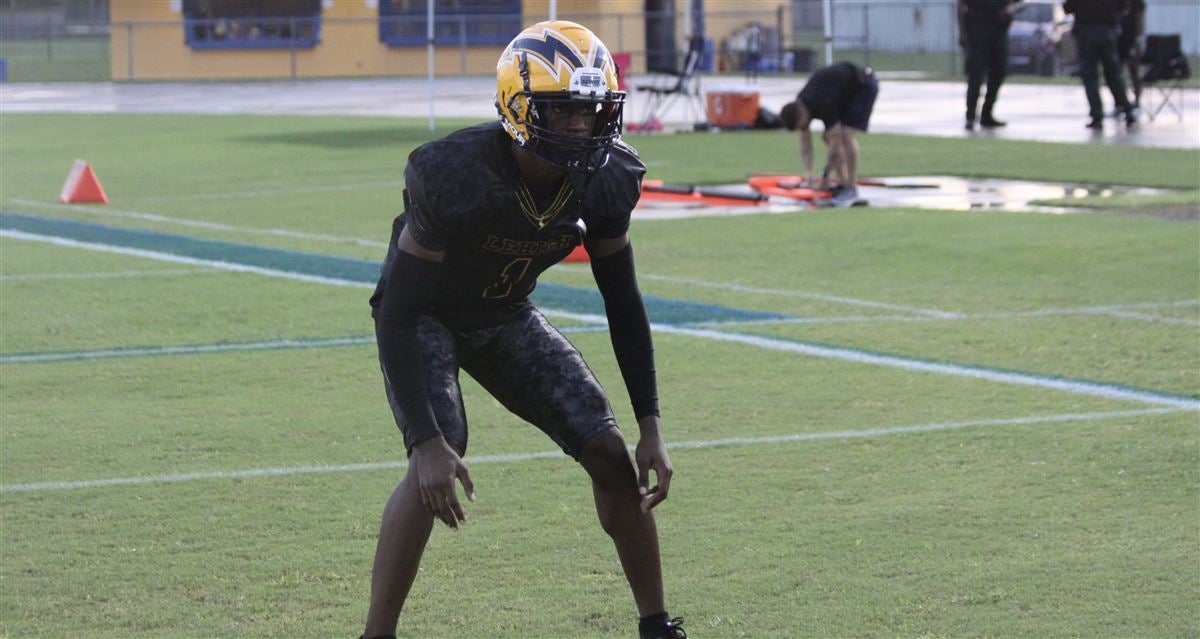 This could be a nice Signing Day surprise. Cooper has been a name to know for months now as the staff has been pushing to take two corners in this class. Though Cooper has been committed to Florida State since the summer, Michigan has been making plenty of headway here even during the rough 2020 season. A big reason has been CB coach Mike Zordich as well as his friendships with Michigan commit LB Branden Jennings. But what if Jennings ends up elsewhere? It may not matter as he's not expected to sign until February and Cooper is reportedly signing on Wednesday ($). And The Wolverines' EJ Holland believes this could be a nice signing day surprise flip for Michigan ($) though FSU remains confident ($). We'll see if some welcomed unexpected news drops on Wednesday.
Offer: Yes
Visit: No
Michigan's Chances: Very Good (Committed to Florida State)
Composite Ranking: Four-star, #280 Overall, #22 CB, #41 in Florida
Rivals FutureCast: Florida State
Crystal Ball Favorite: Florida State
Other Options: Ceyair Wright, Cameron Bergeron
23. P Tommy Doman, 6'3" 170lbs. West Bloomfield, MI (St. Mary's)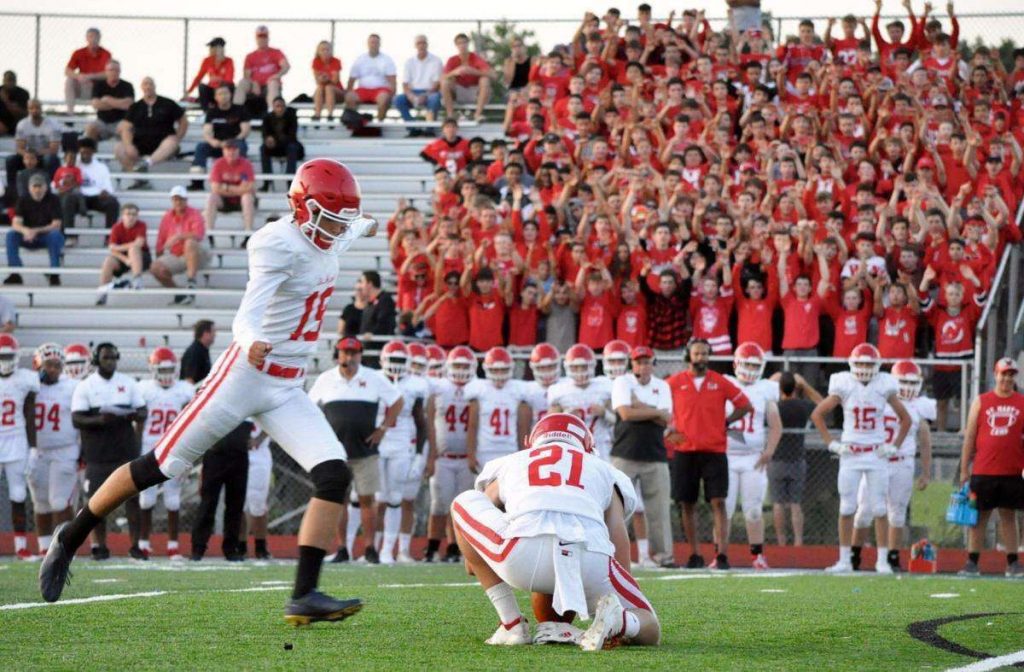 Doman is expected to sign on Wednesday and continues to prove to be one of, if not the, best punters in the country. He's also one of the immediate impact recruits in this class. Could he start his freshmen year? I wouldn't bet against it.
Commitment Date: 4/2/20
Composite Ranking: Three-star, #1735 Overall, #1 P, #54 in Michigan
Projected Class Score: 266.42 (per 247Sports)
If Michigan is able to keep Worthy, Hood and McBurrows, and add Edwards and Cooper (while also losing Jennings), it would likely solidify its spot as a top 10 class. Keeping Jennings would give the class a chance to finish closer to the top 5.
Just Missed
Photo Credit: Bryan Fuller/MGoBlog
Latest posts by Garrett Fishaw
(see all)