The 2016 class is in way in the past and the 2017 class is starting to become more and more of a focus for the Michigan staff as we get into the spring. Spring ball is going on which means plenty of visitors coming to campus throughout the month with a big list coming for the spring game and junior day on April 1st and 2nd, respectively, including some of the staff's top targets.
I wouldn't be shocked in the least bit to see a couple commitments during that weekend event.
Speaking of predicting commitments, on to my latest Best Guess Recruiting Class. I included 25 names on the list below though it looks like this class could end up anywhere between 21-26 commitments depending on attrition (which changed since the last time after several current players "saw the light"). So, I went right near the max since it's early and attrition is common place for every program.
It's still very early so this prediction is a shot in the dark. Don't take it too literally because we've seen how much things can change during a recruiting cycle. With that said, check out my latest 2017 Michigan football recruiting class prediction:
Chances Key
1. QB: Dylan McCaffrey, 6'5″ 205lbs. Littleton, CO (Valor)
Like most quarterback recruits, McCaffrey ended his recruitment pretty early in the process and it wasn't much of a surprise. From the day Michigan offered him, Michigan looked to be the perfect fit and the favorite. And even though most still had him pegged to follow his parents and brother Christian to Stanford, I included him in my first 2017 Best Guess Recruiting Class and never moved him off of it. Well, that confidence worked out as McCaffrey pulled the trigger out of the blue and announced his decision nearly a year after receiving his offer.
2. RB: Kurt Taylor, 5'8" 195lbs. Covington, GA (Newton) 
Taylor is a tough, stout, quicker than fast running back that loves contact. When you look at how built he is for a high school student (or anyone for that matter), you can see why he has no problem looking for defenders.Though he can also beat the defense with a quick first step, he has similar running style to former Wolverine, Mike Hart. His size actually helps him as he can get lost behind lineman and has a low center of gravity, which makes him very tough to bring down.
3. RB: Eno Benjamin, 5'10" 205lbs. Wylie, TX (Wylie East) 
Benjamin is one of the hottest names on the Michigan recruiting trail. Soon after landing his offer from the staff (an offer he was waiting on for quite some time) he didn't hide his love for the Wolverines. On top of sporting the Maize and Blue, he visited Ann Arbor and had a fantastic time. He admitted that he nearly committed during the trip but held off and remained patient. Well, after A2, he made his way to Iowa, his previous leader, and clearly had a great time as he said they remain his leader. It's still early and Michigan is firmly in this race. With the staff looking to add a versatile back like Benjamin in this class and the upcoming seasons likely playing a big role in his decision, I like UM's chances here.
4. SB: Bo Melton, 6'0" 180lbs. Egg Harbor City, NJ (Cedar Creek)
Though Melton has been pretty quiet on the recruiting trail (outside of picking up offers left and right), the New Jersey star may very well be a priority target for the staff. Not only is he a dynamic offensive weapon out of Ahmir Mitchell's high school but he also has the versatility to play both running back and slot receiver, similar to 2016 signee Chris Evans. Thanks to that fit and their early "in", I think the staff pushes for him throughout the cycle.
5. WR: Donovan Peoples-Jones, 6'2″ 175lbs. Detroit, MI (Cass Tech)
As the top target on the board and in the state, he'll likely be on this list until he completely removes Michigan from his list. And since that is unlikely to happen until he signs his agreement, here he is. With family ties to the University, familiarity with the staff and being able to see how big the passing game will be in Harbaugh's offense, I believe UM ends up keeping DPJ home and away from the rest of the nation's elite.
6. TE: Jimmy Jaggers, 6'4" 240lbs. Roseville, CA (Roseville)
Jaggers has been on this list from the beginning and continues to stay on it. He remains a top option for the staff and has been in contact with new offensive analyst Bam Richards recently. With so many other tight ends committed elsewhere, the staff may try to reel the California standout in during his next trip to campus, which is expected later this spring or summer.
7. TE: Carter Dunaway, 6'6" 225lbs. Bloomfield Hills, MI (Brother Rice)
The son of former Michigan tight end Craig Dunaway and brother of freshmen preferred walk-on Jack Dunaway, Carter was meant to end up in Maize and Blue. So, when he landed his offer from Harbaugh himself, it didn't take long for him to pull the trigger and become the first member of the 2017 class. While he's expected to be a tight end, some analysts believe he could end up at offensive tackle if he continues to grow.
8. OT: JaRaymond Hall, 6'5″ 255lbs. Oak Park, MI (Oak Park)
Hall is one of the most physically impressive recruits in the state but is also one of the most raw. He has that athleticism and size needed but is in need of more reps and coaching to be a top player at the collegiate level. At Michigan, he'll be able to work with one of the top offensive line coaches in the country in Tim Drevno and should grow into a nice player at the college level.
9. OT: Isaiah Wilson, 6'7" 322lbs. Brooklyn, NY (Poly Prep) 
Wilson has long been a top target for both the staff and fan base thanks to his talent level, high ranking and the fact that he named Michigan his leader multiple times in the past. While he's since gone back on having a leader, he made his first visit to Ann Arbor in February. If the staff continues to make him a priority (which they very likely will) and he sees the fit and early playing time in A2, UM should get their guy when he makes his decision.
10. OT: Tyler Beach, 6'6" 280lbs. Port Washington, WI (Port Washington)
Beach is the top offensive lineman and overall player in the state of Wisconsin, just like 2016 UM signee Ben Bredeson. And like Bredeson, Michigan looks to be in great shape here thanks to his brother. Bredeson's brother was a UM baseball commit while Beach's brother lives near Ann Arbor. Add in the staff's high need for offensive tackles and his first visit to campus going extremely well, Badger fans may be cussing out Harbaugh on the message boards once again.
11. OL: Tedarrell Slaton, 6'5" 341lbs. Ft Lauderdale, FL (American Heritage)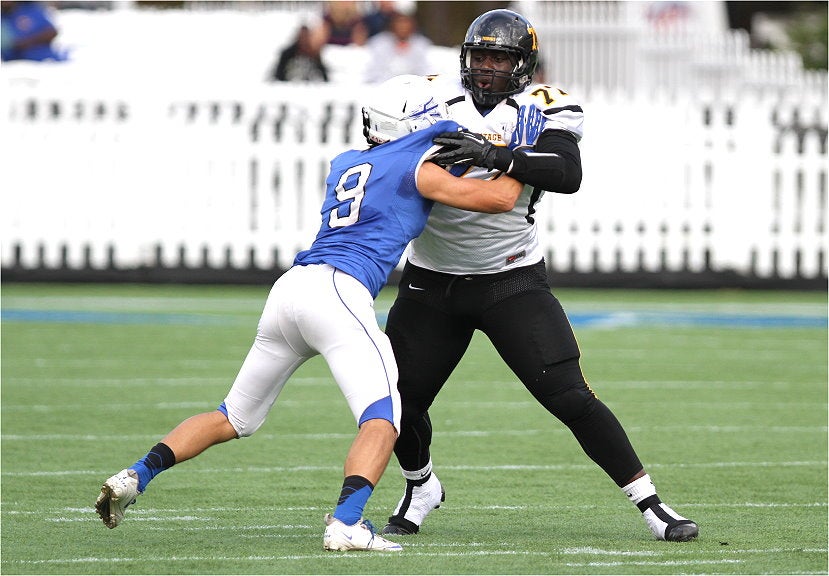 Slaton is another elite level player and lineman in this class that has named Michigan his leader multiple times in the past. And now with the staff having an in at American Heritage (2016 signee TE Nick Eubanks), UM will have an even better chance pulling Slaton out of the Sunshine State. He made a (secret?) visit to campus in February and admitted that UM is a "big contender". If the staff continues to push for him and can get him up to campus one or two more times, they should be in great shape.
12. OL: Robert Hainsey, 6'5" 280lbs. Monroeville, PA (IMG Academy)
Hainsey visited Ann Arbor for the Ohio State game and quickly became a top target for the staff. The B1G East rivals (PSU, MSU and OSU) look to be the biggest contenders for his commitment but thanks to Michigan's high need for lineman in this class, the staff's pursuit, his familiarity to the region and his spring game visit, UM could be his outright leader in the not-so-distant future.
13. OC: Cesar Ruiz, 6'4" 290lbs. Camden, NJ (IMG Academy)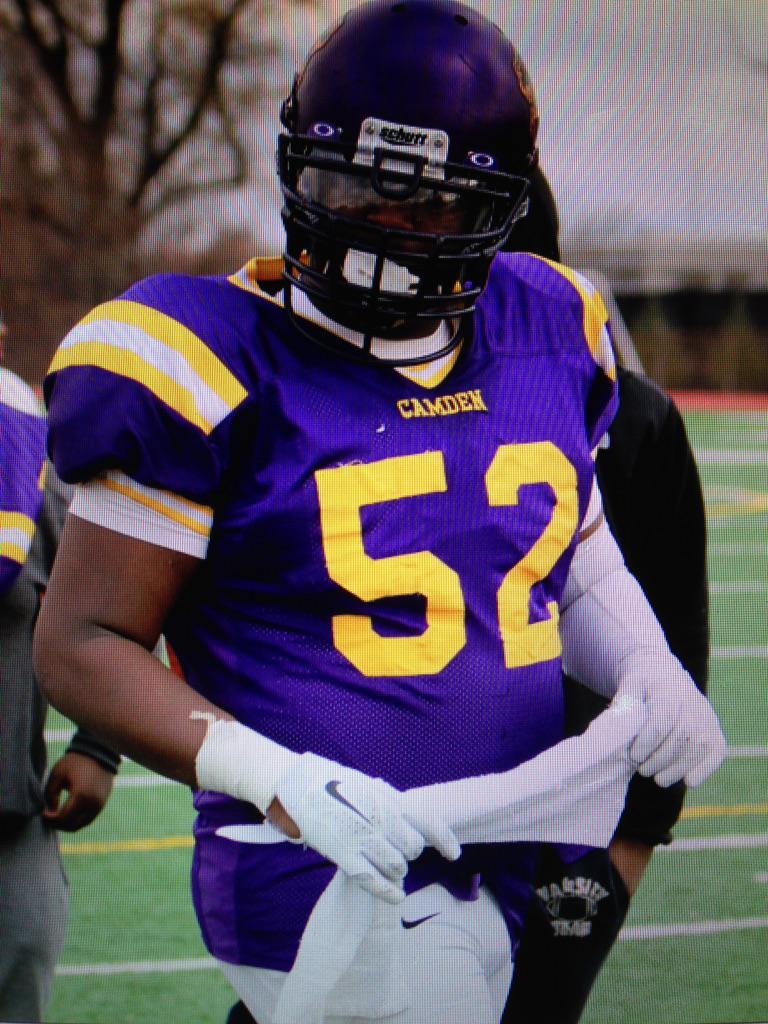 Ruiz is the top center in the class and a top target for the staff. He's also very familiar with the program, staff and roster. It's been rumored for a long time that Michigan is the favorite here though he won't name a leader. If his expected spring visit to campus goes really well, that rumor may come to fruition.
14. DT: Phillip Paea, 6'4" 280lbs. Berrien Springs, MI (Berrien Springs)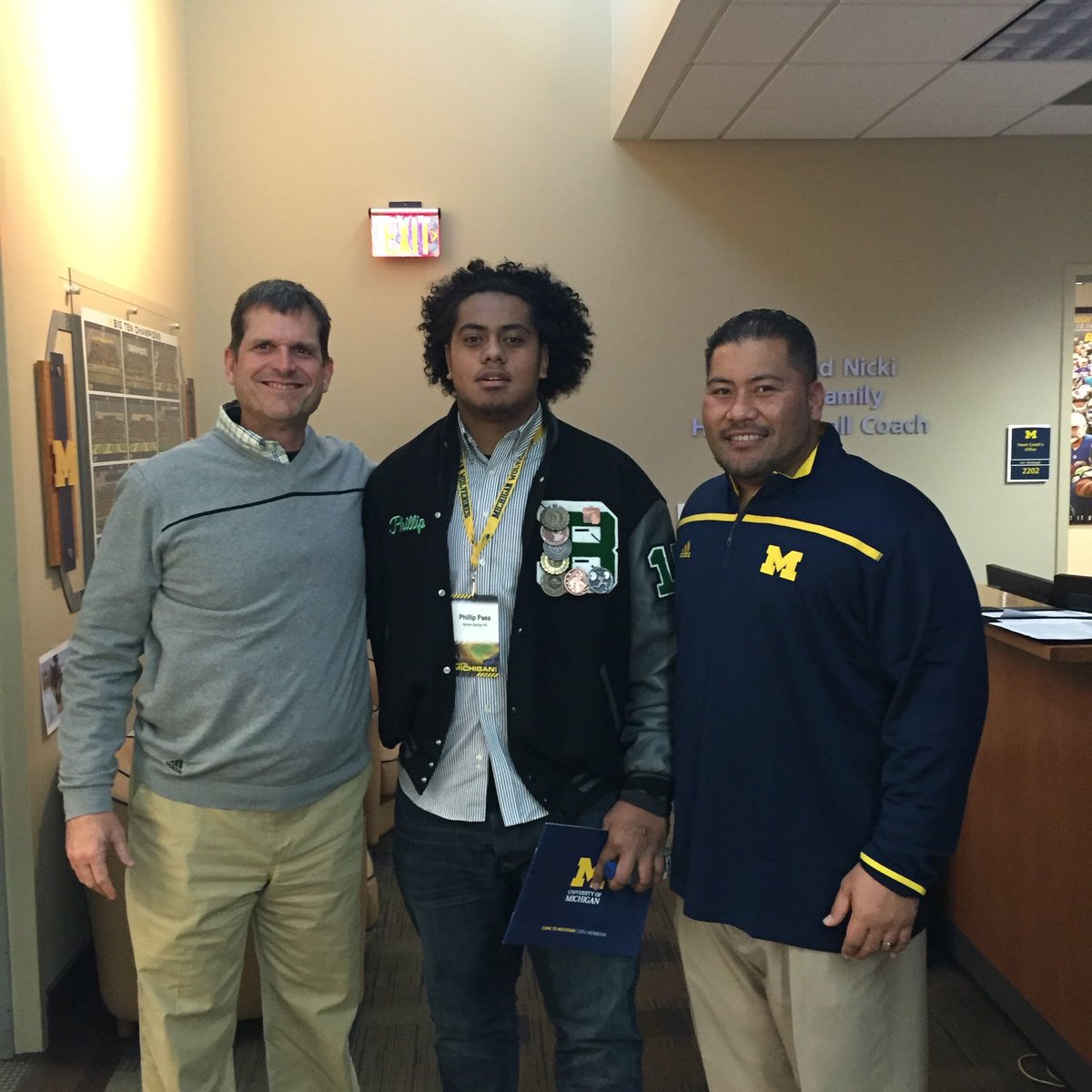 Paea is quickly becoming one of the most offered in-state recruits in the class and quickly rising up the staff's board. He looked to be likely to leave the state for his college ball but thanks to Harbaugh adding Tony Tuioti to the staff as a recruiting coordinator, Michigan may be a favorite moving forward. He'll be back for the spring game and, if the staff continues to push for the versatile lineman, they may land him sooner rather than later.
15. DT: Jay Tufele, 6'3" 285lbs. South Jordan, UT (Bingham) 
Tufele landed his offer from Michigan back in October and, per Wolverine247's Steve Lorenz, will be a top target for the staff moving forward. With the high need for defensive tackles and early playing time available, if the staff can get him on campus this summer or fall, UM could pull top player out of Utah.
16. DE: Luiji Vilain, 6'4" 235lbs. Alexandria, VA (Episcopal) 
Defensive end is one of the hardest positions to predict at this point for the 2017 class. There are a ton of offers out there but no one looked to be favoring Michigan. That was until the staff offered Vilain, who is very familiar with the program from visiting multiple times in the past during his trips with teammate and good friend Jonathan Sutherland for the Sound Mind Sound Body camp in Detroit. If the staff pushes for him, they could definitely land the Canadian and his teammate.
17. DE/LB: Corey Malone-Hatcher, 6'4" 240lbs. Saint Joseph, MI (St. Joseph's) Malone-Hatcher is another original member of my class prediction and will remain here until something drastic changes. Notre Dame is a threat but barring any big changes, Michigan looks to be the favorite. As for a decision, that could come at any time as he's very familiar with the program and may just need to build that relationship up a bit more with Don Brown.
18. LB: Drew Singleton, 6'2″ 215lbs. Paramus, NJ (Paramus Catholic)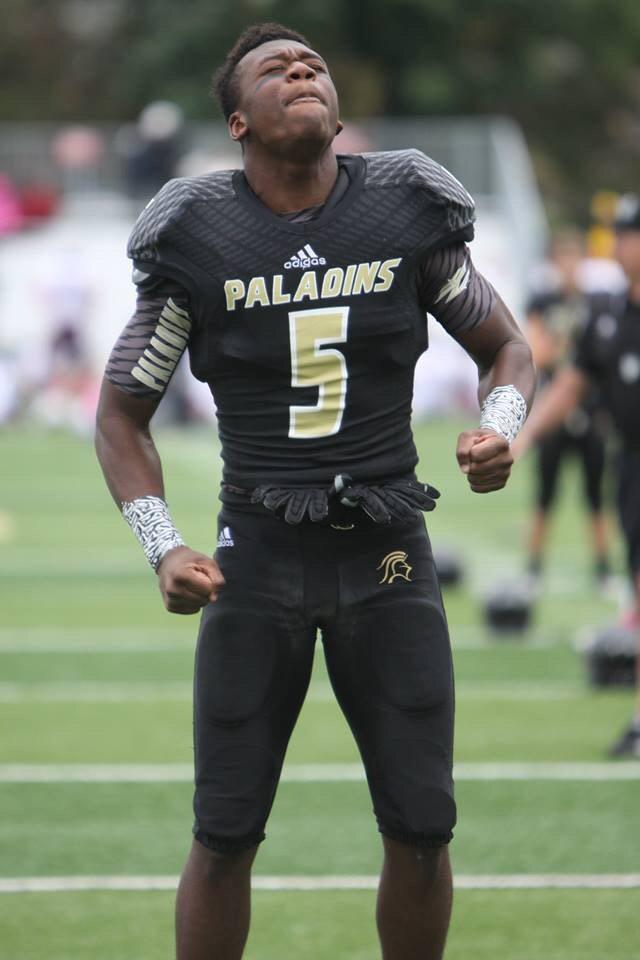 Singleton is one of the top overall players on the board for Michigan and for good reason. He's one of the best linebackers in the class, is at a pipeline program, and is extremely familiar with the program, staff and roster. Clemson looks to have made up a ton of ground recently though I believe his trip to Ann Arbor for the spring game/junior day may put UM firmly out front.
19. LB: Josh Ross, 6'1″ 220lbs. West Bloomfield, MI (OLSM)
There may not be a player that Michigan is waiting to make an official decision on more than Ross. The younger brother of former Wolverines LB James Ross has favored UM for, what seems like, years now and has looked likely to commit at any time. It still has yet to come but if he makes it to campus for the spring game/junior day, I wouldn't rule it out.
20. CB: Benjamin St-Juste, 6'3" 170lbs. Montreal, Quebec (Cegep du Vieux) 
St-Juste committed to the 2016 recruiting class over the summer after putting on a standout performance at the UM camp. But because of the Canadian high school system, he reclassified to the 2017 class. This is actually a good move for both St-Juste and Michigan as it will allow him to continue to grow as a player and will give the staff even more time to evaluate his play.
21. CB: Deommodore Lenoir, 5'11" 180lbs. Los Angeles, CA (Bishop Mora Salesian) 
Lenoir is one of the top corners in the class and, according to Wolverine247's Steve Lorenz, he's one of the top corners on the board for the Michigan staff. Thanks to him being a priority mixed in with a visit for the spring game/junior day and I believe UM could put themselves in fantastic shape early on.
22. DB: Jaylen Kelly-Powell, 6'0" 183lbs. Detroit, MI (Cass Tech)
Kelly-Powell had been right there with Josh Ross on the "most likely to commit next" list. However, he backed off of his plans to make a decision after his junior decision and is taking his time. Though Ohio State, Michigan State and others look to have made up plenty of ground, it would still be a bit of a shock if he didn't end up with his longtime favorite.
23. S: Jonathan Sutherland, 6'0" 190lbs. Alexandria, VA (Episcopal) 
Sutherland has been a name on the Michigan recruiting board since the Hoke era thanks to multiple trips made to the Sound Mind Sound Body camp in Detroit. Though he's originally from Canada, he and his good friend/teammates Luiji Vilain moved to Virginia to show off their talents on the gridiron. Thanks to that, he's received an offer from the staff thanks to his big hits and big play ability. With the familiarity already there, if the staff pushes, I believe they land both Canadian transplants in this class.
24. ATH: Ambry Thomas, 5'10" 160lbs. Detroit, MI (King)
Thomas is one of the best players in the state and Midwest, and also happens to be a top target for the staff. But thanks to his skill level, he's a wanted commodity around the country. Out of the in-state targets, he may be the most likely to leave the state. However, it's still early and with his familiarity with the program, his connections to the current roster and (possibly) the 2017 class, Michigan should be in this one throughout.
25. ATH: Deejay Dallas, 6'1" 190lbs. Brunswick, GA (Glynn Academy)
Dallas is one of the best all around athletes in the class and top targets on the board. And for good reason. His game reminds me of Jabrill Peppers' while in high school. Like Peppers, Dallas is a versatile player that looks like a defensive back in college and happens to be very high on Michigan. It's still early and he's a wanted player by most SEC programs, but UM is in great shape here and could solidify their spot if he's able to make it to campus this spring.
Projected Class Score: 301.66 (per 247Sports)
-This score would be the best in the program's history during the 247sports era. This would also likely give them a very realistic shot at the #1 overall class as Alabama finished with the top class in 2015 with a score of 301.42.
Just Off:
Photo Credit: AP Photo/Patrick Semansky
Latest posts by Garrett Fishaw
(see all)