Last scouting report we debuted with Jeff Persi, the Offensive Tackle from California, and Aaron Lewis, a Defensive Lineman from New Jersey.
Already since the first scouting report dropped, Persi has been getting rave reviews nationally and has jumped another 100 or so spots in the rankings to 355 and he's continuing to rise. All while Aaron Lewis had 3 sacks, 6 tackles for a loss, and 11 tackles in a 28-21 win over the #2 ranked team in the state.
So, I'll take that as a successful Debut of this column.
Today we're going to take a look at a couple more East Coast recruits and we'll start with the first of three Massachusetts products in the class:
Zak Zinter
Offensive Guard, Massachusetts, 6'6, 300
Michigan Player Comparison: Graham Glasgow
Anytime you can beat out Notre Dame for a highly regarded offensive line recruit, excitement should be high. Any time you can get that recruit to go from leaning Notre Dame to all in on Michigan, well that just makes it twice as nice.
Zak Zinter is a massive road grader from Massachusetts, that has size, intelligence, and athleticism to go along with a hell of a mean streak. He played tackle previously in high school but has moved into guard and has been recruited as such.
Zinter is a unanimous four-star and a top 300 prospect for the elite private school Buckingham Browne & Nichols School in Massachusetts. While sounding more like a law firm than a school, BB&N has alumni such as:
The founder of Netflix
The 6th wealthiest woman in the world
The 2nd wealthiest person in Ireland
6 Rhodes Scholars
The director of the CIA
Several members of the Kennedy family
The owner of the Philadelphia Eagles
And probably between 3 and 4,000 lawyers.
So he's definitely smart enough to get into Michigan even if he didn't excel on the football field.
As a side note, Zinter looks and plays like his nickname is Big Country. There aren't many ranches or farms in Andover, but throw a cowboy hat and some jorts on and I think we got something special.
Zinter's highlight tape from high school is borderline assault in most states and Puerto Rico, and it's so beautiful I felt like I needed a cigarette afterward.
The four-star commit does not pancake kids. He turns them into a living, breathing, Flat Stanley.
One play in particular that stood out on film, was Zinter playing human pinball with a poor soul. (Skip to 1:37). Zak Zinter has no regard for human life in the 110×53 striped football field he plays on. It's a beautiful, beautiful thing to watch.
What really sticks out about Zinter is his tenacity in finishing blocks. He uses an incredible leg drive to finish blocks and has several blocks where he'll be 20-30 yards downfield with the same poor sucker he engaged with earlier. He also has great use of his hips.
So far, I've noticed with most Ed Warinner OL recruits at Michigan, they're hip fiends. They're flexible and able to explode their hips through on contact, which is something that's hard to coach.
Zinter does a superb job with his hand placement. Very rarely will you see his hands work outside the frame. He keeps his body in control at all times. Every movement, every step, every punch is methodical with the goal of beating some ass. And honestly the best part is his Pass Pro isn't passive. He doesn't wait for DL to invade his gap and take on contact, he seeks them out like a freakin missile and blows their ass up before they can respond.
The East Coast standout has incredible instincts and looks for work. Any OL coach would sacrifice fingers to get players like Zinter. It's great to see, and it's easy to see why most schools wanted him to play football for them.
There are a ton of positives for Zinter, he comes in with an incredible baseline and someone that I think will make significant waves at Michigan, but you don't have to look too far to find some things to work on for Zinter.
While he's a very dominant player, part of it is due to the competition level he's facing. Zak Zinter is basically beating the ever-living hell out of the 2020 Skull And Bones Society Pledge Class, and the competition level in Massachusetts just isn't that high on a week to week basis.
Zinter does everything he should be doing against these calibers of players, and he's still a great prospect. That being said, he's able to get away with things against his level of competition that he won't be able to against more stout collegiate players.
In my opinion, he needs to work on his explosiveness at the point of attack a little bit better. Most of his demolitions come by utilizing his incredible strength and effort, which are certainly positives. I'd like to see a little more pop coming off the ball though. He's going to have to learn how to utilize his hips on contact to beat more athletic and stronger competition.
Part of the competition level is that he can just get by with a strong bunch in pass pro to completely neutralize most rushers. I'd like to see Zinter develop a stronger and more limber kick step in order to be able to handle the athletic interior linemen that can cause havoc for the offense. I'm not saying Zinter doesn't have that kick step, it's just not something he's ever had to use.
Lastly is his foot speed and agility. Zinter is 6'6, 300 pounds and to be completely honest, 300 pounders with plus agility and elite athleticism before getting to college are the incredible exception, not the rule. Zinter is not an incredibly rare exception, but he does show the athleticism to utilize pulling and lateral quickness in college.
The tools are all there for Zinter, I have a good feeling he'll put it together in the maize and blue.
Why Graham Glasgow?:
Graham Glasgow was also a 6'6, 300-pound tackle coming out of high school, and also had some issues with his athleticism and relying too much on his natural strength.
Zinter is much farther along in his development than Glasgow when they both committed to Michigan, but Glasgow played guard, and then moved to center when he was needed, and was able to provide spot duty everywhere on the line. I envision a similar trajectory for Zinter. He's got the intelligence and savvy to fill in places if needed in a way that gives coaches a lot of comfort knowing that your emergency center or tackle is a pretty dang good guard.
Glasgow wasn't the most athletic Michigan lineman we've seen recently, but he was incredibly tough, and in his scouting profile, scouts saw Glasgow's upper body strength and leg drive as a big positive. Sounds just like Zinter to me.
Projection:
I really don't envision Zinter's recruiting rankings moving much higher. While he's an excellent football player, he's not an exceptional athlete, and it's really difficult to get into the top 100-150 without dominating elite competition or being one of the best athletes in the country.
Zinter will be an early enrollee at Michigan, so he's probably not going to be on the All-American Game circuit too much to compete against the elite competition. But at the end of the day, that's all fluff.
I personally don't see an outrageously high ceiling on Zinter, but he also has an incredibly high floor because of his physical makeup and intelligence.
If I had to bet, I would say Zinter redshirts and uses his freshman year to develop his body a bit more and then come year three, he's competing for a starting spot with Jack Stewart and whichever of Zach Carpenter/Nolan Rumler doesn't end up playing center down the road.
I'll call Zinter a solid 2.5-year starter, maybe an All-Big Ten Team member, and then is taken between rounds 3 and 5 in the NFL draft. With what I've seen, I don't see a future where he's a multiple-time All-Big Ten player and a first-round pick, but I also don't envision a scenario that he's not seeing significant time as a good, solid Big Ten football player like so many guards before.
Highlights:
---
Next, we're going to hop over to the Garden State to look at a player I didn't think I'd fall in love with this hard, and I eventually make the loftiest and dumbest comparison you could give a Michigan defender, but I actually think it fits.
If you'd like to call me a moron or cyberbully me, you can find me on twitter to tell me how dumb I am: @ClayTravis is my handle, don't be afraid to be vicious.
RJ Moten
Safety/VIPER/PR/KR/Possible RB, 6'0, 200, New Jersey
Michigan Player Comparison: Jabrill Peppers
Thank you Erik Bakich, not only for helping Michigan finish as the 2nd place team in the entire country but also for possibly helping RJ Moten choose Michigan.
That's not a typo, Moten is projected to be taken pretty early in the MLB draft, and intends on playing both sports in college. And the recent success of the Michigan baseball team stuck out to him during his recruitment.
The more I learn about RJ Moten, the more I love him.
He's a multi-sport athlete, which is why scouts were late to hop on board with him.
He didn't even debut in any recruiting rankings until February.
His dad Ron was a standout for the Gators and played briefly in the NFL, and called RJ a better athlete than him.
His head coach in high school has called him an incredibly special athlete and compared him to…. Jabrill Peppers.
Moten checks every single box on the character chart, and has a work ethic and competitiveness second to none. His mom is a teacher, and RJ isn't allowed to have anything lower than an 85 on any test or assignment. It's helped him earn offers from Ivy League Schools.
Before we go any further, I really really REALLY tried to find a different comparison than Jabrill Peppers, but the other one's I can think of were just as lofty, if not loftier than Peppers. I'll explain more later, but I really wasn't expecting to say Peppers but hot damn this kid is good.
There aren't many things RJ Moten can't do.
He's a fantastic running back, a great receiver, an electric punt and kick returner, and a dynamo at safety.
He runs a 4.6 40, a 4.3 shuttle, and has a 41 inch vertical jump before stepping into a college weight program.
His 40 and shuttle would be considered decent if he was competing in the combine, and it's terrific for a 17/18 year old.
His vertical would've put him 3rd in the combine out of all the safeties and demonstrates his incredible explosiveness.
He's a bullet at safety, and someone that you really don't want to see coming at you over the middle.
He has fantastic instincts and he's a student of the game. He's rarely out of position.
He's tough, he's competitive, he's athletic, he has great ball skills, he's physical, he's explosive.
If you can think of a positive football/sports attribute to describe him, it probably applies.
247Sports currently has him as the 94th best player in the country, and I think he's still 50-60 spots too low. RJ Moten is a rare and special talent that I didn't really expect to love this much when I started watching him. I'm really trying not to be too hyperbolic, but athletes like RJ Moten don't come around often. Excellent dual-sport athletes come around even less, and excellent dual-sport athletes with zero character concerns and pro ready bodies come around once in a blue moon.
I'm already getting giddy anticipating a secondary with Dax Hill, RJ Moten, Jordan Morant, Makari Paige, Ambry Thomas and Vincent Gray in the near future.
He's got explosive legs that will make him a freakin weapon on closing on 50/50 balls and high pointing them at any point in time. And if he comes down with it, he's got the vision and acceleration to hit the edge and take it for six. He's strong and has lightening quick feet, while running effortlessly.
In terms of things RJ Moten needs to get better at, it's basically just: get more experience at safety. There's absolutely nothing I can find that I would categorize as a slight weakness from what I've seen. He's so good, and everything about him just screams "All American".
Delran High School's competition level isn't amazing, but it's solid and the things Moten does isn't healthy.
Last year he ran for 1300 yards, 16 touchdowns and had 300 yards and 4 touchdowns receiving, while also tallying 5 interceptions at safety.
So, maybe he needs to take more interceptions for touchdowns? Let's use that.
Why Jabrill Peppers?:
Because both are incredibly electric players offensively and defensively, and Moten will probably fill a similar role as Peppers when it's all said and done.
Hopefully without the one-dimensional PepCat stuff, but I wouldn't be overly disappointed if Moten got put at running back. He's that good and he's that versatile. It's pretty incredible.
Projection:
I'm not entirely sure if Moten will enroll early, but if he ends up in the All American Game circuit, he's going to end the cycle as a five-tar or at the very least, in five-star range. Most scouts also have incredibly high praise to heap on Moten, but he's just special.
At this point, I wouldn't be shocked in the least bit if he played significant snaps as a true freshman. If I had to garner a guess, I would say he'll start as a true freshman at VIPER to get him on the field, and then move to safety when Brad Hawkins graduates the following year.
Dax and Moten roaming the secondary is gonna be scary. His ceiling is vast and through the roof. If he reaches it, he'll be an All-American and top 15-20 pick in the NFL Draft.
Highlights:
Photo Credit: RJ Moten/Twitter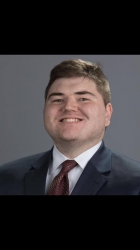 Latest posts by Harry Hillman
(see all)