Coaching hire number two of the offseason has been finalized, bringing Mike Hart back to Ann Arbor to coach running backs for his alma mater. The former Michigan running back left Indiana and will be slotting in for the role Jay Harbaugh is vacating in order to focus on special teams.
Calls to hire Mike Hart have always existed within a significant portion of the Michigan fan base, as he seemed like the natural successor to Tyrone Wheatley and was more than adequately qualified. Instead, Harbaugh decided against it, moving Jay from Tight Ends to Running Backs. This has proved to be a poor decision in hindsight, and was also widely criticized at the time.
In: Mike Hart
Out-ish: Jay Harbaugh
I can understand Harbaugh's thinking behind moving JayBaugh to coach running backs. He wanted to shore up his offensive line and wanted to find a place to keep one of his better recruiters. It's also a very good sign that Harbaugh has mended the fence with Hart, after their 2007 feud.
Jim Harbaugh's willingness to set aside his ego to make his staff better, is absolutely a positive and something he's shown throughout his time in Ann Arbor.
Now let's dive into what Mike Hart will bring to Michigan as a coach:
Fit:
Mike Hart's hiring is a little different than most because the impact is so much deeper than X's and O's. Michigan's All-Time Leading Rusher is also arguably one of the most beloved Wolverines of all time. Since Charles Woodson left, the only other player that could even come close to Hart would be Denard Robinson.
Michigan is not only getting an immediate coaching upgrade at one of its most disappointing positions, but they're actively trying to fix mistakes that they've made.
Mike Hart is a guy who will provide instant leadership to both the staff and position groups. Something the program needed and will always need. That is why I believe he'll be at Michigan for a bit, similar to longtime former running back coach Fred Jackson. But unlike Jackson, I think Hart's a natural successor if Michigan prefers to promote from within if/when Josh Gattis gets a head coaching job.
Recruiting:
Hart should provide an immediate boost to in-state recruiting. At Indiana, he showed the ability to find and attract talent. At Michigan, it's a different beast but those same attributes will carry over. Given his time at Michigan as a player, as well as the relationships he's built recruiting the Detroit area, this is an absolute home run hire.
There is already an abundance of blue-chip players that Michigan is recruiting in the Detroit area in 2022 and beyond. Hart should provide immediate dividends on the home front. This should also put out quite a few fires that have built up between Jim Harbaugh and some of the more influential in-state high school coaches.
Organizational Support:
In terms of behind the scenes, Hart is an absolute grand slam. One of the more underrated aspects of coaching and building a program is having organizational cohesion. With as beloved as Mike Hart was from his playing days, I see no reason that boosters and administrators wouldn't have a great deal of admiration towards him. The same way they felt about Jim Harbaugh when he first got here. I mean, who's going to say no to Mike Hart?
It wouldn't shock me in the least if we saw Michigan almost immediately land a few transfers or recruits that weren't recently on the radar. Such is the way of being able to get what you want, and Mike Hart should be able to get what he wants. I mean, Michigan fans are genuinely happy with this hire. Michigan football fans haven't been happy in years. About anything. Such is the power of the Hart.
Grade: A++
What are your thoughts on the Mike Hart hiring? Where do you see him making the biggest impact? Is he your favorite running back in program history? If not, who? Let us know in the comment section below!
Photo Credit: Getty/CBSSports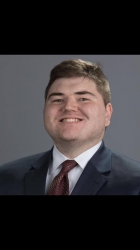 Latest posts by Harry Hillman
(see all)