Introducing a new (hopefully reoccurring) mailbag that I'll be doing with the boss man, Garrett Fishaw. Taking in questions on Twitter on anything from Michigan football and recruiting to movies, food, relationship advice, hot topics and more.
Let's get into it with a list of questions from a familiar face:
How long is Mel Tucker around? Does he ever beat Michigan?
HARRY: This is a tough question right off the bat. On the eve of Tucker's first game against his in-state rival, things are looking a little bleak in the short term for Michigan State.
Fresh off of a loss to Rutgers, Tucker's college head coaching record stands at 5-8 and is looking like it'll have quite a few more losses by the end of this season. Tucker's record obviously doesn't tell the whole story: he improved Colorado in his first year from 5-7 and back to back 6th place division finishes to a 5-7 record with a fifth-place division finish before Michigan State gave him 33 Million reasons to leave Boulder.
All joking aside, this is almost certainly a coaching contract that neither side will be able to get out of for at least 3 years. In terms of short term success, there probably won't be a ton of it for the next two years. The roster is pretty bare because of how poor Mark Dantonio recruited towards the end of his tenure.
Tucker's calling card of recruiting hasn't hit the ground running just yet, but it's inching towards acceptable. His first full class only has one four star commitment and is 48th in the country/10th in the B1G, but he got the latest start in the conference to recruit and is still working from behind the 8 ball.
Personally I'm very skeptical of Tucker's long term outlook at Michigan State. I think he lasts 4 years, goes 0-4 against Michigan, and is fired. That being said, I still think Tucker will bring stability to the program, recruit a lot more talent, and leave the next guy with a stocked cupboard. I just don't think Tucker is going to get it done soon.
---
FISH: Well, thanks for that novel, Harry. This is going to look like nothing compared to that. So, I'll try to keep it short and sweet. I'm pretty much completely on board with the answer above.
Tucker was dealt/gave himself a bad hand with taking the Michigan State job when he did. Dantonio drove it until the wheels were about to fall off, snagged his bonus and bailed leaving the cupboard damn near empty and pretty much only Meijer brand products left over.
I'll never blame someone for accepting a job because it pays more money. Michigan State decided to offer $5.5 million per year. After he went 5-7 in one year at Colorado. Good for him.
I feel like he'll get some decent players in the program and build some competitive teams but like Harry, I see this being a 3-4 year span that sees him being let go as the program hires Scott Satterfield mainly because he once coached at Appalachian State.
Next Time MSU has a Winning Record?
HARRY: Certainly not this year. Almost definitely not next year either. They open the season at Northwestern and have a road game at Miami (FL), and then the Spartans have a ridiculously tough stretch where they play Michigan, Penn State and Ohio State back to back to back after September. That's tough. Especially for a team that's basically in year 0 of the rebuild on account of Mel Tucker having about 4 weeks of on job experience until the world collapsed. Their 2022 schedule looks a ton more forgiving, so I'll give Mel Tucker 6-6/7-5 then.
---
FISH: Tough to say with the pandemic still rolling on but let's play it's all sunshine and rainbows and act like we'll see a normal season next year. After going 5-7 in 2021, they'll get there in 2022 with a 7-6 record and big Motor City Bowl win.
Scariest Halloween movie?
HARRY: I don't really watch scary movies but the original Scream comes to mind. I'm a scaredy cat, and I'm not sure I'd call Silence of the Lambs, Jaws, or Paranormal Activity as Halloween movies.
---
FISH: Not a fan of scary movies but I've seen plenty. It's not exactly a Halloween movie but for the scariest movie, that's an easy answer: The Strangers. It's terrifying.
What Villian would Garrett be?
HARRY: Rose Armitage, from Get Out. This is almost too easy. Garrett Fishaw's initials? GF.
Who tried to kill Chris in Get Out? That's right, his GF. It's also one of the few scary movies I've seen.
FISH: Hmmm. Was Harry and the Henderson's a scary movie? No? Then I'll go with Jaws. Big guy, roams where he wants, messes with everyone, doesn't eat gluten, not a fan of night swimmers.
HARRY: Candy Corn is neither a candy or a vegetable, rather an abomination that escaped from hell. Candy corn sucks.
---
FISH: Candy and it gets shit on for being garbage but it's not THAT bad. It's like the Friends of Halloween candy.
HARRY: Absolutely absurd question asking if Lawrence or Fields is going to be the 2nd QB taken after Joe Milton. Everyone knows it'll be whoever loses a closer game to the future Heisman Trophy Winner and National Champion, Joe Milton. Not even a debate.
---
FISH: Once Milton beats Fields head-to-head, he'll decide to go back to Ohio State for another chance to beat Michigan before he leaves. So, Lawrence will go #2.
HARRY: Personally I think the fluoride at the doctor is much more pleasant than circus peanuts.
---
FISH: Yes I have and I will say those are hot garbage. That dentist mold is a good comparison. Like eating a dense sponge with less flavor.
This is something we'll hope to keep doing. Keep an eye out for the next Harry Fish Mailbag in the future.
Photo Credit: Kanoe170Reddit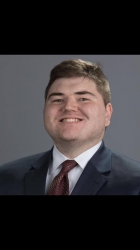 Latest posts by Harry Hillman
(see all)