Michigan's 2020 football recruiting class is currently ranked 10th in the nation, and 2nd in the Big Ten, yet the strength of the class is currently in its size, not necessarily its blue-chip quality.
Make no mistake, there are some elite blue-chippers, such as four-star DE Braiden McGregor, four-star ATH RJ Moten, and four-star WR AJ Henning currently committed to the Wolverines, but looking at the rankings, none are higher than 87th in the composite.
Are the Wolverines failing to attract blue-chip talent, or is the staff simply looking for the flaws in a somewhat systematic scouting and rating system?
Yes, it's true that recruiting rankings are incredibly accurate in predicting future success. But it's important to note that recruiting rankings are significantly more accurate at the end of the cycle than the start of the senior season.
At this time last year, Antonio Alfano was ranked 52nd and Charles Cross was ranked 618th. Both are 5-star players, with Alfano earning the #1 player in the country billing to 247Sports and Cross coming in at #8 (EDIT: Alfano entered the transfer portal today).
Several Michigan players made triple-digit jumps from this point through the end of the cycle, including:
RB Zach Charbonnet jumping from #169 to #46
OT Trente Jones going from #302 to #109
OL Karsen Barnhart went from #417 to #266
WR Mike Sainristil went from #700 to #534
S Quinten Johnson went from #500 to #324
The point of this is to understand that the recruiting class right now is nothing more than an incomplete data point. There's still quite a bit of time left to scout. These commits haven't even finished their senior year of high school!
Michigan has quite a few guys from smaller, less talented states, so those are players that can move up significantly once they showcase themselves against more talented players in the All-Star Game Circuit. There's quite a bit of talent in this class, there are a few players that I absolutely love that I believe have some pretty profound jumps in the rankings coming up.
To kick off my new First Class Scout, I'm breaking down two of the more underappreciated commitments in Michigan's 2020 class:
Jeffrey Persi
Offensive Tackle, California, 6'7/257
Michigan Player Comparison: Taylor Lewan
Persi is one of my absolute favorite players in the current class, and someone I feel is going to explode into a top 150 player by the time the recruiting cycle is finished. He's already moved up over 300 spots in the 247 Composite, and he's bordering on low four-star territory. What I love most about Persi, is his physicality, length and size.
Persi has exactly one season under his belt at offensive tackle, but got rave reviews at camps, and plays for one of the best high schools in the country. Prior to moving to tackle, he was a tight end in high school. Offensive tackle is a difficult position to learn on the fly, but Persi has succeeded well at it so far. That being said, I completely understand why scouts are more hesitant on Persi right now. He's played one year at the position they're scouting him at, he's skinnier than most of his peers right now, and it makes it hard to make a multi-year projection with such a small sample size.
Persi doesn't jump off the tape immediately, but he does a lot of little things well.
He displays a strong punch that neutralizes defensive ends on a pass rush, he has terrific mobility as JSerra frequently has him moving, whether it be a wrap-around, pull or second level block, and his leg bend is very impressive.
He keeps a significant amount of weight back in his set which rarely leaves him off balance.
His athleticism really shines when you watch him in his first three steps in the run game, as he pops dudes right off the bat and takes shorter, quick steps to get to his destination.
All the base things a tackle needs to learn, Persi excels at.
He showcased his incredible potential and why coaches are so high on him when he took Penn State Commit Amin Vanover 12 yards down the field on an outside running play and finished with a nasty pancake. Not bad for a converted tight end.
That's not to say he's without flaws though.
One of the things that popped out at me as an area of improvement, were his instincts. He's mean and tries to finish blocks, but sometimes he appears a little lost when he completes his block. He also gets his hands a little too far outside the framework of the block in the running game, which puts him in a tough position against quality ends.
The last thing is the consistency in which he works his hips around on perimeter blocking that requires outside leverage. He gets himself into great position, but once he engages, the hips have to be more efficient in the workaround.
This is fixable stuff, the game tape I watched was his 13th Game as an offensive tackle. He's still so raw and will need a lot of coaching. He also needs to add weight. I would guess Persi is around 255-265 right now, so he'll almost certainly be redshirted, and the earlier he can enroll, the better, but the tantalizing potential is there.
WHY TAYLOR LEWAN:
Taylor Lewan was a west coast commitment at tackle that, like Persi, made a late switch in his high school career. Lewan was primarily a defensive lineman in high school and made the switch going into his senior year, and major programs responded with offers through the roof.
Persi has a bit more seasoning at OT, but they were both tall and lean tackle prospects coming from the west coast, and once Lewan put the weight on, his ability soared and he became a first round pick.
I don't think Persi will necessarily have the same career arc that Lewan did, but they both have a mean streak and look to finish people, they both have great OT frames going into college, and have the athleticism to handle elite edge rushers provided the weight is there.

I definitely think Persi is going to have a pretty massive jump in the recruiting rankings by the end of the cycle. More repetition, more practice, and more understanding of the position are going to help him stand out through the end of the season and through the All Star Game circuit.
The weight will put a ceiling on how far he can rise in the rankings, but weirdly enough, I actually think his weight is what's going to make him a better player right now. I have a theory that it's actually better to get really athletic kids that are between 250-275 pounds to play tackle, than guys that are 6'6, 330. It's really hard to be over 300 pounds in high school and carry it well. There are some freaks of nature out there, but for the most part, I almost think it's better to get tall, lean athletes and develop them in the weight room.
Just this year alone, all six first round picks on the offensive line were under 280 pounds going into college. It's also a lot easier to put good weight on in a college weight program instead of losing bad weight to put on good weight.
I'd bet money right now he's a Day 1 or 2 selection in the NFL draft.
I'll be the conductor, engineer, cook, maid, and bartender of the Jeffrey Persi HypeTrain, so hop on or get left behind. Choo choo.
Aaron Lewis
Defensive Line, New Jersey, 6'5, 235
Michigan Player Comparison: Chris Wormley
Lewis, a former West Virginia commit, flipped to the Wolverines during the COMMITAPALOOZA this summer. Lewis holds a modest high three-star/low four-star ranking to the services, ranking #480 on the Composite, and is listed at #244 on 247's Top 247 Prospects list.
What I find most interesting about his ranking, is he has already made a solid sized jump in the composite, and 247 didn't even have a ranking for him until February of this year and he didn't even have a scouting report on any site until December of 2018.
He had offers from Penn State and Wisconsin before a single scouting service took notice of him. Lewis is listed as a defensive end, but is someone that could definitely slide into a 3Tech role provided he puts on weight.
In my opinion, he's someone that I think will probably jump into the 150-175 range when he finishes the recruiting cycle. He's a bit thin and still filling out, and he's a bit late on the scene, meaning the services are playing catchup on him.
Lewis also shines on the basketball court for Williamstown, and actually nearly quit football to focus on basketball. He has gobs of athleticism, he's quick, and as a multi sport athlete, his body is a bit more well rounded and has more potential to grow. It also explains the lack of weight and gives me a bit of optimism that the weight room and nutrition program will do him a ton of benefits when he gets on campus and would also explain his lack of exposure in recruiting camps.
Like Persi, it's a little harder to make a solid projection on a guy that burst onto the scene a little late, and probably needs to add 35-45 pounds in college, but he's got the frame.
Lewis is one of the most productive players in New Jersey, winning the South Jersey Player of The Year, and helping guide his high school to the state championship game.
He racked up 92 tackles and 6 sacks and displayed his impressive athleticism all over.
He's moved all over the line and shows production in High School at nose tackle, defensive end, and at 3technique.
He displays great balance and quick feet that should help him with his explosiveness in college.
His first step is outstanding, and he gets off the ball insanely fast, which allows him to utilize his terrific swim move to beat offensive linemen and disrupt the play before it begins.
There's really not enough to say about his swim move. It's fast, it's lethal, and it's effective.
One other thing that really jumped off the tape to me is Lewis's hips and how good he is about using them to tackle and pop off the ball. He doesn't miss many tackles, and the ball carrier feels the brunt of the hit. He chases the play down, plays with great energy and a really good motor, and is someone that won't take plays off at the next level.
He checks all the boxes in terms of his intangibles on film.
While he's a terrific prospect, in my opinion, there are some concerns about Aaron Lewis that will determine whether he's an All Big Ten Player and a highly drafted player, or simply a solid starter that gets some UDFA looks when his college career is over.
He plays very high, even by high school standards. If he's going to slide into the 3tech role, he's going to need to do a much better job keeping his base down while moving, because a good interior lineman will outleverage him and take him out of the gap with ease if he doesn't. It's definitely fixable, but if he can't change it, his inability to stay lower will probably force him to play SDE in college, which takes away a bit of the shine on Lewis's potential. I also think his swim move is too good. That may seem like hustling backwards, but his swim move is so good and efficient that I couldn't find many other examples of him using another pass rushing move successfully. He's become so reliant on it, that I'd like to see him develop his repertoire a little bit, because college OL won't be easily beaten with speed on the edge or a swim move as his primary moves.
Lewis is still very raw in the technical aspect of things, but his frame and athleticism allow for endless imagination on how to best utilize a massive human being to inflict terror on opposing offenses.
WHY CHRIS WORMLEY:
Wormley as a prospect and college player has a very similar frame to Lewis, and very similar projections. Wormley was a tad heavier and a bit more refined as a 6'5 250lbs. end coming out of Ohio, but was able to effectively play a very solid SDE while providing cover at 3Tech when depth needed him to.
He was another player that put on a significant amount of weight in college and played with an insane motor. Wormley also had a ceiling, albeit a relatively good one, and in my opinion, was unfairly underrated by the Michigan fan base because he was the reason Rashan Gary wasn't starting as a true freshman.
While Wormley did play SDE, he was going to be the starting 3technique until Mo Hurst burst onto the scene his junior year, and earned a starting position.
Providing there's no major breakthroughs with Lewis, I think he's going to end up being a very good to occasionally great college football player with his motor and athleticism, and while that may sound like a slight, there are significantly worse things than a multi year starter with toughness, a strong motor, and great leadership skills anchoring a defense.
All that said, part of the appeal of a prospect like Aaron Lewis, and why I'm so high on Lewis is his physical traits can provide that major breakthrough. If everything clicks, and I'm not saying it will, but IF it does, he can go from Chris Wormley to Rashan Gary very quickly. That's the type of frame and physique were talking about here.
He's one of the higher variance players in my opinion, but that variance's floor is probably solid starter/contributor to a ceiling of All World Destroyer Of Planets. I'll hedge my bets and settle with Chris Wormley.
Photo Credit: Aaron Lewis/Twitter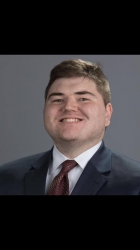 Latest posts by Harry Hillman
(see all)