Jeffrey Persi isn't used to being the smallest person in the room.
Persi, the offensive tackle signee out of San Juan Capistrano, California currently stands 6'8″ and weighs in at 305 pounds. He is, by all accounts, a monstrously big and athletic human being.
In case you were thinking someone that size can't possibly be THAT athletic, Persi recorded a laser timed 5.3 40 yard dash and his 4.9 twenty yard shuttle would put the 18 year-old right in the middle of his contemporaries at the combine. There aren't many people in this world blessed with Persi's height and even fewer with his blend of athleticism and quickness at that size.
But the thing that really sets him apart, is his work ethic.
After three semesters and two football seasons at football powerhouse Mater Dei High School, Jeff and his father decided it would be in Jeff's best interest to transfer to Trinity League rival JSerra Catholic High School to play for Coach Pat Harlow.
Sold on the Switch
The decision to transfer wasn't based on football, but rather academics. JSerra has a stronger reputation amongst Catholic institutions than Mater Dei, and they also had the Pat Harlow factor.
Persi was a 6'4″ 240 pound TE/DE when he made the decision, and he still remembers his first meeting with his new coach, where he was asked to switch positions.
Persi was asked to move to Harlow's old position, offensive tackle. The position in which he starred for the Persi family's beloved USC Trojans before a long and productive pro career.
"It was an honor to have someone with Coach Harlow's pedigree ask me to switch positions" Persi told me about that first meeting.
To say Harlow's background made an impact on the decision is understated.
To grow up in Southern California, as a fervent Trojans fan, with Persi's tough but loving father (also named Jeff) bleeding USC blood, and having one of the best players in program history not only wanting to coach the young Persi but also coach him at the position he starred at?
"It meant everything" said Persi.
Decision made.
He would begin learning a new position ASAP.
The learning curve was to go from tight end to tackle is steep and Persi did not mince words when he talked about moving. "It was tough" Persi said with a laugh when I asked how tough of an adjustment it was, "I made my fair share of mistakes".
Taking That Next Step
Yet with all the mistakes he claimed to have made, the potential and the talent was even more impressive. His athleticism and physical prowess so early in his craft made collegiate coaches salivate over him.
Cal was his first scholarship offer his junior year. That one was special. Not that long after, USC.
And then came the offer from Michigan.
Less than 18 months after changing schools and switching positions, Persi was committed to play football for the winningest program in college football history.
Like with Coach Harlow, it was the coach that was a huge factor.
Persi loved Coach Warinner, his track record of turning former tight ends into stars, he loved the academic prowess of Michigan, and on his official visit in June, he was smitten. His mind was made up and he wanted to commit. So, he went home, talked about it with his parents, and exactly 24 hours after his visit ended, Jeffrey Persi was a Wolverine.
Don't Wake a Humble Giant
One of the most notable things about Jeffrey Persi is how humble he is. I asked him about former opponent Amin Vanover, and he chuckled and told me "I don't really remember, he was talking trash and I just handled my business".
Impressive, but not quite the story the elder Persi tells me less than a minute later.
According to his dad, Amin Vanover told Jeff that he was going to "F#&% him up". The very next play, Persi attacked Vanover's outside shoulder, drove him 10-12 yards downfield and pancaked him into the ground.
For context, Amin Vanover is not a random high school opponent that's clearly outmatched by Persi's size and strength. Amin Vanover is a Division 1 football commit. To divisional rival Penn State.
In his 13th game of playing offensive tackle, Jeffrey Persi put one of the 30 best defensive ends in the 2020 class on his ass.
"Tell him what you said after that" the elder Persi proclaims to his son excitedly. Jeffrey laughs again, sheepishly looks down before looking back up and saying "I just asked him how that went for him" before going back to the huddle.
This was just one footnote in a line of Persi anecdotes that begin to sound like a folk tale or a tall tale that people tell about Bo Jackson. Stories that leave some wondering how much exaggeration is involved. Except I've seen the HUDL plays, and they're as real as they come.
There was the time JSerra was playing highly ranked Calabasas, and their D1 defensive end made the mistake of telling Jeff that "he wasn't S**t because he was going to Michigan". Bold decision.
Persi turned the defensive end and drove him into the student section. Embarrassed, said defensive end didn't say another word the rest of the night.
The four-star signee doesn't take any of it personally. He knows some guys like to talk and challenge. But Persi likes to finish.
Preparing to Play
What was once a skinny 6'4″ 240lbs TE/DE is now a 6'8″ 305lbs tackle, and he's far from finished. He credits a lot of his growth to the dedication and work ethic of his trainer, who he just calls Coach Dame.
Damon Harris works with Jeff Persi and his JSerra teammate, Storm Seeley, who also happens to be a close friend of Persi and is currently going through the admissions process to become a walk-on at Michigan. Storm's family owns the gym both prospects workout at, which is how they came to meet Coach Dame.
Under Coach Dame's strict tutelage, Persi has added somewhere between 30-35 pounds since they started working together about three months ago. Every Sunday, he receives a report from Michigan's Football Staff with adjusted workouts due to the COVID-19 pandemic.
Persi then sends it to Coach Dame, to his credit, doesn't change anything on it, he just adds to it.
"My job is to complement what the coaches want to do" Harris tells me. He admits he's not a real football guy, so he doesn't teach technique. That's for the coaches. "My goal is to get the best athlete in front of those coaches, so they can coach them up as much as possible".
To be clear, Persi and Coach Dame aren't breaking any social distancing guidelines, they're just very resourceful.
The workout is pretty standard.
Persi starts with Kettlebell swings before moving to an agility ladder. Rap music is blaring in the video, LA Based Rap Group Westside Connection's Bow Down to be exact. A little friendly shot at Persi's future offensive coordinator Josh Gattis, who is from the East Coast and has a preference for East Coast based rap.
Then comes the band work and more agility ladders. He does several more sets of agility ladders, band work, and burpees in 30 minutes before he's even moved onto lifting.
The soft-spoken, big friendly giant with a childish smile is gone, and in place is a 6'8″ monster of a man with one goal in mind: get better.
With every single band-challenged rep, Persi's face tightens a little more. By the time his set of ten is done, he looks like he's just finished running a marathon or passing a kidney stone. There are no easy days with the Michigan signee.
His shirt is soaked with sweat by the end, his arms are sore and his tanned face is now red after the intense workout. Par for the course, according to Coach Dame.
"Jeff takes it all serious. Some kids don't take warm ups as serious, but Jeff understands the process of it all"
Coach Dame goes on to tell me that he has programs specifically designed to break kids mentally. He has days where he'll tell Jeff that there's a "99.5% chance you're puking" and Persi's nervous smile says it all, as he's done his fair share of post-workout puking.
With an intense program designed to break even the most talented athletes physically, Jeff stands tall among them all, Damon Harris says.
"We've broken a lot of guys mentally. Never Jeff. He's got the tools and work ethic to be special. He wants to be special"
"And I think he will".
Future Plans and Friendships
Persi doesn't know when he'll show up in Ann Arbor. Ideally in late June, or early July, but those are all guesses at this point.
The COVID-19 pandemic has altered quite a few plans but Persi isn't worried about that. There's nothing he can do about it, except adjust and make sure he's ready. He's excited to see his close friend and classmate OG Zak Zinter, as well as his other good buddies OC Reece Atteberry and TE Matthew Hibner.
When pointed out that his closest friends are all primarily blockers, Persi lets a big grin slip across his face: "I guess so" he says.
Linemen stick together.
Don't expect to see Jeffrey Persi very often next year, if at all. He knows he's redshirting and he's ok with it. It just gives him another year to learn the position and develop his body physically. Continue to gain muscle and athleticism. He trusts the program to get him where he needs to be, but one thing is for certain…
Jeffrey Persi isn't going to be the smallest person in the room anytime soon.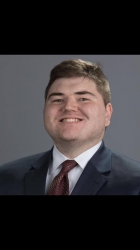 Latest posts by Harry Hillman
(see all)