My illustrious friend Garrett Fishaw released quite a 7-round mock draft that would get many Lions fans excited for the future. It was smart, made a lot of sense, and filled a lot of needs.
Those of us that have been along for the ride the last few years know that none of that will probably happen, so I created a mock draft Lions fans can expect while at the same time being a miserably bad mock draft that will probably be correct.
I present to you: The Worst Mock Draft I Can Come Up With. Enjoy:
Round 1, 6th Overall (from LAC): CJ Henderson, CB, Florida
Bob Quinn trades down and picks up a 2nd round pick and a 5th round pick…in the 2021 draft. This is good. But Bob Quinn loves over drafting Florida defenders at positions of need, and he loves eschewing more talented players to get Florida guys. Enter CJ Henderson. Henderson is a good player, but with Okudah still on the board, it'll infuriate everyone with Bob Quinn once again outsmarting everyone.
Round 2, 35th Overall: Cole Kmet, TE, Notre Dame
With injuries to TJ Hockenson, and a lack of production from Jesse James, I expect Bob Quinn to go after yet another big, white Tight End from the Midwest. While the NFL zigs towards speed and athleticism, Bob Quinn smartly zags towards 4 tight end sets, and trying to emulate the Patriots
Round 2, 37th Overall (from LAC): Adam Trautman, TE, Dayton
Small School project? Check. Big, athletic tight end? Check. Reach on a guy you could probably get in the 3rd-4th round? Check. Bob Quinn goes all in. Imagine all of Stafford's weapons being able to go over the top and down the seams? Hockenson, James, Trautman, Kmet and a running back? The NFL keeps going to 11 Personnel, but Bob Quinn is going 41.
Round 3, 67th Overall: Braden Mann, Punter, Texas A&M
With Sam Martin leaving, its time for a new punter in Ford Field. Maybe a punter in the third round is a bit of a reach, but no one knows how valuable a punter is like the Lions. No longer are the punts from the opponents 38 yard line automatic touchbacks.
Round 3, 85th Overall (from PHI): Jonah Williams, Edge, Weber State
Bob Quinn selects a small school edge rusher with the versatility to move around the line. He didn't accidentally take the former Alabama tackle Jonah Williams that missed his rookie season with injury. It's chess, not checkers boys and girls.
Round 4, 109th Overall: Nate Stanley, QB, Iowa
After last years disaster at backup QB, Big Brain Bob goes all in with a QB with 3 years of experience in a pro style offense. Signing Chase Daniels this offseason allows the Lions to carry 3 QBs, and have Chase Daniels develop Stanley into a mediocre backup Quarterback for Matthew Stafford. Expect Stanley to develop into a great quarterback once the Patriots pick him up off the practice squad.
Round 5, 149th Overall: Malcolm Perry, WR, Navy
Needing more depth in the WR room, Bob Quinn really goes after a player many people are calling the next Julian Edelman. Even though he played quarterback in college, and he's considered undersized, he was a quarterback that plays wide receiver in the NFL. High Character, high effort, expect Perry to make an impact similar to Edelman. Or Antwaan Randle-El. Or Hines Ward. One of those guys definitely though.
Round 5, 166th Overall (from PHI): Nobody
With Bob Quinn's Zoom crashing, he's unable to make a pick on time. Quinn decides it's a sign from Martha Ford that he needs to keep costs a little lower, and voluntarily forfeits his pick rather than pick a slot later. Good GMs draft good players, Great GMs Manage the cap well.
Round 6, 182nd Overall: Carder Yurgatis, Long Snapper, Shenandoah
After spending a 6th rounder on Jimmy Landes in his first draft, Bob Quinn continues to search for special teams excellence by drafting the long snapper that many are calling the next Don Muhlbach. This allows the Lions to finally rotate LS and get the perfect timing down.
Round 7, 235th Overall: Shea Patterson, Quarterback, Michigan
To make both Lions and Michigan fans come together in celebration, Matt Patricia pounds the table and himself gets another quarterback, this time it's his Senior Bowl quarterback. Patterson goes on to take over for Matthew Stafford in 2022, leading the Lions to the playoffs only to lose a heartbreaker in the Super Bowl to the Cleveland Browns and head coach Urban Meyer, causing many to ask if Urbz is the greatest head coach of all time.
So, what do you think? Greatest draft of all time or THE greatest draft of all time? You can smell the future Super Bowls with this amazingly over-the-top SOL draft.
Can you do worse? Add your worst mock draft to the comment section below!
Photo Credit: DetroitLions.com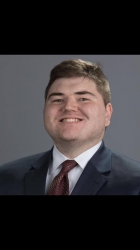 Latest posts by Harry Hillman
(see all)