Let's get this out of the way right off the bat: I don't believe for a second that there will actually be a spring season. The turn around from the end of spring to the beginning of the 2021 fall season will be quite quick, not to mention incredibly unhealthy from a player health standpoint.
With the Big Ten and Pac 12 announcing the cancelation of their fall seasons, there are quite a few players from around both leagues that I fully expect to never play another college snap again.
So, here are some of the big Big Ten players and what kind of decision I expect to see in the next few weeks:
Ohio State's superstar quarterback is one of the surest bets to leave for the draft and never suit up in college again. Fields is almost certainly going to be a top 10 selection in next year's NFL Draft, he has nothing left to prove, and his stock can really only go down after a strong finish to the 2019 season.
The one caveat I think we could see is if he's really certain that the extra year could make him the #1 selection in the 2022 draft.
Trevor Lawrence has seemingly locked his name in stone since he dominated Alabama as a true freshman, and North Dakota State QB Trey Lance has seemingly risen up to top tier status, after leading NDSU to an undefeated championship, and throwing 24 touchdowns and zero interceptions. That being said, the difference in total salary from the 1st pick to the 5th pick is only $6 Million over the course of the contract, and with Fields stock as high as it is, I think he leaves.
Most Ohio State fans will probably tell you the same thing, you just don't keep quarterbacks as insanely talented and well regarded as Justin Fields past their junior year. 
Ohio State's star cornerback made the decision to come back for his senior season after flirting with the NFL Draft last year. Wade's decision was a bit of a surprise to some, but made a lot of sense. His draft stock seemed to be in the late first/early second range because he primarily played inside for the Buckeyes, and would be taking over Jeffrey Okudah's spot on the outside.
Smith could've played himself up the draft quite a bit, but I just don't see a probable first-round pick deciding to wait around until the Spring of 2022 to become drafted. 
Almost everything from Shaun Wade's section applies to Nico Collins.
I think Collins is a little bit more likely to come back because I can't see him in the top 15 picks, but I can see Shaun Wade there. But I still think his stock is too high to pass up the chance.
Michigan's starting right tackle was an incredibly unexpected surprise last year. Mayfield didn't officially win the position battle until after Andrew Steuber tore his ACL, but the redshirt sophomore became a bonafide stud as the season progressed and has already received quite a bit of draft praise at the conclusion of last season.
Right now he was projected as a late first-round pick, but the reason I wouldn't bet the house on him leaving yet is because he still only has 13 starts at tackle, which could push him down a little bit.
Mayfield is also younger than Collins and Wade, so I could see a scenario in which getting more film under his belt could seriously improve his status in the draft. That being said, I still think that he'll be a high enough selection to warrant leaving. I'd peg it at 75% gone right now.
Bruce Feldman's #1 athletic freak in college football, the 6'4, 275 lbs defensive end broke out last season to the tune of 6.5 sacks, 12.5 TFL, and made an impact when he was on the field. But in my opinion, there was a little bit of consistency lacked last season.
Paye was dinged up mid-year and only had one sack and 2.5 TFLs in his last five games. He certainly has more than enough on paper to get drafted, but I don't see a player with only 9.5 career sacks being taken before the 4th round, whereas I can see a strong season from Paye moving him into the first round because of his incredible athleticism. 
The only reason I could see him leaving is that he's already 22 years old, and he'd be 23 by the time he enters draft prep. That could hurt him a little bit, especially if believes that his combine workouts will be enough to push him up in the draft.
ALREADY GONE: Micah Parsons, Rondale Moore, Rashod Bateman
Who could be next? Who's missing from the names above? Let us know in the comment section below!
Photo Credit: Eric Upchurch/MGoBlog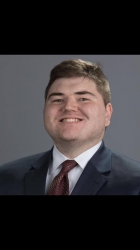 Latest posts by Harry Hillman
(see all)