When I speak to people who follow college football, the consensus on Brady Hoke when his name comes up is very simple; average coach who didn't belong at Michigan but a great, great recruiter. So much so that, after Harbaugh was hired at UM, there were some Michigan fans out there who hoped Hoke would remain on the staff in some sort of recruiting position.
Well, that obviously did not happen, and almost nothing at all from the Hoke era was retained by his successor.
One notable holdover from the Hoke era, however, was one he held over from the Rich Rodriguez era; the BBQ at The Big House. For those of you unfamiliar with the event, The BBQ at The Big House is a mid-summer recruiting event that Rich Rod all the way back in 2008.
Hoke was very successful with this event, scoring commitments from George Campbell and Damien Harris in 2013, and Brian Cole in 2014. Don't even get me started on how that ended up because I don't want to go there.
But, one happy story from the BBQ was Ben Bredeson's brother committing to UM for baseball after the whole family visited for the event back in 2014. That commitment may have lead to Ben's eventual commitment to UM, even though it did have to be closed out by Harbaugh's staff.
The 2016 edition of the event comes with great optimism (as many things related to UM football do nowadays) and an even greater list of recruits expected to be in attendance.
That list includes a number of top targets committed to other schools, and the UM staff hopes to be flipping *insert obvious bbq/recruiting punchline here.*
Check out the latest news, rumors and predictions for Michigan's top targets who are committed elsewhere at this point: 
Harris is the top prospect in the country, according to the 247Sports Composite rankings. And that's for a very good reason; he's a flat out beast. He's tall, fast and very very strong. Whomever ends up landing him in the end will be a very lucky one. Michigan is hoping that they'll be that team.
Unfortunately for UM, however, Harris is already committed to Alabama and has been for a while. Flipping anyone from Bama is always tough, especially when you're talking about the #1 overall prospect in the class. To make matters worse for UM, Harris is from California, and, if he were to be flipped, it looks much more likely be to stay out west. According to multiple reports, he was seen in USC gear from head to toe at Michigan's satellite camp at his school in Antioch (CA).
The good news with Harris is that he should be visiting Michigan at least once before signing day for an official this fall. For Michigan to have any shot with him, they'll have to blow his mind on his trip to Ann Arbor while also having the big season on the field they are expected to. Still, it'll be tough to sway him away from Bama and, possibly, USC. 
Shot at the Spatula: Fair
Though Cali RB and 5-star USC commit Stephen Carr will not be at the BBQ, he's expected to be on campus again this fall. I'll bring up Carr now because he is, in many ways, could be linked to Najee Harris' recruitment.
Carr is considered to be one of the 2 or 3 best backs in the class, and is being prioritized by many of the same schools Harris is. If Harris were to flip to USC, it would not be the first time the Trojans bring in more than one top RB. Just look at their ridiculous class of 2006 where they brought in 4 (!!!!) top-15 RBs including 3 of the top-10: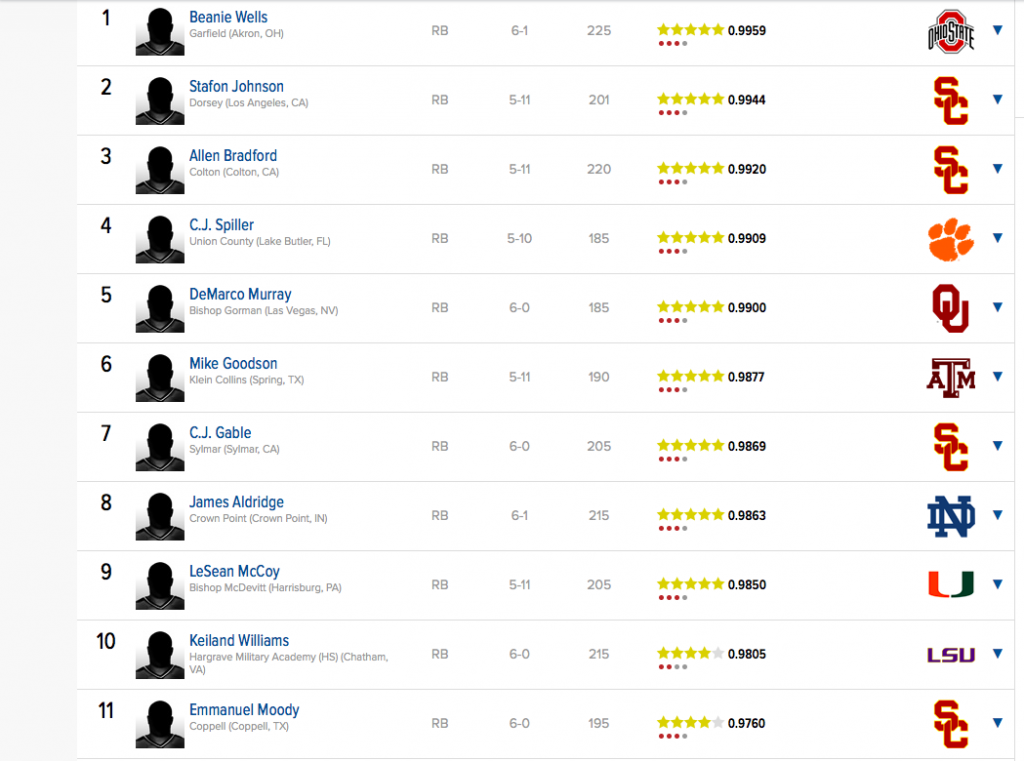 Alas, that was then, and this is now. According to TMI's Sam Webb/Allen Trieu, an eventual flip to USC for Najee Harris could potentially open the door for Michigan to flip Carr ($). So, we'll have to wait and see how this situation works itself out before making any predictions, but you can bet Michigan will be rolling out the red carpet for both prospects to make sure UM remains an attractive destination to them throughout the process.
Shot at the Spatula: Fair
Two things about 5-star FL CB Shaun Wade; he's a beast and he's committed to UM's biggest rival. The Michigan staff have hiked up their pursuit of the talented DB since the beginning of the 2016 calendar year and are becoming more and more optimistic that they could eventually pull off the flip.
According to Steve Lorenz of Wolverine247, Wade has been talking to a number of other schools recently and his family have been especially receptive to Michigan's pitch more than others ($). As for why he's looking around, it may have something to do with the fact that he has been committed to OSU since January 2015 and could just want to explore at other options. 
With one CB already committed in Canadian gem Benjamin St-Juste, Michigan will now turn their attention to a board made up of Darnay Holmes, Ambry Thomas, Shaun Wade and, possibly, Alex Perry. Ironically, there may be more optimism on Michigan's end for Shaun Wade than for the uncommitted Holmes, who will also visit for the BBQ. 
Shot at the Spatula: Fair, but improving
5-star Bama OT commit Alex Leatherwood is a prospect Michigan would LOVE to bust the spatulas (plural; he's a big man) out for. The 6-6, 327 pounder has been committed to Alabama since June of 2015, but that has not stopped Michigan from making him a priority for their pivotal 2017 OL haul.
While Leatherwood seems firm to Bama, him making this long trip on his own dime, as it would for any prospect, says a lot. According to a source, Leatherwood appears to be a longshot to flip to anyone, let alone to Michigan. However, as was the case with Najee Harris and Stephen Carr, he's expected to be on campu in the fall for an official visit which gives UM a shot. Despite the odds not being great, they'll continue to recruit him hard until signing day. You never know what could happen once a player gets on campus. 
Shot at the Spatula: Poor
Stanford RB/LB/FB commit Sione Lund has been someone linked to Michigan for a very long time. And, when you look at the positions he could play at the next level, you'll see that he's a Harbaugh guy. Michigan is hoping that Lund will be the versatile, power athlete out of California that they did not retain in 2016 (sigh, vicious Vic).
The Michigan coaches, Tim Drevno especially, have been in constant contact with Lund and have clearly made up ground on the Cardinal. Getting him on campus for the BBQ will be huge for their chances, especially if they're looking to add another fullback-like player to the class.
If they blow him away on this visit and sell him on his obvious fit in Michigan's offense, they might just get their guy from Harbaugh's former program. 
Shot at the Spatula: Good
The last player on the list of players committed elsewhere that Michigan is looking to possibly flip is 3-star S/LB prospect and USC commit Juliano Falaniko, who comes from American Samoa.
Before I get into Michigan's chances with him, I'd like to point out that if he were to commit to UM, that might give them the most interesting class of all time in terms of where they're finding their prospects. With commits from New Mexico, Massachusetts, Connecticut, Canada, Colorado and potentially American Samoa, you would be hard pressed to find a more diverse class in recruiting history. 
Michigan offered him back in early May, and according to Steve Lorenz, is not as high on UM's board as others might think. While The Wolverine crew is hearing that he's a top target for the staff and they're pitching him to "create (his) own legacy and not follow others" ($). So, take that as you will. We believe that he's still firmly on the board but could be a fall back option until they get him on campus/see more tape on him this fall.
No matter where he sits on the board, he's expected to OV this fall, which could be huge for UM's chances. Keep an eye on Falaniko up until NSD. 
Shot at the Spatula: Good
The Michigan football staff will always look to prospects committed elsewhere to fill out their class. And 2017 is no different. So, out of all of the committed prospects, who do you think Michigan flips before/on NSD? Let us know in the comment section below! 
Photo Credit: 247Sports.com

Latest posts by Harrison Rahajason
(see all)