Folks, I'd like to present to you our first annual MGoFish/MaizeNBrew Celebrity Charity Pick Off Challenge, aka the prestigious MGFMNBCCPOC.
Earlier today on Twitter, I decided to create this challenge with Maize N Brew Editor, Anthony Broome.
The rules are simple: The entire B1G Board is at play. The winner gets to claim himself as the MGFMNBCCPOC Champion and will have an undisclosed amount of money donated to the charity of their choice ($20).
So without further ado, let's get after it:
Michigan State @ Michigan (23.5)

MY PICK: Michigan -23.5
This is a massive spread, but almost completely justified. Michigan State is a complete disaster this season, they just lost by double digits to Rutgers, and Mark Dantonio and his black voodoo Michigan Magic aren't walking back through that door. Mel Tucker might be a very good coach, but this is a pretty bad roster with a ton of holes and they're completely outmatched. This game will be ugly quick. Joe Milton can seriously pick up some Heisman hype if things go very well. Hype Train is already going insanely fast, chugga chugga. 

Minnesota @ Maryland (19)

MY PICK: Maryland +19. 
Two teams that got their doors blown off last week meet to try and save their season. Minnesota is the better team here, but I think the Gophers defense is a big enough question mark to let Maryland score often enough to keep this relatively close. We're still not 100% sure what the Gophers kicking situation will look like, so this could be a good way for an overmatched Maryland team to steal some points. But don't even think about putting Minnesota on upset alert, because Maryland stinks a ton. Taulia Tagavoiloa is pretty fun though.

Indiana @ Rutgers (11.5)

MY PICK: Rutgers +11.5
I'm all in on Rutgers this year. Not necessarily as a good team that's going to win a lot of games, but as a competent enough team to make genuine progress in year one of the Schiano Era. Isiah Pacheco could be the B1G's best running back outside of Michigan or Ohio State, and Schiano's guys played real tough last week. I think this could be a game they steal outright from an Indiana team coming off one of the biggest wins in program history last week, so it's going to be really tough for them to bring the same level of energy. But I think Michael Penix is good enough to help the Hoosiers pull out a close game.

Ohio State @ Penn State (11.5)

MY PICK: Ohio State -11.5
I'm not sure if there's a game that I picked quicker than this one. Ohio State's death cannon is just getting started right now, and Justin Fields gets to lead the countries most dynamic and deep offense into Happy Valley to take on a Penn State team that absolutely collapsed against Indiana. This will be a huge game to see Ohio State's secondary because they're going to get tested against Pat Freiermuth and Jahan Dotson. Sean Clifford is really talented and has a ton of confidence, so I don't think they're going to have an issue scoring points. But I just don't think there's a shot in hell they can stop Ohio State consistently enough to not get their doors blown ALL the way off. 

Purdue @ Illinois (7.5)

PICK: Illinois +7.5
I'm going to be completely honest, the only reason I'm picking Illinois because Purdue seems like such an obvious pick and that's how Vegas gets you. And I'd rather look at the score and know I'm dead in the water by halftime rather than trying to root for Purdue to open it up big time on Illinois. Mike Epstein can get yards for the Illini, they have a solid QB in Brandon Peters and I think their defense can perform well against teams that aren't Wisconsin. To hell with it, let's roll with Lovie and the boys!

Northwestern @ Iowa (2.5)

PICK: Northwestern +2.5
It's not so much how in I am on Northwestern as it is how out I am on Iowa. Spencer Petras is a nice new addition for an incredibly stagnant offense, but until Kirk Ferentz makes staff changes, that offensive line is going to continue to struggle. This year could get really ugly for Iowa if they lose this game, and I think Pat Fitzgerald and Indiana Transfer Peyton Ramsey can make some noise in the Big Ten West this year, as Northwestern takes care of business at Kinnick.
So, those are my MGFMNBCCPOC championship winning picks, Anthony. Let's see what ya got.
Photo Credit: Patrick Barron/MGoBlog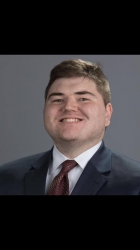 Latest posts by Harry Hillman
(see all)