The Massachusetts to Michigan recruiting pipeline got even stronger with the addition of a very talented and under scouted offensive weapon as 2021 TE Louis Hansen became the fifth commitment in what's shaping up to be a banner class offensively for the Wolverines.
Hansen is a 6'5, 225 lbs playmaker that is listed as the 66th best player in the country on Rivals and the 187th on the 247Sports' Composite Rankings. I'd expect his Composite Ranking to end up somewhere between 100 and 125 in the foreseeable future, as it looks like 247 hasn't updated their profile on Hansen since he was a sophomore in high school. That's not to say that 247 is worse than Rivals, but Rivals runs their own recruiting camps and places a heavier emphasis on prospects they've seen at their camps. It's expected that a tight end from Massachusetts probably doesn't have as much exposure to the recruiting analysts as one from Texas or Florida.
What Hansen does have is great length and body control, with the ability to go up and get 50/50 balls. He looks every bit of 6'5, and carries his weight well at 220 pounds. He looks like he could easily put on another 15-20 pounds and be a dynamic inline tight end, slot receiver, slot tight end and H-Back to create matchup problems in Josh Gattis' Speed In Space offense.
The New England standout blocks very well for a tight end/wide receiver, with the caveat being that he's a significantly better player than almost everyone he's blocking. But what I look for more than the dominant blocks, is how they get to the pancake.
Hansen doesn't leverage his weight and size advantage to get people on the ground, he has a strong punch, a great base, good technique and an insatiable leg drive on DBs and OLBs. He has a good hip lean in terms of being able to drive guys around. It's an area of his game that looks a little unnatural for him, which says to me that it's a technique he worked hard on and had to be coached on. That's actually a plus for me in the book, because being able to adjust and take coaching and do it reasonably well is a great trait to me.
In terms of his body control, Hansen does a terrific job knowing how much space he has to work with and his receiving instincts are good. He effectively tiptoes the sideline through tacklers and knows exactly what crease he has to hit when the ball gets into his reach. That's a translatable skill that is hard to teach. Sure, B1G defenders will probably stop those from being touchdowns, but at the next level, every extra 3 or 4 yards counts and he shows he isn't afraid of a little contact.
I'm insanely excited about the impact Hansen can make at the next level.
That's not to say Hansen is a perfect player, there are some definite areas of opportunity for him if he wants to see the field immediately in Ann Arbor. His route running is ok, but his hip work and explosion on breaks is suitable for the level he plays at, but probably needs some work for the college level. It's not a negative by any stretch of the imagination, but it's an area that needs work. This will also translate to how he gets off the line.
Currently, Hansen looks like a player that hasn't completely grown into his body off the line, and lacks the pop on his first 2 or 3 steps. There's a really good chance this is already an area that he's fixed in his last year, because everything I'm watching is from his junior year, and we're already in April before his senior season (fingers crossed he has one).
Player Comparison: Pat Freiermuth, Penn State.
The comp for Hansen took a little bit of time, but I finally came to one. The Penn State standout was another 6'5, 225 pound tight end from Massachusetts that needed to add a little bit of frame before hitting the next level. He also happens to have been recruited by Josh Gattis.
Freiermuth is a versatile offensive weapon that continued to grow until he was a 250-260 tight end extraordinaire and has set himself up to be drafted in the top 75-100 whenever he declares for the draft.
They had similar rankings and aggregates at the time of Hansen's commitment, and while I think expecting Freiermuth production is silly, I think Hansen will play a similar role.
Hansen's a great player that'll rise up the rankings soon and has the potential to be an award-winning tight end with first/second round potential. Whether he maxes out his physical and mental capabilities is up to coaching, hard work, and luck, but the sky is the limit for Louis Hansen.
I feel very comfortable conducting the Hansen hype train, and think he'll have an opportunity to play immediately.
Photo Credit: Louis Hansen/Hudl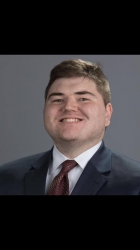 Latest posts by Harry Hillman
(see all)