To the joy of so many Michigan fans everywhere, it does look like Michigan is taking some active steps to fill in their deficiencies along the defensive line. Even before Michael Dwumfour announced he would be spending his last season elsewhere, the defensive line looked slim.
Enter College Football's closest cousin to Free Agency, the Transfer Portal.
Now more so than any other time, colleges are able to fill 1 to 2 year gaps with players that have decided to transfer in search of better opportunities at playing time. Look no further than the college football playoff: Heisman Trophy Finalist Justin Fields, Heisman Trophy Finalist Jalen Hurts, Heisman Trophy Winner Joe Burrow all took a spin in the transfer portal to lead their new school to the playoff.
Players that transfer are no longer seen as strictly damaged goods, but are now valuable assets that can elevate a season and help win more games.
Michigan's dipped its toe in before and came out with a nice catch last year in Central Michigan grad transfer DE Mike Danna. This year, they're looking at multiple options.
The main name on the board is another defensive lineman, Stanford transfer Michael Williams, a 6'2, 290-pound defensive tackle grad transfer that could make a similar impact as Danna.
Michael Williams
Stanford Grad Transfer, Defensive Tackle, 6'2″ 290lbs
Michael Williams has been a two-year starter for Stanford, and decided to transfer somewhere else for his fifth and final year of eligibility. It's a very standard grad transfer.
Williams is a high motor, and high effort guy, and considering he graduated from Stanford, it's safe to say he's high character and smart. Something seems to be off at Stanford for players of Williams' caliber to be leaving as grad transfers, because Williams isn't the only one Michigan is recruiting.
Don't make the mistake of thinking Williams is damaged goods, he's a very good player that would get serious snaps at most Power 5 schools, and he's a quality player at a position of severe need for Michigan. He'd be a solid and much-needed addition.
Williams plays a standard Nose Tackle to a 1 technique, which means he lines up over the center or in the gaps next to the center, nearly every snap. He has been shifted out to a 3 technique in bigger, short-yardage packages.
He keeps a consistently low anchor in his stance and fires off, which allows him to keep his hips square towards the line of scrimmage. Very rarely does he get turned off the snap, and he plays hard.
Williams consistently can be found chasing after ball carriers and looking to clean up garbage. He often engages at the point of attack, very rarely takes on blocks, and takes small, powerful steps right out of his stance that allows him to keep his hips low and square towards the line of scrimmage.
Too big of steps and it's easier for offensive linemen to get a player off balance. Too slow of steps and the play is already over before a slow defender can impact a play. Williams' footwork is consistently good in his favor. On several plays, he strings out the blocking and his able to make a tackle within two yards of the line of scrimmage or is the reason another player made a nice tackle.
As long as Williams isn't asked to do anything he's not capable of, he should hold up very well in the Big Ten.
Williams should almost always be subbed out in obvious passing downs. He's not going to make very many big plays behind the line of scrimmage as he's just not explosive enough for that. But that's ok, because there's a very big need for quality two down nose tackles.
An addition of a player of Williams' skill set will allow for a lot more versatility in defensive play calling, because Don Brown won't have to get insanely cute to try and stop running backs from running roughshod over the defense.
Too often people mistake being heavy with being a good run stuffing interior linemen, but Williams is only listed at 290 and he plays with the low base, the physicality, and the unselfishness to be a good one. He knows he's not going to rack up a ton of stats, but he does his job.
Outlook
Williams is a very prototypical, plug and play nose tackle, after making a massive jump from his junior year to his senior year.
In watching him against very similar Oregon teams in 2018 and 2019, it's clear he made a very stark improvement. He was often moved around in 2018 and bullied out of holes, but in 2019 against a better Oregon line, he was able to hold his own much better. He was an active plus in 2019.
In 2019 he was quicker, his footwork was much better, he looked 10-15 pounds heavier, and overall was much more noticeable.
2018 he had poor technique at times and seemed out of place against a dominant Oregon line.
This makes me optimistic that he has one more step forward left in him, and if he can keep similar athleticism and add another 5-10 pounds, he can be even more potent against good to great competition. Ideally, he shouldn't play more than 60-65% of the snaps, because he's very limited on passing downs, but he can play a very valuable role.
Last year, Michigan didn't really have any players capable of consistently taking on double teams, and it created issues across the defense.
If the staff can land him, the addition would add a layer of depth by giving Michigan a solid interior lineman that can give Mazi Smith brief spells of playing time to prepare him to take over the job next year. Michael Dwumfour just wasn't getting the job done at the high-end level the defense needed, and it doesn't surprise me to see him looking for another school.
All the transfer portal crystal balls have Williams going to SMU, but with all due respect to the Ponies, Michigan is a different caliber of school, and genuine Michigan interest should lead Williams to end up in Ann Arbor to end his collegiate career.
Photo Credit: StanfordFootball/SportsIllustrated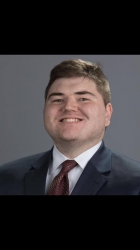 Latest posts by Harry Hillman
(see all)