JJ McCarthy has been the second coming for many Michigan fans for quite a while now.
The five-star quarterback out of Nazareth Academy in Illinois has been committed to the Wolverines for over a year now, and with the uncertainty surrounding the IHSA's decision regarding this upcoming football season, the upcoming senior announced he would be transferring to powerhouse IMG Academy. The move now allowing him to enroll early in Ann Arbor.
I decided to watch a couple of his games to figure out what Michigan was going to be getting once he arrives on campus, what kind of player McCarthy really is, and how he's developed so far as he enters his senior season.
The first thing you notice about JJ McCarthy is his arm. Not just how far he can throw it, but how he throws it. Balls explode out of his hand regardless of if they're an 8 yard slant or a post route deep down the middle of the field.
His accuracy is elite in the short and intermediate game but needs work in the deep game as he will miss long on a couple of deep shots from time to time. He's capable of making every single throw on the field, consistently. But I'd like to see him develop a little more touch on his throws deep down the field. His arm talent is elite and from the moment he steps on campus, there aren't going to be many quarterbacks in the country that can make the toughest throws with as much ease as him.
Part of the reason that he makes the throws so easy, is because of his exceptional footwork.
Nazareth's first touchdown in an eventual State Championship game romp over St. Charles North is largely due to a 4th down conversion then-sophomore McCarthy made rolling out to his right and finding a receiver with a safety just over the top. It's a nice throw and a nice catch, but what really stuck out to me was how clean and easy his footwork is. He operates in the pocket with an incredible sense of awareness, and this allows him to understand he's able to reset his feet quickly and deliver an accurate strike in a crucial situation.
The calmness and awareness to focus on the small things is incredibly impressive for a sophomore in the biggest game of his career to date.
Mobility wise, he's got some Shea Patterson in him when it comes to escaping the pocket. The difference being that McCarthy uses his mobility as a means to extend plays for his arm, not necessarily to pick up yards. That being said, he can absolutely pick up 15-20 yards and get out of bounds if the defense gives it to him. I just wouldn't use him on designed QB runs.
There is some worry for me when he extends plays because it's probably when McCarthy gets a little too gunslinger with it. That play results in McCarthy traveling 10-15 yards backwards before firing a rope to a receiver for a first down. It's a great play, and a great throw, albeit very dangerous. It's not something I project will be a good idea in Big Ten games, but if McCarthy understands the time and place as to making that decision, it mitigates my concern a ton.
This play ends up completed, but McCarthy makes a couple pretty dangerous decisions that work out well enough for him. Caveat here: McCarthy had a broken wrist going into this game, so he may not have had a great grip on the ball to throw it away quickly.
When he sits in the pocket with clean footwork, he's about as good as it gets. But when the play breaks down and he's forced horizontally, the small windows he tries to fit balls into will result in more turnovers.
A lot of the time his gunslinger mentality works out great, but not a lot of teams in the country have the ability to matchup talent-wise with McCarthy and his arsenal of receivers.
Against Illinois powerhouse Mount Carmel, McCarthy went 8-23 with three interceptions in a 37-13 loss in last years state title game. Mount Carmel had a special scout team quarterback, Head Coach and former Heisman Finalist Jordan Lynch, to prepare for McCarthy and the Caravan came out in full force to force McCarthy out of his comfort zone.
To McCarthy's credit, he hasn't run from it and instead used it as fuel to improve himself.
Improvement that will only be exacerbated by the coaching and college ready talent he'll have around him at IMG. I'm actually glad he went to IMG for his future development. No disrespect to Tim Racki and the absolute powerhouse that he's built at Nazareth, but the teams on IMG's slate will be able to take advantage of McCarthy's small mistakes and capitalize. It's why I see a lot of former Washington QB Jake Browning in him.
Player Comparison: Washington QB Jake Browning
Browning was a talented gunslinger that threw for 46 touchdowns his second year at the helm, and occasionally infuriated Huskie fans by getting a little reckless with the ball later in his career.
One play that sticks out is a low snap that McCarthy drops, and then under duress fires his bubble screen while being hit. It's a ball that needs to just be eaten at the college level, and should have resulted in a 10 yard loss if not for the refs blowing the play dead.
247Sports gave him a Kyle Allen comparison, and it's one that I like a lot as well.
McCarthy is about 6'2, 190 so he's a bit more slender than a B1G caliber quarterback, but he should have plenty of time to grow and fill out his frame.
At the end of the day, he's an elite quarterback prospect with an insanely elite arm with great accuracy and footwork that needs to work on his decision making a little bit.
With a focus on improvement and plenty of talent around him, I think he's going to end up being one of the best Michigan quarterbacks in recent memory.
Photo Credit: JJ McCarthy/Twitter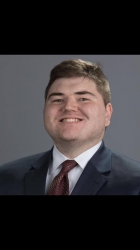 Latest posts by Harry Hillman
(see all)