On the 8th day of Coronamas, my true love gave to me: a very highly rated interior offensive linemen that has versatility at both guard and center. OG/C Greg Crippen is listed as a guard on all the recruiting services, but played center at Milton High School and IMG Academy.
Crippen has terrific vision on combo and second level blocks. He does a great job snapping the ball, engaging on a defender, and then disengaging quickly to block a man at the next level.
He's a strong IOL, and can move people out of the way when he locks his his hand on the interior of the frame of the defensive lineman or linebacker. He has a tendency to lunge his upper body to drive contact at the second level, and can lead him to getting shed by linebackers. But this is a very manageable issue for a young offensive lineman to face, and it's much more encouraging to see the violence that he inflicts when he lands a punch.
I really like how smooth Crippen's hips are and his flexibility provides a good base for him to be able to maintain his athleticism once he gains 15-20 pounds.
Crippen also plays aggressively and strong in the pass protection as well. He doesn't take on rushers, rather he actively looks for work and cleans up the action to keep a clean pocket. His fluidity from snap to contact in pass protection is a little bit more clunky than the fluidity he shows in the run game, but his frame should allow that skill set to be taught quickly.
Player Comparison: Mason Cole
I certainly don't think he'll have the four-year impact that Cole had, but Cole was another slightly undersized center that got recruited at guard/center with great vision and second level versatility. I think Crippen can develop into a similar role.
Photo Credit: Bryan Fuller/MGoBlog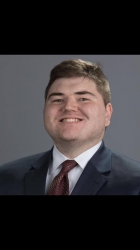 Latest posts by Harry Hillman
(see all)