For quite a while, Makari Paige was a fiercely contested recruiting battle between Michigan and Ohio State that ended up on the right side for the Maize and Blue for a change.
Paige is a tall and lengthy safety that was previously profiled by boy genius Stephen Osentoski on his Recruit Review. (You can also hear our thoughts on the MGoFish Podcast, and if you're not already, you should subscribe and leave a 5-star review and that's about enough shameless plugging for the rest of the article).
Paige is ranked #243 in the 247 Composite, #225 on 247's own rankings so he has a pretty consistent consensus among the recruiting services. Oddly enough he was ranked 14th, 18th, and 20th on the three main services among safeties, but 25th on the composite. Which totally makes sense and is completely mind-boggling at the same time.
The first thing that really sticks out to me about Paige is his length and athleticism.
Paige uses every bit of his 6'3″ frame to keep receivers pinned against the sidelines and can play a very nice centerfield. He has high-end ball skills, which will be an incredibly important skillset for him in the midst of 50/50 balls and contested catches. He also has some pretty fluid hips in terms of switching directions on the fly.
There are several instances in which he's able to quickly change directions and track down a receiver while either dislodging the ball or making a play on it. To me it shows a high level of instinct and there's very little wasted movement. And what movement is wasted can be easily explained by him being a tall, lanky athlete still growing into his body.
Paige's man-to-man coverage is surprisingly good for a safety and while I wouldn't feel comfortable with him on an island with the best athletes in the world, I do see the ability to keep guys in front of him with a great ability to break on the ball.
He can clamp on receivers and has such a wide catch radius that it would take an even smaller window to fit a ball into good coverage.
Paige isn't a great tackler, in my opinion. That's not to say he's bad or he's a liability. But he too often uses his shoulders, lowers his head or lets backs and receivers fall forward on him.
He's fairly aggressive and has leveled pretty solid hits on receivers extending for overthrown balls to dislodge them, so it's not that he's soft or incapable of hitting. He is. I just think his tackling is pretty far behind the rest of his game. Too often you see the head and shoulder drop on impact and it's not one fluid tackling motion.
There's a very good chance that he becomes a good tackler at the next level, but in my opinion, it's not a skill set conducive for being a Don Brown free safety in which he'd be the last line of defense and responsible for open-field tackles.
His tackling ability, hip fluidity, man coverage ability and length actually lead me into his player comp…
Player Comparison: former Michigan DB Jeremy Clark
Jeremy Clark was a 6'3.5″ 180-pound two-star safety in high school that was converted into a tall and lengthy cornerback at Michigan and was later drafted by the New York Jets.
I believe that Michigan is actively searching for bigger boundary corners with a high level of comfort in man-to-man coverage and the ability to take away deep thirds while making plays on the ball. I also believe that could be part of the reason that Michigan took two other safeties last class, with Jordan Morant and RJ Moten being more natural deep safeties.
Besides, Jim Harbaugh has had some pretty good luck in terms of converting tall, lengthy and aggressive players into lockdown corners. People forget, but Richard Sherman began as a 6'3″ receiver for Jim Harbaugh at Stanford.
I feel like a move like this would be the best way of getting the most out of Makari Paige's potential and allow him to utilize his strengths most effectively.
While Jeremy Clark isn't the flashiest cornerback prospect Michigan has had, he was a very solid to very good cornerback that played opposite of Jourdan Lewis and was able to take away a teams second best receiver quite often without getting beat.
Stephen Osentoski's good but slightly less good comp: Jarrod Wilson
If I had to posit a guess for Paige's career, I'd call him a two year starter, a 2nd team all B1G his senior year, and a mid-round draft pick. Nothing spectacular, but consistent and high-level play at the same time.
Photo Credit: Makari Paige/Twitter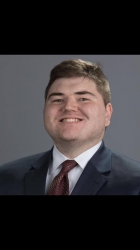 Latest posts by Harry Hillman
(see all)