The subject of this week's scouting report were decided upon specifically because I'm a little lazy. I'm going to be honest, sometimes it's a little hard to track down game film of random high schools without a huge presence. Sometimes it can be a little tough to figure out if the opponents in the film are worth enough of a shit to warrant much judgment. Sometimes dudes transfer and it can be tough to keep track of so many different uniforms.
All that being said, when I realized I could knock all of those concerns with St. Frances Academy RB Blake Corum, he became a very easy target. And let me tell you, I was blown away by him.
There probably aren't many, if any, players having a better season than Blake Corum right now. He had 252 yards and a touchdown against the #1 team in the nation, he had 155 yards and 4 touchdowns against a loaded Miami Central team, there was the 100+ yards, 2 touchdowns, and a 40-yard punt return against stacked IMG Academy.
Flat out, Corum is one of the best players in the entire country, and if he was 3 inches taller, he'd be a top 10 player. I'll bet on those dudes every day.
Plus, he wore a Black Panther Mask out of the tunnel before the IMG game:
That's badass.
If you're not familiar by now, SFA is possibly the best high school team in the country after demolishing athletic factory IMG Academy 35-7. St. Frances is also coached by former analyst and parent of the program, Biff Poggi. SFA has 8 players in the top 175 of next years recruiting class, and that doesn't include Michigan bound LB Nikhai Hill-Green and OL Micah Mazzccua.
IMG, meanwhile, has 10 four stars, and 2 five stars, meaning the game probably had upwards of 45-50 players with FBS offers right now. It was a star-studded affair, and the Michigan boys (including next week's scouting target Osman Savage), certainly showed out.
Blake Corum
Running Back, Maryland, 5'8, 190lbs
Michigan Comparison: Mike Hart
Blake Corum has probably had one of the more tumultuous recruiting processes by the services of this cycle to date. He started out in the top 100 in the beginning of the cycle, fell outside the top 350, and is now back up into the top 150 and continuing to rise. There were concerns about his durability, about his frame, about his explosiveness, and whether or not he was physically capable of being a bell cow in college.
Those concerns have been laughably inaccurate to a degree, as the first thing that jumps off the tape of Blake Corum is his physicality and his toughness.
What I love most about Corum are the plays he makes that don't make a highlight reel. He does all the little things incredibly well and shows how well rounded of a running back he is.
After watching a few of his games start to finish, there's not a doubt in my mind that Corum has the ability to be a bell cow running back at Michigan and touch the ball 20-25 times a game.
Yes, Blake Corum is fast. His laser timed 4.44 40 yard dash would have put him second at the NFL combine last year, just behind Oklahoma State RB Justice Hill (Daxton's older brother).
Yes, Blake Corum is quick. His laser timed 4.22 shuttle would have put him 4th at the NFL combine last year.
But outside of all that, when you take away all those numbers, Blake Corum is TOUGH. Blake Corum is nails for breakfast tough.
Early on, his toughness is noticeable in his drive to finish runs forward. Corum isn't afraid to lower the shoulder on a linebacker or safety, and he doesn't let the ball dangle either.
In the second quarter against Miami Central, Blake Corum really showed the all-around versatility that could make him Michigan's most well rounded running back in years. A block was missed on a passing play, which left Central's big, athletic nose tackle running free in the backfield. What would normally end up a broken play became a 50-yard completion because Corum stepped up and exploded into the DL. He didn't dive at the knees or get blown backwards, he straight up stalemated a much bigger and stronger defensive lineman in pass protection.
That's the stuff that makes Blake Corum such an exciting prospect. 
In terms of his genuine running ability, Corum's penchant for blending his speed and power is going to be what takes him the furthest at Michigan. It's a truly exceptional skillset for him, and he does it so effortlessly. You never notice how fast he is until he beats corners to the edge, and you don't realize how powerful he is until he breaks and shakes linebackers and carries into the next level.
Good luck arm tackling him, and good luck getting leverage on him.
One play against IMG sticks out in particular. Corum gets swamped in the backfield on the opening drive, bounces it to the outside, breaks several arm tackles and finishes forward for a first down. He's terrific.
Part of what Blake Corum brings to the table is his all-around versatility. His comfort and silky smooth demeanor returning punts and getting slippery with defenders on special teams means he's going to help with the hidden yardage game. Forget returning it to the house, if Blake Corum can just field 90% of the punts, and get a few yards each time, he'll be a massive difference-maker.
Michigan needs someone with the demeanor of Corum to go get the ball, and it genuinely seems like Michigan's punt returners have shell shock over a couple of fumbles.
There genuinely aren't many weaknesses in Blake Corum's game in my opinion. Sure, I'd like to see him keep it in between the tackles instead of bouncing it outside so much, but on a decent amount of his runs, that's where the hole was. I'd definitely like to see him bulk up a little bit to be a bit more durable late in games because his frame is solid.
An area that I think he does have an opportunity to improve is his footwork on the sidelines. Corum is a dog and likes to run through people. It's definitely fun to watch, and an area he's pretty dang good at too, but to keep the durability up in college, I'd like to see him tiptoe into a move a bit more fluidly.
And if we're going to get everything out in the open, Blake Corum is very limited in the height department, but there's not exactly a ton he can do about that. It can be advantageous for him, because he frequently gets lost by linebackers at the line of scrimmage, and gives him the step he needs to beat players to the spot.
He's exceptional and I'm excited to watch him play in the Big House.
So, Why Mike Hart?
I promise, I'm not trying to give out these lofty expectations or pump up this class unfairly. Genuinely, but holy cow. He runs like Mike Hart, takes hits like Hart, blocks like Hart, and fibs about his height like Hart. His vision is Hart-esque, and most importantly, Corum keeps the ball snug at all times, which gives the security of Mike Hart.
Hart was an uber-productive running back in the northeast, that set national records for touchdowns and yardage in high school. His competition level and size were the reasons that he wasn't recruited even heavier, and Corum at least checks the size off of the list.
And also like Hart, there's a little something to be desired in the pass-catching game, but makes up for it as an able and willing pass blocker.
Photo Credit: Blake Corum/Twitter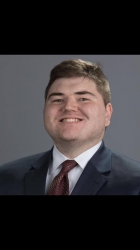 Latest posts by Harry Hillman
(see all)