Michigan had to search a bit for its 2020 quarterback following an unfortunate medical retirement from JD Johnson. But it found itself an intriguing prospect in the three-star from Massapequa.
Dan Villari
Quarterback, Plainedge (NY) 6'3.5″ 206lbs.
Player Comparison: Trey Burton QB/TE, Florida
Due to the unfortunate circumstances regarding JD Johnson's medical retirement, Michigan is going to be forced to take a quarterback in this class to prevent the depth chart from getting too wonky. Johnson was a really solid option for the Wolverines, and it's a shame that he'll be unable to continue his career.
That being said, after his medical retirement, Michigan ended up being the dude who got dumped the week before prom, and has two tickets, a tuxedo and no one to go with.
So, Michigan started asking the single girls, but there aren't many left and most of them are already set on going with someone else. Now it's time to ask the girls you grew up with, but low and behold, they're a little pissed you didn't ask before someone else did, so they're not budging. And you really want to go since you already bought (rented) your tuxedo, so now it's time to do something you never wanted to do: ask the underclassman who will almost definitely say yes because it's really the option of going to prom or not going to prom.
Now it's just about which one you're going to ask. You haven't really paid any attention to them, because you never thought you'd need to. So you do your research, and low and behold, you find a match: Dan Villari.
Now we just need to see if he says yes.
If you were able to make it through that analogy without hitting the x in the corner, unfollowing me on Twitter, or emailing my parents on what the hell is wrong with me, just know that I appreciate you.
Dan Villari isn't option A, B, C or D. He's probably closer to option Z than he is A, but that doesn't mean he's not any good.
Villari is a late riser that was getting the tires spun on him by Pitt, Wisconsin, and most of the MAC. He's a really talented athlete with a capable arm. I was shocked with how much I like him that I went back and made sure it wasn't sped up. I checked a couple of times, and sure enough, dude has some speed.
He's a terrific athlete.
He's hurdled a few guys and I'm not sure if he landed yet.
There's a lot of things to like:
He also moves like a jumbo running back in the best way: he keeps his legs churning and continues to get up field.
When he escapes the pocket, he keeps his eyes downfield and has a cannon for an arm.
He ran the ball 121 times for 1522 yards and 23 touchdowns.
He averaged about 20 yards a completion and threw 13 touchdowns to 1 interception.
He produced really well against decent competition, and he's a competitor.
He may not have been on anyone's radar 3 months ago, but he is now, and the kid can play.
Because Villari has been slept on a bit, most of the video out there on him is highlight tapes. And highlight tapes are good, but they're a little troublesome because they contain all the good plays and none of the bad.
This scouting report will be a little bit more optimistic than most because of that.
A few things to note: he needs to clean up his footwork. It's very inconsistent and he makes some outrageous throws that are terrific plays, but probably get picked off at the next level. He also struggles with his accuracy as a result. He completed 50% of his passes or less, in 6 out of his 12 games.
Again, I wouldn't look too hard at the completion percentage, because high school receivers drop a bunch of passes, and he was a run-first quarterback. But it's notable because paired with his inconsistent footwork, it creates an issue that he's going to need to clean up at the next level.
His arm strength is also a little inconsistent. Some plays he absolutely rifles it, some he short arms it a bit. And I'd like to see him look for players downfield more before he takes off because those gaps are a lot less forgiving in the Big Ten.
Don't get me wrong, there's a lot to love with Villari. But he's not a perfect prospect. But he's someone that deserves a chance in my opinion.
Why Trey Burton?
Honestly, because he's a similar frame, a similar style, and he moved to tight end.
I think Villari might secretly be the second tight end in this class. Of course, he deserves to test his luck at QB first. I'm not saying it'll work out, but he deserves a chance to fail.
He's big and strong, and the dude is physical. He's got instincts. You can run trick plays with him. I can see him being a terrific H-Back of sorts, and if Josh Gattis had fullbacks, I'd peg him for an all-world fullback.
Michigan has had some pretty good success with High School quarterbacks in the Northeast switching positions. They've had success with Zach Gentry as well.
With five-star commit QB JJ McCarthy in the 2021 class and potentially highly ranked QB Nicco Marchiol as a great option in the 2022 class, Michigan can afford to take a low risk, high reward flyer in the 2020 class. It's not ideal, but it'd make a terrific story when Villari wins multiple Heismans before becoming a 6 time Super Bowl Champion with the New England Patriots.
Photo Credit: Daniel DeMato/UMassFBBlog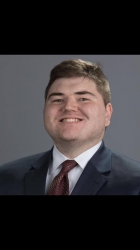 Latest posts by Harry Hillman
(see all)