After news broke of JD Johnson, unfortunately, having to join the Wolverine's coaching staff next year due to having to retire for health reasons, Michigan is in heavy need of a quarterback in the 2020 class.
With only Dylan McCaffery, Joe Milton, and Cade McNamara on board for next year, Michigan is a transfer or injury away from being dangerously thin at the position.
Enter CJ Stroud
A high-level quarterback prospect from California. Stroud is a relatively late bloomer at the position, and a late riser up the rankings, as well as the centerpiece of what is likely going to shake out to be another major Ohio State-Michigan recruiting battle.
CJ Stroud
Quarterback, Rancho Cucamonga (CA) 6'2.5″ 195 lbs.
College Player Comparison: Jarrett Stidham
Stroud has gone from outside the top 500 in May, to winning MVP of the nation's top quarterback camp, the Elite 11. He's got some chops, and while he's got some developing to do, there are some incredibly positive traits about him that are making college coaches drool.
It's important to remember with Stroud, that this is only his second season playing varsity football. He's raw, and hasn't had the same experience at lower levels that other dudes have, so he's going to need a redshirt, and probably then another year.
But after that, the sky 's the limit.
In terms of his athletic background, CJ Stroud fits a lot of the boxes of Jim Harbaugh quarterbacks. Harbaugh loves dual-sport competitors, and Stroud is a very talented basketball player at RCHS as well.
He possesses a terrific frame. At almost 6'3″, he should be able to add another 10-15 pounds by August. It's not unrealistic for him to be 6'3, 230 by the time he's starting at whichever program he ends up with.
His athleticism is also a positive for him. No one will mistake him for Lamar Jackson, but he has functional athleticism for the quarterback position and ran a 4.85 forty.
Stroud is a pocket passer that wants to throw first. But where his athleticism and mobility really stands out is his ability to navigate the line of scrimmage horizontally while keeping his eyes downfield. He wants to get the ball out and give his receivers a chance to make big plays. That's going to make him more dangerous at the next level when he has better receivers with the ability to follow his path better.
But above all else, CJ Stroud may have the best arm in his entire class.
The ball EXPLODES out of his hand, and he can effortlessly flick the ball 40 yards with some steam behind it.
Of the two games of his I watched, his two best throws in my mind were both dropped touchdown passes.
My favorite one is right here. Click ahead to the 3:20 mark. Stroud is able to effortlessly throw a 40-yard pass over a tight defender in a perfect spot. Off of his back foot. It gets dropped, but it was an outstanding throw by him.
Mechanically, he can be picture perfect at times. It's just so smooth. He delivers the ball with one motion, and if he can just work on his footwork in the pocket, it'll take him a long way.
There's a ton of tools in Stroud's toolbox, but if he wants to lead a major program early in his career, he needs to improve his decision making a ton.
While Stroud has an absolute cannon, he needs to learn when to just eat a sack or throw it away. He doesn't have a great feel for the position right now and needs a lot more seasoning.
Against Chino Hills, Stroud does a great job of avoiding pressure and extending plays, but one play in particular that stuck out was a play that protection breaks down, and after rolling out to his right, uncorks a throw across his body and across the field. Luckily it falls incomplete, but that's a throw that can easily be intercepted for a touchdown. It was a reckless throw, and probably should've just been tossed away.
In regards to the seasoning, Stroud needs to learn how to put a little more touch on some of his very short throws.
A couple plays in particular, Stroud absolutely rockets the throw to his running back standing a couple of yards away. One play the running back catches it and gets forward, but another time it bounces off and gets picked off for a touchdown. Both throws are indicative of his experience, or lack thereof, and shouldn't be a big deal in his development.
Lastly, Stroud can be a little off-balance in the pocket in terms of his feet. When there's pressure, he can get lazy with his mechanics because he knows he can flick it off of his back foot. And he can, but at the next level, defenders will be able to close on his balls easier, so it would behoove him to get the extra power on his throws by stepping up in the pocket and stepping through the throw.
That being said, Stroud has the ability to make every throw, but it doesn't mean he SHOULD make every throw. He's going to need time in his next stop to get valuable repetitions that he's missed. In my opinion, that's also what makes him so tantalizing as a quarterback prospect.
He can be anything. A good coach can turn him into a star, but at the same time, there isn't a definitive track record of him consistently performing. He's not on the same level as the top quarterbacks in this class, Bryce Young and DJ Uiagelelei, and I have him slightly behind Chubba Purdy and Ty Butterfield. But his ceiling could be the highest of all of them when it's all said and done.
Why Jarrett Stidham?
Stidham has an incredibly similar frame as Stroud, and has a lot of the same tools with aggravatingly irritating bursts of inconsistency. Stidham was an outstanding quarterback as a freshman at Baylor, but once the Art Briles scandal went down, he transferred to Auburn and was a very good, but albeit somewhat inconsistent.
In 2017, Stidham went on a 5 game tear, beating #1 Georgia, and #1 Alabama in a span of 3 weeks, had a strong arm, was a big and nimble runner when he had to and was incredibly tough. He's now being groomed to take over for Tom Brady, so while he didn't reach the top 10 Draft Pick status people thought he'd hit, he's done pretty well for himself.
Where will Stroud end up?
After speaking to a couple of different sources, I can legitimately say that Stroud is the #1 quarterback on Michigan's board as of right now. They really like him, but Ryan Day turned up the heat on him a bit earlier, and honestly, he seems like an absolutely perfect fit for Day's offense.
I wouldn't be too worried about Jack Miller, the current OSU commit either. And if we're being honest, Day's recent track record with Quarterback's is significantly more impressive than Jim Harbaugh's.
Dwayne Haskins was a first-rounder, and Justin Fields is going to be one as well. I think Stroud makes the smart, but incredibly annoying decision to attend Ohio State. There's a lot of pro-Buckeye smoke there, but Michigan will have their shot when he visits in early December.
From that point, it'll be anyone's ball game.
Photo Credit: ScoopDuck.com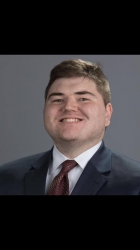 Latest posts by Harry Hillman
(see all)