Michigan picked up their first commit in quite a long time with the announcement that Jaylen Harrell was in the fold of the 2020 class. Harrell committed at a time Michigan needed some positive momentum, and he's a very intriguing prospect that could make a huge difference come 2022.
Jaylen Harrell
6'4, 245. Outside Linebacker/Defensive End, Florida
College Comparison: Lawrence Marshall
Harrell is a tweener of an edge prospect, in that he could reasonably play an outside linebacker spot, but needs to put on a bit of weight to comfortably play defensive end at the next level. I think that's where he ends up, and he has the strength to make an impact on special teams in the very near future.
There's quite a bit of projection required with Harrell, as he played primarily Inside Linebacker in high school, so there's not a ton of live speed game film of him coming off the edge. That being said, what I did see from Harrell was pretty impressive for someone that seemed to be playing out of the position he's being recruited for.
Physically he's very impressive. He has pretty solid instincts for a high school player and absolutely explodes his hips upon collision.
Harrell is a physical specimen. He takes long strides and makes up ground quickly. On one of the rare plays I saw him play end with his hand in the dirt, he executed a pretty nice speed rush around the edge, and then attacked the quarterbacks throwing arm instead of just going for the body blow. It's impressive for a defensive end prospect as young as Harrell.
The frame and the motor is there, he's a competitive kid, and he works his ass off on the field. He's going to be someone that absolutely terrorizes offenses with his backside pursuit. He plays through every whistle and finishes his tackles. Plus, Michigan has done pretty well with recruiting and developing rush ends like Harrell, so a certain amount of trust should be given to him
There's a lot to like with Harrell, but the sooner he really develops and refines the technique side of playing defensive end, the sooner he'll hit the field.
Nothing I've seen from him so far indicates he's developed more than a pass rush move or two, and his pad level is higher than usual for a high school kid. He could also use a bit of help with shedding blocks, when blockers stay square and take away his push/pull technique, he seems lost and just tries to muscle through dudes. That'll work in high school, but it's not going to work in the Big Ten.
To be fair to Harrell, his inexperience at defensive end is not entirely his fault. He was a highly ranked ILB a couple years ago with offers from just about every college in the country. But he outgrew that frame, and was forced to become an end at the next level, so the plan for him was never to kick out to edge.
So, if you look at his development from the point of view as someone who was an excellent inside linebacker, but just got a bad break in the size department, his current trajectory is a bit more encouraging.
Why Lawrence Marshall?
Lawrence Marshall was another pretty well regarded Defensive End prospect coming out of high school, and had a pretty similar stature to Harrell.
Like Harrell, Marshall was a big and physical football player that sometimes struggled at times being blocked, and was an Edge/OLB tweener.
The technique was an issue for both of them, and as we saw in Marshall's college career. He had flashes but was never able to put enough of them together for a long enough time to be anything more than a nice player on the edge. He was consistently moving around trying to find a home until his eligibility ran out. Marshall may have never been a star, but you'd be hard-pressed to find a coach that wouldn't love more Lawrence Marshall's on their team.
Dudes that work hard, don't complain and are fine contributors. Not everyone can be a superstar and that's perfectly fine.
If Harrell ends up as nothing more than a solid player that contributes a decent amount, gets his degree, and has a couple of looks in the NFL, I would call that a win. And who knows, Harrell certainly could become a superstar.
Anyone with his frame, athleticism, and motor is just one step away from putting all the pieces together and breaking out. But in my opinion, I wouldn't want to bet on it until we see at least one step forward.
I'm staying cautious on him as a prospect, but there's a ton of room for growth and I'd love nothing more than to re-read this in 4 years and say "Holy shit I was wrong".
Overall Outlook
Jaylen Harrell is a good, but not great edge prospect, and would probably be a lot lower in the rankings if he didn't start so high as an ILB. But he's got a great frame, a great motor, and the physical traits needed to be a quality defensive end in the Big Ten.
It'll take a few years though, some patience, and quite a bit of work with Ben Herbert and Abigail O'Connor before it happens, but anyone who works as hard as Harrell does on the field should never be discounted.
Photo Credit: 247Sports.com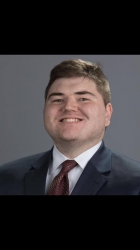 Latest posts by Harry Hillman
(see all)