Last week we profiled Zak Zinter and RJ Moten. This week I decided to stay on the East Coast to take a look at two of the more under scouted, but still talented members of this class. We'll start with another Massachusetts product with
Eamonn Dennis
Athlete, Massachusetts, 5'10″ 173lbs
Michigan Player Comparison: Drew Dileo
Eamonn Dennis's value and ability can truly only be graded in the eye of the beholder. He put up some great production in high school, but at the same time, didn't face the greatest competition. He's incredibly versatile, but some would say it's because he's too small to stick at just one position. Some places recruited him as a corner, Michigan recruited him to play slot receiver in the #SpeedInSpace era. On the other hand, the #SpeedInSpace era hasn't gotten off to the most auspicious of starts.
I'm not going to stand on a table and say that Dennis should be in the top 100, 200 or even 300 players in his class. In fact, he just barely cracks the top 500. What I will say, is that he has nearly identical size and ranking on 247 to another Michigan player, one that most people had pegged at four star status during training camp, and what appeared to be a diamond in the rough this early in his Michigan career.
That player, Mike Sainristil, is also from Massachusetts, and he finished the recruiting cycle just 15 spots lower on 247 than where Dennis is right now.
Sainristil was listed at 5'10, 175 and recruited as a slot receiver when most places pegged him as a corner. He was projected as a starter as a true freshman throughout the offseason and had been getting rave reviews from just about anyone that saw him in practice.
Those projections have turned out to be a little over the top, as Sainristil has tallied one reception for 8 yards in his first four career games, and has struggled to make an impact. That's to be expected of true freshmen when the stadium lights are on, so this isn't really meant to be a criticism of Sainristil but rather to point out that it appears that Michigan has a specific type that they like and feel they can utilize.
Let's just throw the cards on the table, and say that Eamonn Dennis is a bit of a square peg. That's not to say he can't be an incredible player or someone that ends up in the NFL. What I mean when I call him a square peg, is that he's not someone that can just be jammed into any round hole. The staff has to have a plan.
Dennis is not someone that you're going to be able to throw at split end and expect to beat physical corners one-on-one all game long. He has some very real strengths, and also some clear limitations to his game. I like him a lot, but he's also not someone I expect to be rated much higher considering his profile and level of competition.
What Dennis lacks in physical traits, he makes up for with exceptional balance and ball carrier vision. What immediately jumps off his film is his ability to tiptoe a sideline while avoiding tacklers, as well as how well he gets in and out of cuts.
While his speed is good, it's not exceptional. What is exceptional, is how fast he's able to get to go from 0 to 60.
Several times, Dennis was able to change direction in the backfield or reverse field, and each time he was able to outrace the safety to the endzone. His footwork is exceptional, and it's clear to me why Michigan likes him as a slot receiver. He's shifty, and he can very easily turn a quick slant or drag into a 25 yard gain. He also has a lot of seam potential. Where throwing him on the outside will match him up against bigger and more physical corners, having him run deep routes up the seam will limit the size of the corners matching up with him, and can give him the size matchup he needs to utilize his 40 inch vertical.
Projection
If you were looking for a more optimistic ceiling for Dennis, you'd have to head to the southeast, but former North Carolina Tar Heel and current Pittsburgh Steelers WR Ryan Switzer demonstrated similar cutting ability and vision once receiving the ball, as well as the ability to go over the top when necessary.
I could also see him utilizing an H-Back Hybrid role that Ohio State put Curtis Samuel in, albeit I don't think he's nearly as talented of a runner as Samuel.
Dennis's drawbacks are pretty similar to any player in his mold:
He's undersized for a lot of offenses
His level of competition isn't that high
There's not a ton of scouting on him, mostly projecting at this point.
These aren't necessarily detriments to Eamonn Dennis, but rather unavoidable limitations to scouting him and projecting him at the next level. I'd like to see him put on some more weight before stepping on campus because that will allow him to be flexed and motioned more as a triple threat: blocking, receiving, and running.
If he's able to become a consistent tool in the offense, his ability to block could open up the outside running lanes on outside zone and stretch plays, and can be the difference between 6-yard gains and 26-yard gains. There's just not enough of him against high-quality competition to extrapolate much more than what we've already seen from him.
Why Drew Dileo?
Drew Dileo is one of my all time favorite Wolverines, and someone that I think came along 5 years too early.
Dileo was a really solid slot receiver for an offense that didn't really utilize a slot receiver but was able to catch 46 passes for 13.7 yards a pop in his college career. He was also a gadget player, and excelled on special teams as an occasional kick and punt returner, as well as a very reliable holder that forced defenses to take into account his ability as an athlete. Plus, who can forget Dileo's fake field goal against Virginia Tech, his sliding hold on a last-second field goal against Northwestern, or his clutch performance against Michigan State that resulted in several field goals including the game winner, which he also held?
Dileo was a swiss army knife of swiss army knives and had he come along a few years later, I think he'd have even better production than what we already saw. I think he's a good comp for Dennis as a player that can fill in a lot of different places for the offense and special teams.
Nikhai Hill-Green
Linebacker, Pittsburgh-Baltimore, 6'1" 230lbs.
Michigan Player Comparison: Jake Ryan
Nikhai Hill-Green is a versatile linebacker from the St. Frances Academy powerhouse in Maryland coached by Trusted Friend Of The Program and fashion icon, Biff Poggi.
NHG is formerly from the Pittsburgh area and is now sharpening his skill set against the best of the best, playing an all-world high school schedule while getting a high-class education. His recruiting range is pretty solid, where 247Sports has him as a low 4-star linebacker, and the other services have him a very high 3 star. These rankings are probably a very good gauge of where he is as a football player, and NHG has a ton of functional athleticism to his game.
Hill-Green's a guy that's been scouted pretty consistently since March of 2018, so while he's fallen about 70 spots or so in the rankings, I wouldn't attribute that to anything he has done wrong, simply the services are scouting more players.
The borderline three to four-star linebacker has some incredibly tantalizing highlight tape material from his Pittsburgh high school. He shows a great ability to weave through blockers and gets up and down incredibly well on a blitz. He's a plus athlete, and I think can comfortably get up to about 235-240 pounds in college without losing anything.
One of his best qualities is that he's a just mean dude on the field that wants to knock your soul out and talk some shit in the process. I don't mean that as a bad thing, to play defense at a high level, you need an attitude. He also has very fluid and smooth hips. When he drops into coverage, he's able to change direction well and cover a zone very well.
Hill-Green has got some solid length to him, and early in his career, I expect him to be an outstanding special teams weapon. It wouldn't shock me if he blocked a kick or punt at some point.
He's very aggressive at times, and gets north and south very quickly. He also shows a pretty solid ability to stick with running backs for short bursts out of the backfield. He'll never be confused for Jabrill Peppers, but he's also not Mike McCray or Noah Furbush. He can adequately cover a running back or slot type for a few seconds but could have a lot of trouble on double moves, wheel routes, and sluggos, but most linebackers struggle with those so it's not a big deal in my mind.
NHG is a physical guy that wants to make contact as soon as possible and showed several nice plays against #15 Miami Central where he blitzed into a massive offensive tackle and drove him several yards back before disengaging.
St. Frances likes to use him at times off the edge to set the edge and keep contain. He's got some very good skills and he has the perfect attitude and intelligence for a Don Brown linebacker. During one play later in the game, he was tasked with dropping into coverage on a screen and was able to read and react to it to force a short, pressured throw that was picked off by a defensive lineman. That ability to quickly adapt was very nice to see, and even if the sexy part of the play was the 300+ pound big dog rumbling down the sidelines with the football, football is a game of many moving parts and NHG's part was well done.
Nikhai Hill-Green's aggression is a major perk of his game, but it's also a major detriment of his at times. His Pittsburgh tape is gorgeous and gives a Devin Bush comparison to it, but his St. Frances tape is much more modest. Don't get me wrong, he's still a B1G level athlete and a terrific prospect, but too often he was found out of position through over aggression.
On one play in the second half against Miami Central, NHG was unblocked through the gap and got too deep upfield to make a play on the running back, who scooted through the unattended gap for a 40 yard gain. There were several times he gets too aggressive and Miami Central's running back was able to take advantage.
NHG has good functional athleticism but isn't a good enough athlete to overrun gaps and get back in to make a tackle. Against St Joseph's, the #12 team in the country, he got caught looking too far in the backfield on play action and was caught out of position a few times. He also has trouble shedding blocks when he's not the one to initiate.
A couple draw plays by Miami Central resulted in him getting bullied by some very physical offensive linemen because he was caught off guard. These are all very fixable things.
NHG has the potential to be an excellent linebacker by his 3rd year, but the undisciplined nature that he occasionally plays with makes me think that he's going to be an almost automatic redshirt, then a special teams dynamo, and by his redshirt sophomore year, he's going to have a chance to do some special things.
Hill-Green has the body and attitude of a superstar, but what separates the good linebackers from the special linebackers is their ability to play disciplined and within the scheme.
If he responds well to coaching and fixes the little things, the potential is there for him to be an All American.
The potential is there, but luckily he's a good enough athlete and a physical enough football player that even just sharpening it up a little bit will lead to him being a very solid contributor in his career.
Why Jake Ryan:
Jake Ryan was another large human being with the functional athleticism to provide great versatility as a 4-3 OLB or a 3-4 ILB. I think NHG is in a very similar mold.
The former Michigan standout had some issues in his career in terms of shedding blocks because of a late read to a play, didn't have the greatest sideline to sideline coverage, but was a freakin missile at times getting after the quarterback, and could provide the toughness coming off an edge blitz as well as slicing through the interior offensive line to create havoc on passing plays.
I think NHG will be much more adept in the passing game and has much more fluid hips than Jake Ryan did, but in terms of their schematic versatility, toughness, and ability to be extremely physical, I think Jake Ryan is a pretty darn good comparison.
Photo Credit: Tyler Donohue, 247Sports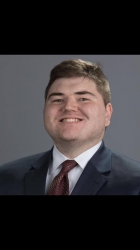 Latest posts by Harry Hillman
(see all)