Michigan's recruiting roll has continued over the last couple of months and the staff is hoping for it to continue into August where at least one of the top targets is set to announce on the 8th.
When that happens, no matter who choice is, look for the offensive line haul to be set for this class by the end of the month.
With 21 commitments already in 2021, there aren't too many spots left. The staff will be able to focus on its top targets during the final 4-5 months of this cycle and continue to shift its focus towards the 2022 class. But first, it's putting a bow on this top 10 class they've built.
See how it could all come together.
Class Size:

Always depends on attrition on the roster, which seems like it increases every year with the transfer portal. Looks like the staff is recruiting for at least a 25-man class.

Class Attrition:

Though this class has yet to see one, I would still expect decommitments at some point. That's especially true with so many commitments coming in this cycle from recruits who have yet to visit. No guesses or anything like that but as the final months play out, expect some changes to the commitment list.

Chances Key:

Excellent – Top Team/Favorite to Land
Very Good – Top Three/Realistic Possibility
Good – Top Five/In the Running
Fair – Puncher's Chance/Questionable Take
Check out my third 2021 Best Guess Michigan Football Recruiting Class Prediction:
1. QB JJ McCarthy, 6'3″ 195lbs. La Grange Park, IL (IMG Academy)
McCarthy is the gem of the class and the next big thing for the program transferred down to IMG Academy so he can enroll early in Ann Arbor. The five-star prospect showed out at the Elite11 camp to prove he's one of the best quarterbacks in this class. He continues to improve and physically mature. Harbaugh has built a nice quarterback room but he'll take it to another level as soon as he steps on campus.
Commitment Date: 5/11/19
Composite Ranking: Five-star, #17 Overall, #2 Pro-QB, #4 in Illinois
2. RB Donovan Edwards, 5'11" 195lbs. West Bloomfield, MI (West Bloomfield)
Edwards is priority numero uno of the coaching staff's board and has been for the majority of this recruiting cycle. All while his recruitment went through a bit of a roller coaster. Michigan was the early favorite but then Ohio State was out front and looked likely to land a pledge from the four-star. But the Buckeyes landed two top-100 targets, opening the door again for Jay Harbaugh, Josh Gattis and the rest of the staff to regain their traction. Georgia and Oklahoma remain threats but the momentum is fully with the Wolverines once again. Crystal Balls are back on Michigan and it's moved to the "I'll be surprised if he commits elsewhere" stage of his recruitment.
Offer: Yes
Visit: Yes
Michigan's Chances: Excellent
Composite Ranking: Four-star, #34 Overall, #3 RB, #2 in Michigan
Rivals FutureCast: Michigan
Crystal Ball Favorite: Michigan
Other Options: Tavierre Dunlap, Amari Daniels
3. WR Markus Allen, 6'2" 190lbs. Clayton, OH (Northmont)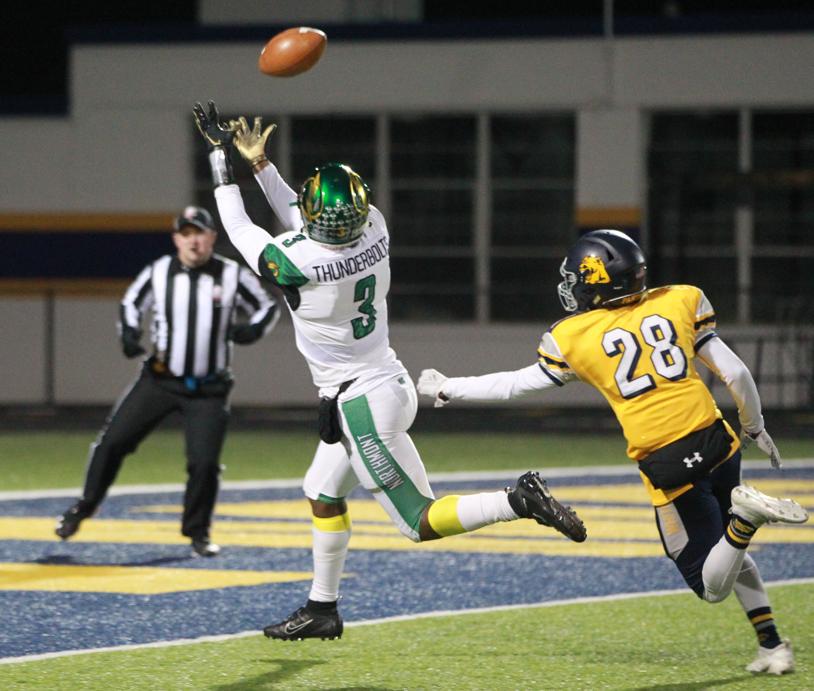 Allen was the first receiver commit in this stellar class and even though he's the lowest-rated, he has one of the highest ceilings. He's actually really young for his grade and could be a 2022 recruit. So he's truly just scratching the surface and will give the coaching staff a physical playmaker to work with throughout his time in Ann Arbor.
Commitment Date: 4/28/20
Composite Ranking: Three-star, #546 Overall, #88 WR, #20 in Ohio
4. WR Cristian Dixon, 6'2" 190lbs. Santa Ana, CA (Mater Dei)
Dixon is one hell of a get for Michigan in many ways. Not only is he a legit receiver prospect with a really high ceiling but he's also another four-star commit out of uber-successful Mater Dei out in Santa Ana. Along with 2020 signee CB Dorian Green-Warren, Michigan now has the framing of a pipeline to the west coast powerhouse with all eyes on 2022 five-star CB Domani Jackson and top 50 WR CJ Williams.
Commitment Date: 6/25/20
Composite Ranking: Four-star, #209 Overall, #38 WR, #23 in California
5. WR Xavier Worthy, 6'1" 165lbs. Fresno, CA (Central East)
Worthy has received comparisons to DeSean Jackson, Anthony Carter and superhero The Flash. Not too shabby. The electric receiver from the West Coast is one of the best overall recruiting wins of the cycle, especially as his rise to national recruit took place. Oregon dropped the ball and Michigan picked it up and held off a late stampede from Alabama. Another great job by Josh Gattis as he's landed the fastest receiver for the maize and blue. By the way, did you see that one-handed snag he had? Might have ourselves a new fan favorite of the class.
Commitment Date: 6/10/20
Composite Ranking: Four-star, #174 Overall, #32 WR, #17 in California
6. WR Andrel Anthony, 6'2" 175lbs. East Lansing, MI (East Lansing)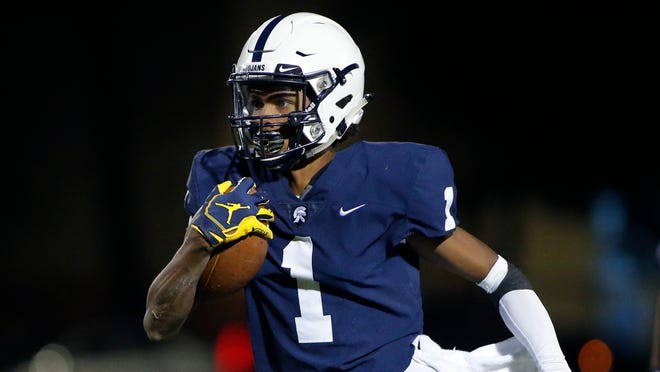 What a hot and cold recruitment that ended with a pretty funny twist, if you're a Michigan fan. Anthony goes from looking like a safe bet to be a part of the class to Mel Tucker's #1 target and a Michigan State lean to then choosing the Wolverines at his high school a week later, just one mile from the MSU campus. He may take a year or two to hit his stride but he'll be a fan favorite for the Wolverines faithful for years to come.
Commitment Date: 7/31/20
Composite Ranking: Three-star, #529 Overall, #85 WR, #12 in Michigan
7. TE Louis Hansen, 6'5" 225lbs. Needham, MA (St. Sebastian's)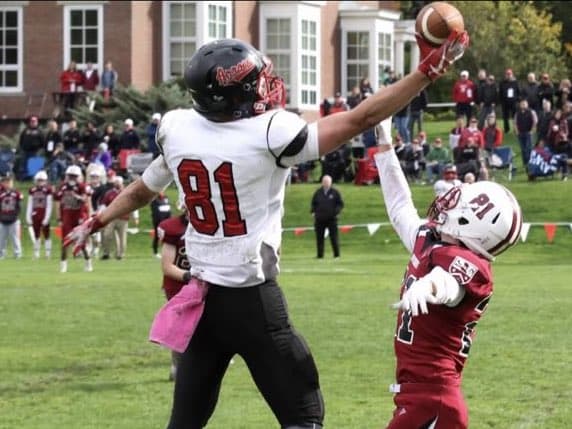 Hansen was one of the earlier commits of the class and of the COVID crisis as he dropped at the beginning of April. The pass-catching tight end shouldn't be slept on. He's a guy I think could be a stud once he adds a little more size. Another talented tight end for Sherrone Moore to work with.
Commitment Date: 4/2/20
Composite Ranking: Four-star, #252 Overall, #11 TE, #2 in Massachusetts
8. OT Tristan Bounds, 6'8" 285lbs. Wallingford, CT (Choate Rosemary Hall)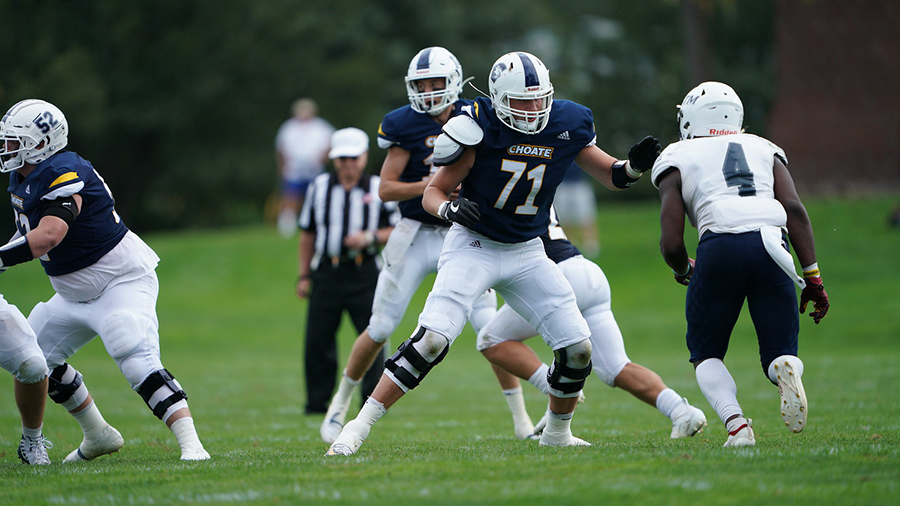 Bounds has the exact build and athleticism Ed Warinner wants out of a offensive tackle prospect. Still growing into that frame, he's a guy to watch closely to contribute in a big way a couple years into his collegiate career.
Commitment Date: 6/1/20
Composite Ranking: Three-star, #681 Overall, #57 OT, #3 in Connecticut
9. OL Giovanni El-Hadi, 6'5" 305lbs. Sterling Heights, MI (Adlai Stevenson)
El-Hadi was the first commitment of the class and is still one of the top ranked gets. He's also been a great recruiter on the trail for the staff helping with all of the offensive line commits and continuing to be a big help in the staff's pursuit of the next two names on this list.
Commitment Date: 4/19/19
Composite Ranking: Four-star, #68 Overall, #11 OT, #4 in Michigan
10. OL Rocco Spindler, 6'5" 315lbs. Clarkston, MI (Clarkston)
Spindler is set to announce his decision on August 8th and both the Michigan and Notre Dame coaching staffs will be tuned in. Not too much has changed over the last couple of months in terms of each side's feelings on who he'll choose. National analysts are split, team analysts are on their sides. This one could go either way but I've felt like Michigan has had a slight edge for quite some time. Multiple people have compared this recruitment to Braiden McGregor's last year which saw him flirt with both sides before eventually sticking with the in-state program. I wouldn't be shocked at all by him choosing Notre Dame but I still believe the in-state pull, the pitch to his family, the relationships with the coaching staff, and Ed Warinner's resume will be enough for Michigan to win out.
Offer: Yes
Visit: Yes
Michigan's Chances: Very Good to Excellent
Composite Ranking: Four-star, #48 Overall, #3 OG, #3 in Michigan
Rivals FutureCast: Notre Dame
Crystal Ball Favorite: Michigan/Notre Dame
Other Options: Nolan Rucci
11. G/C Greg Crippen, 6'4" 285lbs. Milton, MA (IMG Academy)
Crippen comes in as a natural center that has the ability to play either guard position as well, giving Ed Warinner the flexibility he loves with his lineman. In a class full of touted lineman, he may be one of the most prepared to play early on.
Commitment Date: 3/25/20
Composite Ranking: Four-star, #245 Overall, #4 OC, #37 in Florida
12. C/G Raheem Anderson, 6'3" 300lbs. Detroit, MI (Cass Tech)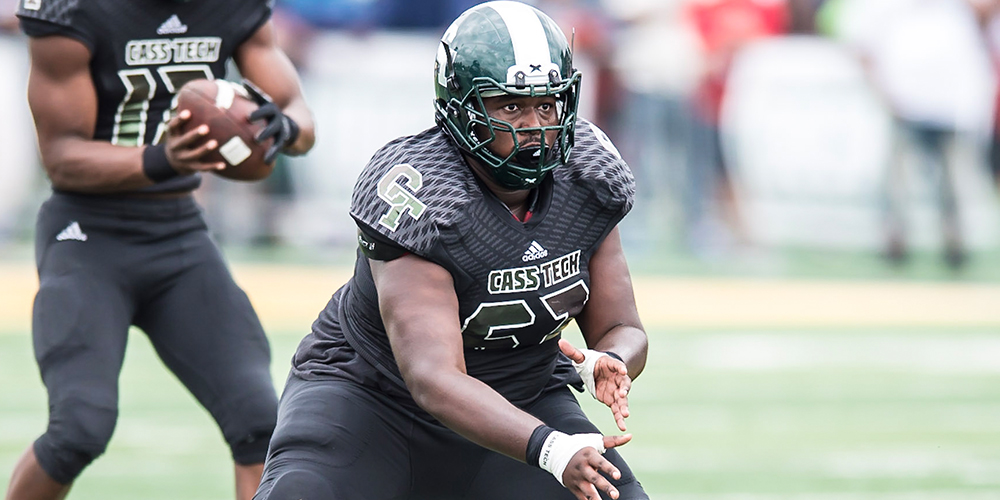 Anderson has all the makings of a future stud lineman. Smart, hard-working, athletic, strong, he's a guy that could play either center or guard but his command of the offense would be best in the center of the line. Either way, he's another stout get on the inside for Michigan.
Commitment Date: 4/12/20
Composite Ranking: Four-star, #211 Overall, #2 OC, #7 in Michigan
13. DT Rayshaun Benny, 6'5" 275lbs. Oak Park, MI (Oak Park)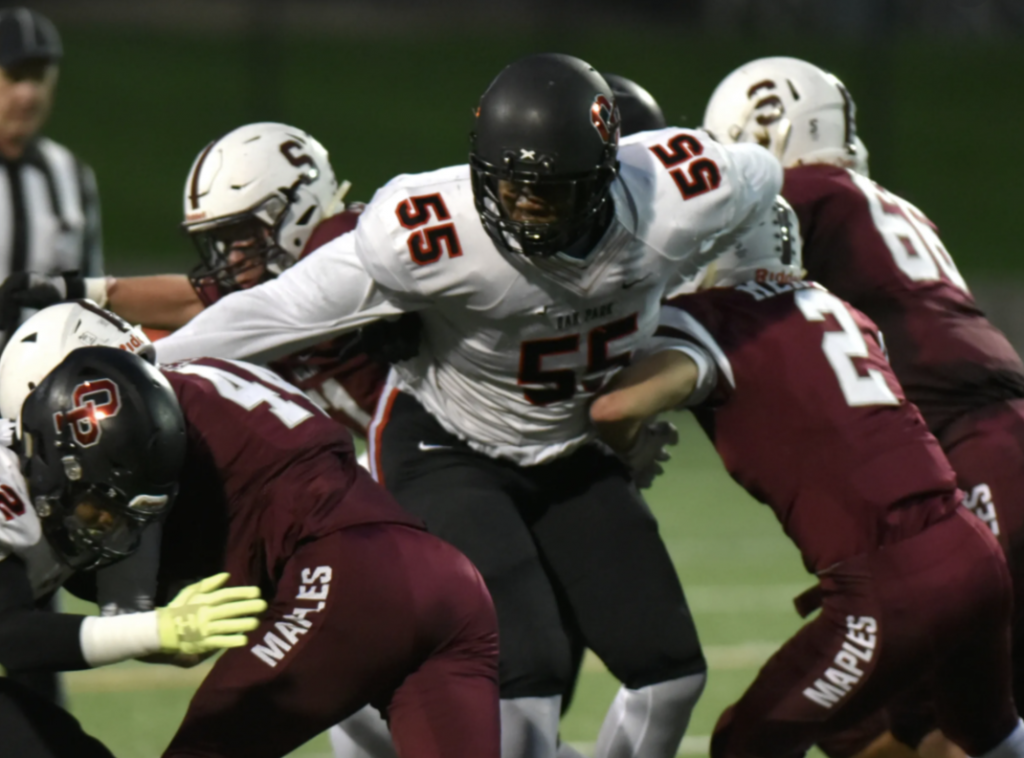 I made the really smart decision of leaving Benny off of my 2nd BGRC as he looked like he could end up playing his ball outside of the state. Welp, looks like I was wrong on that one. As the pandemic has rolled on, all of the momentum is with Michigan as the staff has made him a priority at one of the most needed positions in the class. Another good sign was the absence of Ohio State from his top 8 release in late-July. That ridiculously good class looked to be the biggest threat. A decision could come at any time. When it does, it would be a surprise if it weren't the Wolverines.
Offer: Yes
Visit: Yes
Michigan's Chances: Excellent
Composite Ranking: Four-star, #189 Overall, #19 OT, #5 in Michigan
Rivals FutureCast: Michigan
Crystal Ball Favorite: Michigan
Other Options: Anthony Hundley, Pius Odjugo
14. DT George Rooks, 6'4" 260lbs. Jersey City, NJ (St. Peter's Prep)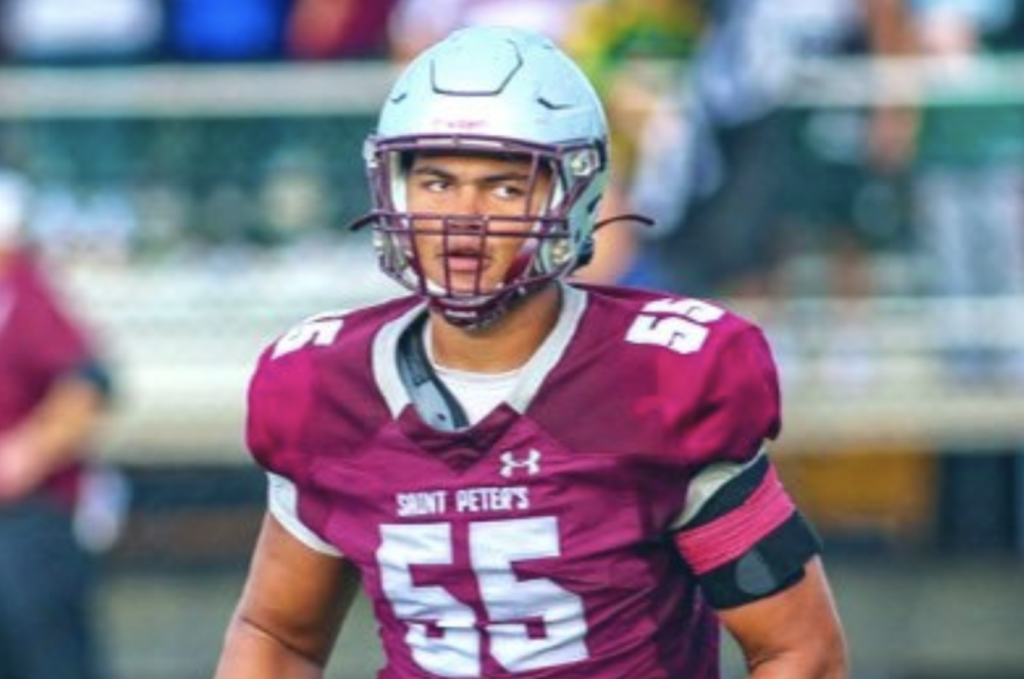 Rooks was one of the targets that made unofficial visits during the pandemic, making his way to Ann Arbor on his own dime. Now that he's done his due diligence, it looks like a decision could be coming from the versatile lineman, per his interview with 247Sports' Brian Dohn ($). The staff has been on him for a while but they have competition. Penn State seems to be a threat more and more with each east coast target while Syracuse is his father's alma mater. But in Michigan's favor, his sister is a recent grad that played basketball for the Wolverines. Thanks to the mix of football and academics mix, as well as the relationships with the staff and fit in the defense makes it look like it'll be Michigan. The Wolverine's EJ Holland is sticking with his UM prediction ($) and I'll be doing the same as I did in my 2nd BGRC.
Offer: Yes
Visit: Yes
Michigan's Chances: Very Good
Composite Ranking: Four-star, #196 Overall, #14 DT, #2 in New Jersey
Rivals FutureCast: Michigan
Crystal Ball Favorite: Michigan
Other Options: Anthony Hundley, Pius Odjugo
15. DL Dominick Giudice, 6'4" 275lbs. Freehold, NJ (Mater Dei)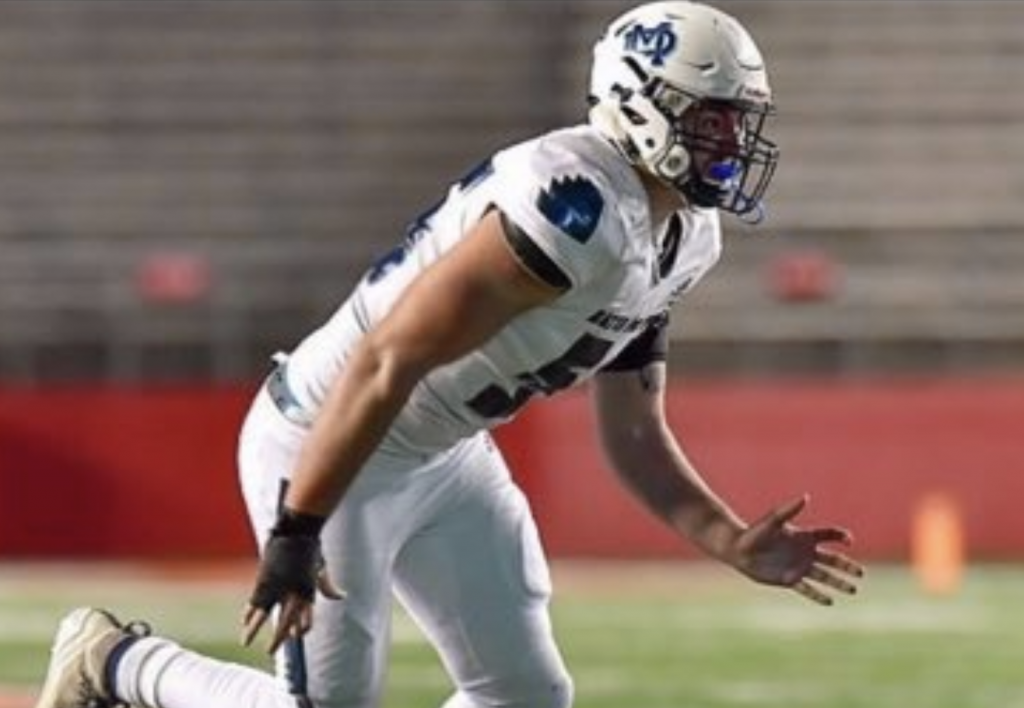 Giudice is, whataya know, another big, physical, versatile lineman that has the frame to grow into the interior of the line as he gets into the conditioning program. Already up to 275lbs before his senior year, he's progressing well towards a three-tech future. Reminds me a bit of former Michigan DL Ryan Van Bergen and could have a similar collegiate career.
Commitment Date: 3/25/20
Composite Ranking: Three-star, #1737 Overall, #91 WDE, #40 in New Jersey
16. SDE TJ Guy, 6'4" 240lbs. Mansfield, MA (Mansfield)
Guy and Xavier Worthy are the two most underrated commits in this class. The former Boston College commit is a Don Brown guy. East coast two-sport athlete with positional flexibility. He's a standout on the basketball court as well and translates that athleticism and size to the football field as a disruptive edge rusher. Could be a guy that contributes early on in his career.
Commitment Date: 4/17/20
Composite Ranking: Three-star, #852 Overall, #48 WDE, #6 in Massachusetts
17. DE Quintin Somerville, 6'1" 235lbs. Scottsdale, AZ (Saguaro)
Somerville was Michigan's first commit out of Arizona since Craig Roh in 2009 and it was a big one at that. Really nice win for Shaun Nua and the staff that started when he visited for the 2019 spring game. It was a battle for awhile too as Georgia and Oklahoma made runs at the four-star. But it was the amount of boxes Michigan checked off and his long relationship with Nua that won out in the end.
18. EDGE Kechaun Bennett, 6'4" 220lbs. Suffield, CT (Suffield Academy)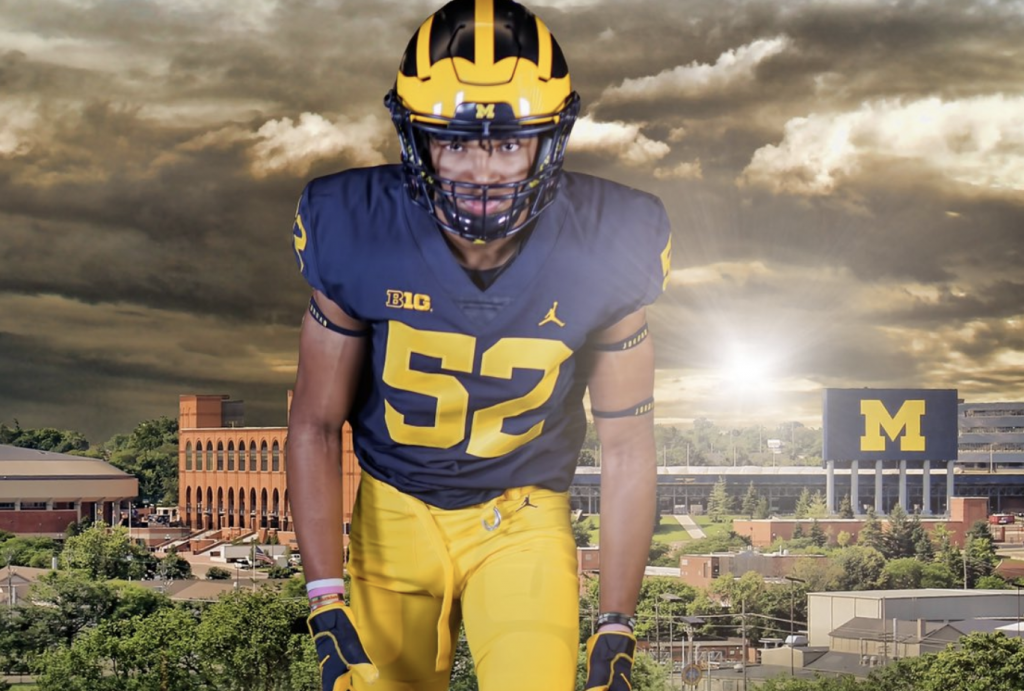 Bennett is the top player in Connecticut and another versatile weapon for Don Brown to use. He can play with his hand in the dirt or as a standup linebacker coming off the edge. Feel like he's going to be another one of those under the radar recruits that contributes early on in his career.
Commitment Date: 5/27/20
Composite Ranking: Four-star, #330 Overall, #22 SDE, #1 in Connecticut
19. LB Tyler McLaurin, 6'2" 215lbs. Bolingbrook, IL (Bolingbrook)
McLaurin has that positional flexibility where he can play just about any of the linebacker positions. SAM, WILL or MIKE, he's got the frame and the athleticism to fill any depth chart needs. Just needs to put on some more size before he'll really be able to contribute for the Wolverines.
Commitment Date: 5/9/20
Composite Ranking: Three-star, #453 Overall, #28 OLB, #11 in Illinois
20. MLB Jaydon Hood, 6'1" 215lbs. Fort Lauderdale, FL (St. Thomas Aquinas)
Hood is that stout, speedy MIKE linebacker prospect that Michigan has started to produce as of late. Devin Bush is followed by Cam McGrone, the staff added Kalel Mullings in 2020 and now Hood looks to be that next guy in line. As a guy who has still yet to visit because of the pandemic, he'll be one to watch down the stretch as several schools continue to push for him to flip.
Commitment Date: 5/25/20
Composite Ranking: Four-star, #297 Overall, #12 ILB, #48 in Florida
21. WLB Casey Phinney, 6'1" 225lbs. Marshfield, MA (Noble & Greenough)
Phinney was one of the earlier commits for the class back in early April and is in another big linebacker class for Michigan. More of an old school 'backer than his classmates I do still believe his quickest way to the field will be at fullback as he looks like a similar prospect as Ben Mason.
Commitment Date: 4/5/20
Composite Ranking: Three-star, #1161 Overall, #49 ILB, #9 in Massachusetts
22. VLB Junior Colson, 6'2" 225lbs. Brentwood, TN (Ravenwood)
Colson is one of the best gets in this class, someone with an extremely high ceiling that could contribute early on. Looks like a really intriguing Viper candidate that can run, cover, and blitz. However fast he gets on to the field, he's a guy I see making a big impact during his time in Ann Arbor.
Commitment Date: 5/24/20
Composite Ranking: Four-star, #115 Overall, #8 OLB, #2 in Tennessee
23. S Daymon David, 6'2" 175lbs. Reisterstown, MD (Franklin)
David has vaulted to the top of the defensive back recruiting board as he's become a priority target for Bob Shoop and the Wolverines. Wildly underrated safety with plenty of suitors. Michigan is battling Oklahoma, Mississippi State, Miami, Indiana, Louisville and Boston College here. Looking at that contender list on paper and adding in defensive back production, you'd think Michigan was the clearcut favorite. But the Sooners have been the rumored favorite for a player that has looked to be quite open. He's been a bit inconsistent with when a decision could come but visits are expected to take place before he does (if possible, obviously). Michigan's history and playing style are big selling points but the recent success in the Baltimore area could also really help in their pursuit. David mentioned already talking with Blake Corum and Osman Savage, as well as RJ Moten, per his interview with The Wolverine's EJ Holland ($). I see Michigan adding at least one more defensive back to this class and I think David may be the best bet of their top three targets at this time.
Offer: Yes
Visit: No
Michigan's Chances: Very Good
Composite Ranking: Three-star, #1142 Overall, #92 S, #34 in Maryland
Rivals FutureCast: None
Crystal Ball Favorite: None
Other Options: Ceyair Wright, Kamonte Grimes, Titus Mokiao-Atimalala
24. S Rod Moore, 5'11" 180lbs. Clayton, OH (Northmont)
Moore is a standout on the field and in the classroom. The well-rounded pitch that Michigan offers as a university and football program was an easy selling point to make for new safeties coach Bob Shoop and Don Brown. He's the second get out of Northmont in this class and the third since 2019.
Commitment Date: 5/10/20
Composite Ranking: Three-star, #418 Overall, #29 S, #13 in Ohio
25. CB Ja'Den McBurrows, 5'10" 165lbs. Fort Lauderdale, FL (St. Thomas Aquinas)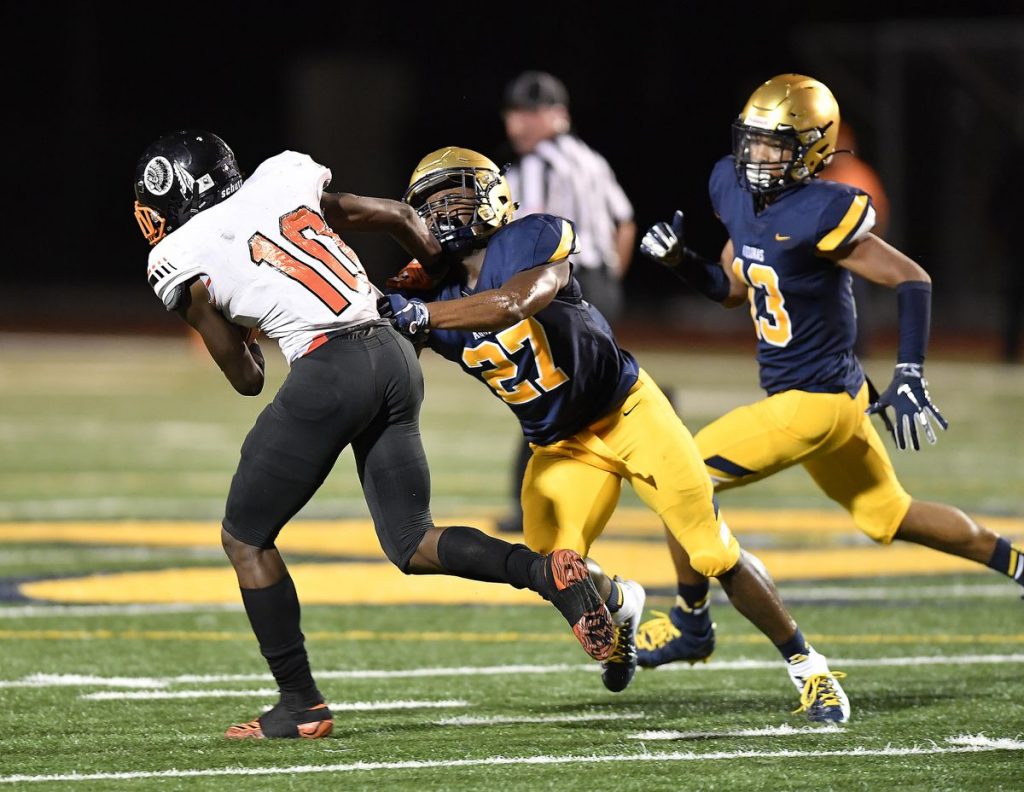 McBurrows was quite the surprise of a commitment after not really being mentioned by anyone as a legit target. Even without a visit, the staff was able to sell him on the idea of moving up north. If he ends up being the only corner in this class, it's another nice addition to a talented depth chart.
Commitment Date: 4/24/20
Composite Ranking: Three-star, #580 Overall, #44 CB, #85 in Florida
26. P Tommy Doman, 6'3" 170lbs. West Bloomfield, MI (St. Mary's)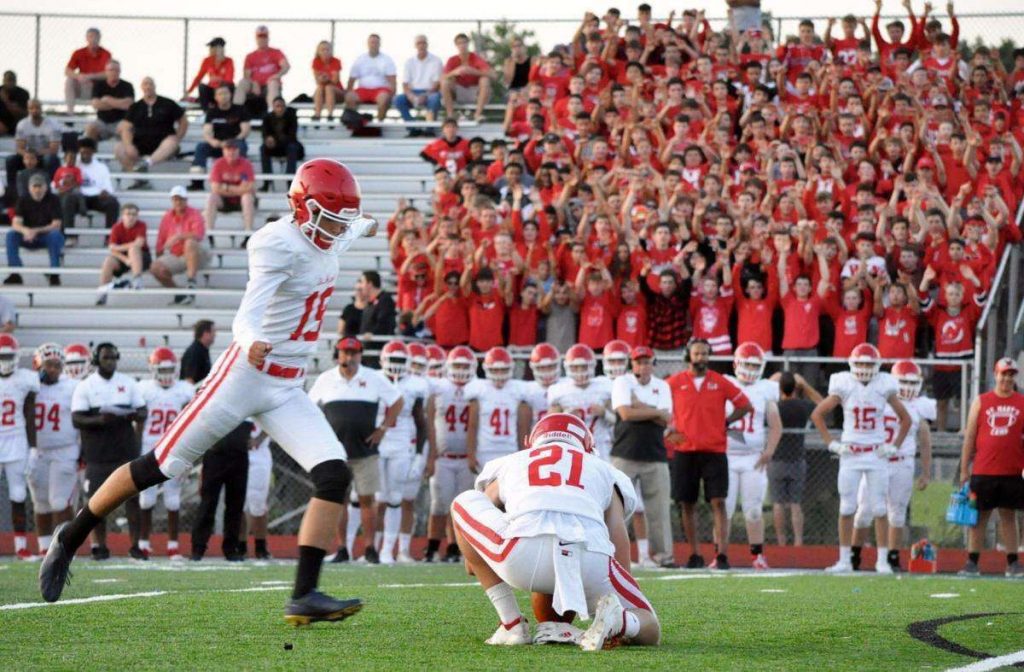 It was about time for a specialist signee and Doman continues to prove to be one of, if not the, best punters in the country. He's been putting on a show in summer camps and wouldn't surprise anyone to be starting his freshmen year.
Commitment Date: 4/2/20
Composite Ranking: Three-star, #1735 Overall, #1 P, #54 in Michigan
Projected Class Score: 276.37 (per 247Sports)
If the staff were to pull off the class above, it would be adding its #2, #3, #8, #9, and #23 overall gets in the class (per current Composite rankings). That would be a 25.01 gain and would be 3rd in the country in the current rankings. Others will get commits as well but that class would definitely fight for a top 5-10 spot.
This score would've given Michigan the #7 class in 2020, #10 class in 2019, and #10 class in 2018.
Just Missed
Don't Forget About Us
Off the Board
Photo Credit: Patrick Barron/MGoBlog
Latest posts by Garrett Fishaw
(see all)