After one of the ugliest losses of the Harbaugh era in Madison last weekend, Michigan gets arguably the best in-conference team it could have asked for to clear up some issues. Rutgers come to Ann Arbor for a noon kickoff on Big Ten Network.
Learn about the 1-2 Scarlet Knights:
Names to know
| | |
| --- | --- |
| Artur Sitkowski, QB | Abysmal freshman season, regular terrible sophomore season so far |
| Isaih Pacheco, RB | Dynamic RB is one bright spot of offense |
| Chris Ash, Head Coach | Probably getting fired soon. |
| Willington Previllon, DT | Massive wall of a man is a quality run stuffer |
| Drew Singleton, LB | He used to play for us! Now he's ok. |
| Damon Hayes, CB | He's ok. Rutgers needs more good players |
Well, luckily it's reaching the end of a two-week break for Michigan football. Incredibly, Michigan somehow hasn't played a football game since squeaking past Army, and luckily they get to shake off the rust against Rutgers. I don't know why the B1G allowed Michigan to take two weeks off, but oh well.
In all seriousness, the Wisconsin game was a disaster that was so bad that it can only be good for the program. When you get your ass whipped that badly, it forces introspection and self-awareness.
Had Michigan lost a heartbreaker 21-17, it would have hurt a lot, and sure, people probably would have felt better overall about the team, but the same underlying issues would still be there. This is a team that lacked toughness and needs a nice kick in the nuts to get back to playing well.
Call me an idiot or an optimist, I don't care, but I still believe Jim Harbaugh is the right guy for the job. Josh Gattis….. Well, maybe he isn't.
Rutgers Overview
Rutgers is a bad team. They are a bad program right now. Chris Ash is a bad coach.
Rutgers is the perfect team to get this offense back on track and change the body language and belief systems in Schembechler Hall.
Since his arrival, Ash is 8-41 as Rutgers' Head Coach, and he's an abysmal 3-25 against the B1G. At a low point where it didn't seem like the program could get any worse, Chris Ash grabbed his biggest shovel, told the doubters to screw themselves, and began digging through rock bottom.
Rutgers has the same number of 50 point losses as they do conference wins in his tenure, and got blown out last year by an abysmal Kansas team and lost to a Boston College team this year that also lost to Kansas.
I mean this as genuinely as I can, but at what point do you look at Rutgers and decide they can't be in the Big Ten anymore? The Big East voted to kick Temple out due to a lack of competitiveness among other things. The 10 years before they got kicked out, Temple went 19-92 as a program, and while Rutgers hasn't been that consistently bad, they're not off to a raucous start as a member of the B1G.
Their next coaching hire has to be good, or they risk becoming completely irrelevant as a program.
To be fair, ask any Rutgers fan on Twitter, and they'll remind you that they beat Brady Hoke once. Forget the fact that if you added up all the points Rutgers has ever scored against Michigan, they would still lose by two touchdowns to the 78-0 molly whopping Jim Harbaugh gave them when he didn't give a shit who was in front of them and wanted to steamroll everyone.
Hopefully that Jim Harbaugh comes back because the program could really use it.
Rutgers Offense
While Rutgers offense often looks like a Junior Varsity team running scout team against the starters, they attempt to run a version of the Urban Meyer power spread with a running back at H-Back/JetMotion man and attempt to get speed on the perimeter.
The caveat with that is they don't have very many good players. The good players they do have offensively essentially starts and ends with Isaih Pacheco and depending on who you ask, Raheem Blackshear could fit in that mold.
Other than that, it's a lot of crickets.
You may remember Pacheco for his highlights including, but not limited to: 80-yard touchdown run against Michigan last year. After the run, Pacheco blew two kisses to his mom in the stands in honor of his sister and brother, who were both tragically killed in a 10 -month span. So Pacheco is cool, I'm not going to get wound up at all over any success he has in the future.
Blackshear is alright but is nothing special behind that abysmal Rutgers line. Somehow, Rutgers has been terrific at scouting and recruiting running backs. Both Jonathan Taylor and Saquon Barkley were committed to Rutgers at one time, so keeping Pacheco is a definite plus for them.
Whoever is handing the ball off to Pacheco is probably going to be a problem for the offense, and a boon for the defense.
Former IMG QB and Michigan recruiting target, Artur Sitkowski and Texas Tech transfer, McLane Carter have been trading off the position like a game of hot potato.
Sitkowski started 11 games last year as a true freshman and put up some incredibly staggering numbers of ineptitude. Sporting a sub 50% completion percentage, a 4-18 TD/INT ratio, and a minuscule 4.1 yards per attempt last year, Chris Ash reached into the transfer bin to try and solve the turnover inducing black-hole that was the quarterback position.
Carter has not quite shown any real knack for being good at football, but being "Not Very Good" was a significant step up for Rutgers in the QB department, so if he's recovered from his concussion issue, I'd expect him to get the start.
Either way, if Rutgers is able to get 250+ yards in the air on Saturday, Michigan has some serious secondary issues.
Catching the ball from a combination of two trash cans with chiseled arms are the aforementioned RBs along with Bo Melton, Isaiah Washington, and Mo Jabbie.
In the last 2 years and 12 games, Bo Melton has a measly 37 catches for 433 yards and 1 touchdown. This makes him far and away the most explosive receiver in Rutgers' offensive arsenal. Junior WR Mo Jabbie and true freshman Wr Isaiah Washington have a combined 14 games and 13 catches, so while Washington is tall and pretty fast, he's not exactly a route running machine. Jabbie is shorter, and not really that fast and is also not exactly a route running machine. No one else is really good enough to see the field, which, is uh, not good.
The tight ends aren't exactly good, but there's actually a tiny bit of promise in freshman Matt Alaimo. He's a tough kid that shouldn't be playing right now because of how young and undersized he is, but he genuinely competes. He plays hard and has a ton of pride, and while it doesn't go well very often, I think if he keeps developing and puts on 30 pounds, he could play in the NFL eventually as a blocking specialist. He's not good, but he plays hard! That's a start!
While this is bad, there's always a never-ending black hole of despair for Rutgers, and the bottom of the black hole is probably the offensive line. It's also very bad, and if I had to compare it to anything we've seen, just imagine if Brady Hoke's offensive line that was responsible for -43 yards rushing against Michigan State was somehow 80% worse, 90% less coached, and 50% smaller.
It's laughable at times. Left Tackle Raiqwon O'Neal spent a ton of time against Iowa in plays that we'll see during the NFL draft. At some point, probably in the top 10 picks, we'll see AJ Epenesa get selected, and his highlight film will include a multitude of crimes against humanity directed towards O'Neal. He was beaten like a wooden drum, he was beaten like he stole something, he was beaten like he hit on Epenesa's girl, if there's a reason to beat someone, O'Neal found it.
That's how you get shut out. The worst part is, Right Tackle Kamaal Seymour didn't look a ton better against worse competition and tight end help, so Raiqwon O'Neal very well maybe Rutgers' best tackle.
The guards are pretty slow and weak, so it's a team that probably can't take advantage of what probably amounts to the first player in 50 years to play running back and defensive tackle in the same game in Ben Mason.
Center Mike Maietti is listed at 6'1, 291, so it's a pretty fair guess that he's probably just below 6'0, and a bit lighter as well. He plays like it. Going from Tyler Biadasz to Mike Maietti is like swinging a baseball bat with a 30-pound donut on it and then taking it off and hitting a ball off of a tee.
To summarize, when this offense is on the field, it's a solid time to run to the bathroom, help the wife out with some chores, and maybe take a nap. There's nothing to be gleaned from Michigan playing a unit that probably ranks in the lower portion of the MAC in terms of talent and efficiency.
So, this is another good test to really see where Michigan's issues are on defense.
Rutgers Defense:
For as bad and hopeless the Rutgers offense is, the defensive side of the ball does offer glimpses of success and hope. While Chris Ash is clearly a wildly incompetent head coach, he had created some average defenses at Rutgers, and average is a total freakin win when compared to the abyss that is the other side of the ball.
Rutgers runs a bit of a hybrid of a 4-3 and a 3-4 with the 3 down interior linemen, and a rush backer lined up over the tackle. They try and get away with rushing four as much as possible and then dropping the rest into a Quarters defense.
Quarters takes away a lot of high percentage looks down the field when executed right, but Rutgers corners have struggled to adjust as well as you'd like with this type of defense. They're going to try and take away the deep throws and the passing plays that Tarik Black and Donovan Peoples-Jones have thrived in so far, but I think this is going to be a really big game for Ronnie Bell.
Bell has the quickness to shake guys off, and the flats and slants should be wide open against a Quarters look, and I think this will be a great game to get Ronnie B some shine.
In the front seven, Rutgers has a couple of solid players as well as a familiar name.
Elorm Lumor and CJ Onyechi rotate at JACK, with Lumor being a solid and nondescript edge defender, and Onyechi being a pass-rushing specialist that can really move but could also be a liability against the run. He's a pure pass rusher and can give the tackles some fits, but overall isn't much to be worried about.
Lumor was a pretty solid run defender against Iowa, and seems to be a plus in that department. Willington Previllon is a massive Nose/3Tech that gets some solid penetration but isn't adept enough to really attack quarterbacks. His linemates Julius Turner and Mike Tverdov aren't very good, so it's pretty easy to key on Previllon.
Former Michigan LB Drew Singleton is a solid linebacker for Rutgers, and has made a massive difference in their linebacker play. Tyshon Fogg is a liability at MIKE, and Tyreek Maddox-WIlliams is a hybrid safety/linebacker that utilizes quickness and speed to make up for what he lacks in size. Overall though, it's an interesting unit and while they aren't necessarily that talented in the front 7, they are tough and assignment sound.
Unfortunately, it's usually not enough to do anything except force the offense to take 5 or 6 minutes to score, but considering how young this defense is, it really wouldn't shock me if they took a step next year and were actually pretty good under a new head coach.
The Rutgers secondary is alright, but the most interesting part to me is former Ohio State commit Tre Avery. He's not necessarily that good, or that important, but he committed to Ohio State when his name was Kareem Felder, and I'm genuinely curious how you just go about changing your name? How did he settle on Tre Avery? Why did he change it? I'm not entirely opposed to the name Tre Avery, but it's just a wild move to me.
Corner Damon Hayes is a big, physical corner that isn't exactly a shutdown guy but can really jockey with bigger receivers and make them uncomfortable. He gets very handsy, and will probably draw a few Pass Interference flags against Nico Collins and Tarik Black. He's going to compete and do his job, so I don't see him getting embarrassed often.
Sophomore Avery Young was a pretty highly recruited athlete in High School and he's starting to come into his own a bit at Rutgers. I wouldn't exactly say he's good yet, but he flashes the athleticism and competitiveness requisite to be a Big Ten Football Player, and it's not hard to imagine him taking another step soon.
Rutgers DBs have been the biggest plus for them the past couple years. They're going to get very physical all the way around. Even though he looks lost in coverage sometimes, I was very impressed with Young's one on one matchups from time to time. I think he's got really smooth hips and if he figures it out mentally, can be talented as hell.
Jarrett Paul and Malik Dixon are surprisingly competent safeties. Malik Dixon plays like the hybrid linebacker, and lacks some top end speed, and Paul gambles a lot to make big plays, but I really like that from him. The defense isn't good enough to lack a wild card, they need some reckless abandon.
Prediction
Rutgers really stinks.
Michigan 52-Rutgers 10
Hot Takes
(2-5 on the season)
Ronnie Bell has at least 6 catches

I think they're going to try and get Ronnie Bell engaged and keep Black, Collins, and DPJ from getting hurt. Ronnie Bell could use some run to get his confidence up and increase Shea's confidence in him.

Joe Milton scores a touchdown.

I think Joe Milton is going to get a large amount of time in this one, because it'll be a bit of a blowout, and also Dylan McCaffery is hurt. The staff needs to assess what they have in Milton because it would be better to know if he's worth the reps he's going to be taking from Cade McNamara and JD Johnson now, or if he should explore the portal. Ain't no time like Live Game Time, so I think Milton goes in by the middle of the 3rd quarter.

Someone will unironically call for Harbaugh to be fired because he gave up a first down or an early score or has a turnover.

People are dumb. End of story.
Photo Credit: ICON SPORTSWIRE/GETTY IMAGES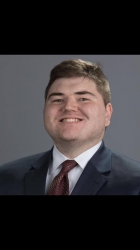 Latest posts by Harry Hillman
(see all)