Week one is here. Michigan welcomes Middle Tennessee State to Ann Arbor for a matchup under the lights. The Wolverines are heavy favorites and should win comfortably but it's not a complete cakewalk here.
Check out what the Blue Raiders have to offer in the week one game preview:
Names To Know
| | |
| --- | --- |
| Rick Stockstill | Head coach enters 14th year at the helm, first-year since 2015 his son isn't at QB |
| Tony Franklin | OC enters 40th year coaching, how will he handle so much turnover on offense |
| Scott Shafer | Former Michigan DC has done a quality job upgrading the Blue Raiders talent level and discipline. One more step is needed to win a conference title |
| Ty Lee | C-USA's version of Rondale Moore, dynamic returner, 213 catches, 11.9 yards per catch |
| Asher O'Hara | Expected starting QB, only played 1 game, poor thrower, solid runner |
| Chaton Mobley | Linebacker Turned Running Back led the team as a freshman with over 600 yards |
| Khalil Brooks | Sr. LB had 6.5 sacks and 14 TFL last year. |
| Reed Blankenship | Jr. Safety led the team with 107 tackles last year, 4 INTS last year, preseason All C-USA. |
For the first time in three years, and only the second time in the Harbaugh era, Michigan will open their season with a team that fans should feel incredibly confident in a victory over. That's not to say Middle Tennessee State doesn't have a track record of pulling major upsets against Michigan teams in the top 8, but it's a team that should be an easy and comfortable victory.
This isn't Notre Dame, this isn't Utah, this isn't even a mediocre Florida team. This is a MTSU team that got their doors blown off by Vanderbilt, Georgia, and Kentucky last year and this year's team has more question marks than answers as the Blue Raiders lose critical pieces on both sides of the ball.
It's a weird conundrum in games like these that the objective of the viewer is to get bored. Nothing would thrill fans more than a blowout without any intrigue. Intrigue is bad, a sign of a poor season to come. Last year Michigan State had to hang on tooth and nail against Utah State at home, and needless to say the objective for this year's Michigan team is quite a bit loftier than a RedBox Bowl appearance.
So, let's keep our fingers crossed that we're bored, Michigan stays healthy, and we're able to kick the feet up and watch the next wave of freshmen show glimpses of the future late in the second half of a comfortable victory.
MTSU Offensively:
This is an MTSU team coming off of an 8-6 season in which they're going to have to replace a ton offensively. Their 4-year starting QB Brent Stockstill, their second-leading rusher, 4 of their top 5 receivers (leading receiver Ty Lee returns), and 3 starting linemen all depart, leaving quite a few holes and very few proven answers.
Offensively, Middle Tennessee State is the epitome of a multiple set offense. They have man ball sets where they'll bring in extra blockers on the line, they have a lot of 10 and 11 personnel packages (the first number is the number of running backs on the field, the second is the number of tight ends on the field), and they'll even throw in a tackle spread, that looks similar to this:
MTSU last year wanted to hit a lot of quick, efficient passes on the perimeter. I would expect a lot of tunnel screens, a lot of bubble screens, a solid amount of flare routes, and a jailbreak screen. But at the same time, those were all plays tailored towards Stockstill's skillset.
The Blue Raiders are going to look to take advantage of an aggressive Michigan defense by hitting them quickly with the potential for big plays. The tempo is there, and offensively, their best players are RB Chaton Mobley and WR Ty Lee.
Mobley is a sophomore thrust into action due to injuries last year and put up a nice season, with 617 rushing yards at 5-yards per carry and catching 19 passes for 153 yards out of the backfield. He's listed at 6'1, 233 pounds and apparently was recruited by the Blue Raiders as a linebacker. Nevertheless, he showed off quick feet, good vision, and the ability to finish through tackles in his opportunity last year, including 19 carries for 98 yards against a stout Kentucky defense.
It'll be interesting to see how Josh Ross, Devin Gil, and Cam McGrone do with bringing Mobley down on the first contact. If Mobley gets a head of steam going, it'll take quite a bit of help to corral him down as he is a freight train.
Ty Lee is a 5'9 dynamo who has been the model of consistency and quality in his three years as a starter. Over the course of his career, Lee has caught 213 passes for 11.9 yards a pop, which gives him 2537 yards in his career with 21 touchdowns. I would expect him to get shadowed by LaVert Hill all game, especially if he pops up in the slot. He's too dangerous and the other corners are too unproven to take any chances.
The big question, as with a lot of teams, is who will be delivering the ball to Lee and Mobley.
With Stockstill gone, the quarterbacks left on the Blue Raiders roster have combined to throw 21 passes in FBS games.
Asher O'Hara is the incumbent 2nd string, and has the most experience at the FBS level, going 9-20 for 114 yards and an interception against a talented FIU team last year while filling in for Stockstill. He also had 21 carries for 85 yards and a touchdown, so there's legitimate value and upside with O'Hara.
JuCo Transfer Randall (big negative that he doesn't go by RANDY) Johnson is also an option to start, and at 6'5, 240, he's a freight train with the ball in his hands. But his passing and decision making leave a lot to be desired.
None of the other quarterbacks on the roster offer the experience that O'Hara does, or the tantalizing physical traits that Johnson possesses, so I don't expect much out of them this game especially. If I had to offer a guess, I'd say that O'Hara starts, but Johnson gets significant playing time to switch things up.
This is an ideal opening game for the Michigan defense for a lot of reasons.
First off, it's an opponent Michigan should defeat without too much trouble, and second, MTSU throws a ton of different looks offensively, so it'll be a good game for Michigan to evaluate how to react to different formations, how younger players react to adversity, how an inexperienced team is able to attack options and screens and quick hitters, and lastly they'll likely be able to get a few series for the true freshmen to see how they look and offer a taste of the future.
Ty Lee is a real factor, so I'd expect him to break one or two solid sized gains before the defense settles back down. The inexperienced Blue Raiders line could lead to a party in the backfield for the Wolverines front seven, as we know Don Brown has never met a blitz he was afraid to call. I would lean more on the side of caution in regards to play-calling, because Brown won't need to empty his playbook out to get a decisive win today, so I think we don't see anything too exotic. 
MTSU Defensively:
Defensively, the Blue Raiders have steadily improved their scheme and talent level over the last couple years under Scott Shafer. Some of you may remember as Rich Rodriguez's defensive coordinator at Michigan, who resigned after a year. But in the track records since then, Shafer has done a solid job at Syracuse and a very fine job at Middle Tennessee State.
The Raiders run a 4-3 defense, and return six starters from a defense last year that performed better than the numbers would suggest.
Last year's slate of games included visits to three different SEC foes in Vanderbilt, Georgia, and Kentucky. Against conference play last year though, the Raiders gave up an average of 18 points per game and got considerably stronger as the year went on. The caveat with that is how inconsistent the defense was against nonconference opponents.
The defense gave up 36 points per game to the nonconference slate, and by and large, were gashed on the ground. When accounting for sack adjusted numbers, Georgia averaged 9.1 yards per carry, Vanderbilt averaged 5.3 ypc, Kentucky had 5.5 ypc, and Appalachian State finished it off with 6.9 yards per carry.
The defensive front is experienced and quality against similar talent levels, but is simply too small, and not good enough to consistently stop bigger offensive lines. And Michigan's is large.
MTSU returns a decent amount of defensive linemen, but their projected DL weighs an average of 260 pounds, with projected starter Rakavian Poydras the only defensive player on the roster over 300 pounds. DE Trae Philpots had 4 sacks last year and has a quality motor that should allow him to make an impact, possibly cleaning up a sack or two if Michigan is slow getting the ball out.
They should be able to rotate reasonably well, but again, I just think their front four is too small and not up to the level they need to be especially against veteran, experienced and quality offensive lines like Michigan, even if left tackle Jon Runyan misses this game.
If there's any position on the field that the Blue Raiders could present some trouble to Michigan, it's the linebackers matching up with running backs.
The Raiders return two of their three starting linebackers from last year, and those two, Khalil Brooks and DQ Thomas, combined for 27 TFL and 13.5 sacks last year. Joining them is probably going to be Cody Smith.
With what Scott Shafer likes to do with his linebackers, I can see some growing pains for the Michigan running backs, especially younger players like Zach Charbonnet and Christian Turner, in regards specifically to blitz pickup.
It'll be interesting to see Charbonnet go against them in the running game, because he's bigger and faster than the starting linebackers as well. I don't expect it to be much of an issue, but I could see a few sacks on Shea Patterson if the running backs don't recognize linebacker blitzes and stunts well.
The Middle Tennessee State secondary loses its top three corners but returns both safeties. Jovante Moffet is a 5th year senior after missing most of last year and getting a medical hardship. Reed Blankenship had four interceptions last year and was a willing and able tackler.
Corner is a total mystery to me, as they return little production, and it appears like they may end up starting some combination of true and redshirt freshmen. Either way, the triumvirate of Nico Collins, Tarik Black, and Donovan Peoples-Jones has to be licking their chops at the prospect of facing untested and less talented cornerbacks to open the season. Especially compared to the handsy and physical Notre Dame secondary from a year ago, or the NFL bound Florida secondary the year before that.
I don't expect to see anything to complex in the passing game, but I do think Josh Gattis is going to be opening it up downfield to establish the Wolverines deep threat on film before getting to the conference portion of the schedule.
Prediction:
The Wolverines are more talented, more experienced, stronger, and overall better coached than Middle Tennessee State. The Blue Raiders won't come to Ann Arbor ready to roll over, but it shouldn't exactly take a ton to come away with a victory.
MTSU will probably get a couple of solid sized gains by opening up the playbook early, but I really don't see much of a path to victory if Michigan even plays a mediocre football game.
Michigan 48 – Middle Tennessee State 9
---
Hot Takes:
Michigan has two defensive and special teams touchdowns

MTSU is breaking in a lot of new players offensively, they're replacing a quarterback for the first time since 2015, and outside of Ty Lee, there isn't much experience at the receiver position. Add in three new linemen, and that could lead to a lot of quick throws under duress that Michigan's aggressive and opportune defense will try to take advantage of.
For bonus points, give me Khaleke Hudson and Daxton Hill scoring.

Three running backs get at least eight carries

It appears that neither Zach Charbonnet, Christian Turner, or Tru Wilson have separated themselves from the Running Back By Committee role so far at the end of camp, so look for Josh Gattis to get all three involved to prevent any wear and tear, and also give each ample opportunity to impress. Just because of his physical traits and how imposing he is, I think Charbonnet leads the team in rushing, even if he doesn't run away with the starting job.

Quinn Nordin is the field goal kicker

Nordin lost his job last year to Jake Moody, and there were reports about his attitude being an issue. Moody and Nordin have been competing for the kicking job this camp, and I just have a hunch Nordin gets field goal duties while Moody handles kickoffs. There may not be a kicker in college football with the leg that Nordin has, so if he's focused between the ears, it'll be a boon for the Michigan offense.
Photo Credit: Middle Tennessee State University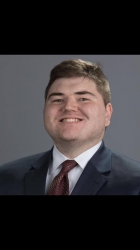 Latest posts by Harry Hillman
(see all)