I was half tempted not to write a preview for this game because Michigan is 3-0 when I write a preview, and 0-1 when I don't. But I couldn't live with myself just in case Jim Harbaugh and Don Brown religiously read my preview to put the finishing touches on the game plan prior to Saturday.
So, were back to talk about an incredibly physical and old fashioned team that's about 85% of the team that just curb stomped Michigan into a week long "Fire Harbaugh?!?!?!?!?!?!?!?!?!" frenzy.
Luckily Kinnick Magic is nine hours away, and Michigan gets to get back on track at home against a talented team with several flaws.
Don't believe the noise about this being a crossroads of the Harbaugh era. Yes, it's an important game, but aren't most games between ranked opponents important? People that boil entire resumes down into a 3 or 4 games sample size should be forced into a barrel and thrown over Niagara Falls.
That being said, in terms of the hot take reactions, going 3-2 with so many quality teams left on the schedule would be very bad for the perception of the program. Recruits are already starting to hear negative recruiting about Harbaugh getting fired (won't happen, folks), so a win would quiet many haters.
Iowa Overview:
Kirk Ferentz is 152-101 in his tenure at Iowa, with his penchant being that he's an exceptional developer of talent, especially on the offensive line.
Iowa plays a physical, smash-mouth brand of football on both sides of the ball, and they will attempt to out tough and out discipline the teams they play. Iowa players are pro-ready and exceed at a high level at positions on the football field that require blocking or taking on blocks.
Iowa's Offensive Line and Tight End alumni in the NFL is a staggeringly impressive list. They focus on what they can do, and not what they can't. And they successfully dragged Josh Gattis across Twitter for calling Michigan Tight End U, so they get pretty catty as well.
They're a program built towards peaks. They'll almost never consistently have 10 or 11 wins in a season with the schedule they have, but they're a team that essentially shoves all the chips in once every four or five years. And this looks to be that year for Iowa.
Iowa Offense:
If you take out the flexbone looks and add some more running back rotation, Iowa has an offense that will look incredibly similar to Wisconsin, both philosophically and somewhat schematically. Iowa runs more zone than Wisconsin, but they both like to overload the line of scrimmage with talented and versatile players and extend plays sideways to make it easier to go North and South.
Iowa is a run-first team, and if they could get by throwing 12 times a game, Ferentz would.
Nate Stanley is the man under center for Iowa, and he's got a very enigmatic reputation in Iowa City. On one hand, he's incredibly talented and experienced and a top half B1G QB that'll play well. On the other, it seems that however, he plays early sets the stage for what he does the rest of the game. If he plays poorly, he'll continue to play poorly. Same thing with playing well. He's also incredibly tough and talented so its fine, but I also have a funny feeling that the Ferentz conglomerate is itching to get Freshman Spencer Petras out there.
This is probably one of the deepest running back rooms in college football based on the parity of work they get. There's not a definitive, three down factor back like Jonathan Taylor, but Mekhi Sergeant, Toren Young, and Tyler Goodson all get work and all have different strengths.
Sergeant is the most well rounded, while Toren Young is the short-yardage bowling ball that can blow up a linebacker, and Goodson is a speedier, quicker big-play threat. None of them are a clear cut above the rest, which makes it more difficult to divvy out carries, but I think Sergeant gets the majority.
Wide Receiver in Iowa City looked like it got a significant boost when Oliver Martin was granted immediate eligibility. Good for him, even though the NCAA is being a prick to almost everyone else about it.
That being said, Martin hasn't seen a ton of football so far this year, with Brandon Smith, Ihmir Smith-Marsette, and Nico Ragiani all having more plays and more receptions than Martin. Smith and Smith-Marsette are both incredibly solid and productive enough football players, and can make defenses pay one on one.
Offensive Line at Iowa is a clinic on the edge. RT Tristan Wirfs is, in my opinion, the best football player in the country. He's like a massive grizzly bear with the balance and dexterity of a ballerina. He only plays RT because he's exceptional everywhere, and future NFLer Alaric Jackson is significantly better at LT than RT.
Tristan Wirfs is basically the next Tyron Smith, he's so outstanding. His ability to pop his hips into ends and work around to plant is awesome. Being a state champion wrestler can only help him crush opponents.
Alaric Jackson is good, almost very good. You may remember Jackson as the Detroit Renaissance player that Tim Drevno recruited and Drevno never sent an LOI to on signing day. Good times. Luckily Jackson probably would've never developed with Tim Drevno, because many people struggled to do so. Jackson has been hurt, but he'll be playing against Michigan.
On the interior, Cole Banwart, Kyler Schott, and Landen Paulson have all been solid enough at the guard spots, regardless of competition. Tyler Linderbaum is at center, and he was a former top 300 DL and Ferentz moved him to center. He's been solid, nothing spectacular but he's a redshirt freshman.
Iowa Defense:
Iowa's defense has some serious holes but also has Iowa's version of Rashan Gary in AJ Epenesa. He doesn't have the most sacks and he didn't start for awhile but still got a ton of time and made an impact. He's incredibly talented and he and Wirfs will be first-round draft choices in a few months.
Outside of Epenesa, the defense is aggressively solid, without any other significant playmakers, but also without any holes.
Iowa runs a 4-3 with a lot of Cover 2 and their philosophy is to make teams beat them consistently, not with a massive gain here and there. Michigan has to be on its A-game, because they'll need to put together 12 and 13 play drives to score. And Dayvion Nixon, Cedric Lattimore and Chauncey Dixon fill out the rest of the DL without serious impact pass rushers, but quality and fun in the run-stopping business.
The linebackers aren't incredibly athletic, and the secondary is just fine. WLB Djimon Colbert is absolutely dreadful in picking up guys in coverage, and picking on him will be a profitable day. Kristian Welch is a tough, old school MIKE that would tackle his grandmother if it saved a yard. The secondary contains Mike Ojemudia (Little Mario's brother), DJ Johnson, Jack Koerner, and Geno Stone are solid, but underwhelming at times. Riley Moss took over for some work last year as a freshman, but he's falling down the depth chart a bit.
Prediction:
It's going to be a close game.
Michigan 26-Iowa 24
Hot Takes:
Last week I went 3/3, so this week we'll improve a bit. I guess the final score almost exactly, Joe Milton scored a touchdown, Ronnie Bell had at least 6 passes.
Let's go:
Iowa outrushes Michigan by at least 100 yards and loses.

This is based on Iowa being much better at running the ball than Michigan.

Oliver Martin catches a pass on the first drive

Kirk Ferentz is vindictive. It'll happen.

Giles Jackson has over 45 yards receiving in this game

I think the matchup with Djimon Colbert is extremely beneficial to a player that Michigan wants to get spaced and open.
Photo Credit: Nick Rohlman/The Daily Iowan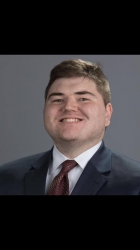 Latest posts by Harry Hillman
(see all)