Welcome to week two, where #7 Michigan (1-0) and Army (1-0) go head-to-head in one of the most anticipated matchups of the early season. Plenty of analysts will use this chance to pick a Wolverine upset but can the Black Knights and their triple-option Flexbone offense pull it off?
Check out what to expect out of an always scary Army squad:
Names to know
| | |
| --- | --- |
| Jeff Monken | Army Head Coach has 36 wins, including 3 against Navy, since he took over in 2014. |
| Kelvin Hopkins, Jr. | Returning QB, Senior Kelvin Hopkins, tallied 1017 yards and 17 TDs on the ground. |
| Kell Walker | Senior Slot Back is a 4 year contributor, has big play potential. |
| Cole Christiansen | Senior linebacker is a 3 year starter and a 2 year team captain. |
| Elijah Riley | 4 year starter at Corner has 4 career INTs, 16 pass breakups. 10.5 TFL in career. |
| Jaylon McClinton | Senior is returning leader in INTs with 2. |
| Peyton Reeder | 6'6 Junior is at center. Reeder is very good. |
| Conor Slomka/Sandon McCoy | Slomka, the senior fullback, missed the Rice game with an undisclosed injury. McCoy filled in well with 20 carries for 70 yards. |
Playing a service academy is like going skydiving.
It's a cool thing to say you did, and some people even enjoy it quite a bit. Most of the time it goes fine, in fact, very rarely does anything bad happen. You know there's a small downside, but honestly, you can't remember the last time it went poorly. But then when you make the pros and cons list, you realize one important thing: there's genuinely no upside. No one will think less of you if you don't do it, and if something goes horrifically wrong, people will remember it for years.
Such is the blessing and curse of playing Army football this season. Don't get confused, Michigan SHOULD win this game.
On paper, Michigan is better than Army. On paper, Heisman Trophy winner Kyler Murray and the 2018 Oklahoma Sooners probably thought the same thing. 339 rushing yards and an overtime scare later, the Sooners were probably pretty happy that almost no one actually saw the entirety of the game.
There are two ways skydiving and playing a service academy can go: first, it's something that you can do and bring up in a bar randomly for the next 15 years as a fun fact about yourself. This is by far the preferred option. Because the other scenario is no bueno. It's really, REALLY, bad.
The upside is minimal, the chance of Army being good enough to make a tangible difference on a playoff resume or a strength of schedule component is slim. The chance of Army being good enough to beat Michigan and wreak havoc on what appears to be an incredibly promising season is also slim, yet somewhat more probable than the Black Knights being the difference between a playoff berth and another lackadaisical New Years 6 Bowl.
Saturday at Noon/11 AM central time, the Wolverines will be going skydiving. Now we just hold our collective breaths and hope the parachute deploys on time.
Army Overview
By this time, you'll need no refresher that Army runs a run-heavy triple-option veer designed to stymie bigger and faster defenses and play towards Army's strengths.
I won't delve too far into the schematics of the offense here (because I already did that here), but I will make a note of what a fantastic freaking coach Jeff Monken is, and how I'll be the first proponent of a bottom-dwelling Power 5 school hiring him, triple-option be damned.
I'm looking at you, Kansas and Oregon State.
Hell, I firmly believe that if they were able to keep the defensive infrastructure in place, Michigan State could legitimately contend for a National Championship if they ran a triple-option offense. Imagine the Spartans running a ball-control, methodical, punch you in the face type of offense that was predicated on toughness and intensity, and tell me that THAT wouldn't scare the $#*& out of you?
Jeff Monken, he's probably the most underrated coach in all of FBS football. Many people know Army as a historical powerhouse, but many people aren't aware that Army only has three 10 win seasons in their entire program history. And two of them came in the last two years under Monken.
From 2000-2014, when Monken took over, Army went 40-116, went 1-14 against archrival Navy, and went to one bowl appearance.
Since Monken took over, Army is 36-28, has three straight wins over Navy, three straight bowl victories, and back to back ten win seasons for the first time ever. Quite simply put, he's not only the best coach in the history of Army's football program in the post World War II era, but he's also engineered one of the single greatest turnarounds in college football history.
Army will be ready to play on Saturday.
Army Offense
At this point, you are well aware of the threat of the triple option veer that Army is going to roll out on Saturday. Outside of the schematics of the triple option, an added difficulty in stopping Army is their aggressiveness on 4th down.
Last year, the Black Knights not only had more 4th down conversions than any team since 2004, but they also had the highest rate of conversion as well:
The difficulty in stopping an option offense is tough enough when you have three downs, but Army's propensity for rolling the dice on 4th down presents an extra layer of play calling.
Army can turn basically anywhere on the field into four down territory as long as they need three or fewer yards in the game. This extends drives, keeps defenses on the field, and ices opposing offenses.
Last year against Oklahoma, Army was a staggering 13-21 on 3rd down, and went 4-5 on 4th down. The only time they didn't convert was a 4th and 7 in overtime.
They'll attempt it in their own territory, and they'll attempt it in field goal range. This also prevents an added challenge in playcalling, because of how downs are treated. 3rd down and medium is no longer a likely passing down, because Army doesn't need to get all of it. They just need to get enough of it to warrant leaving the offense on the field. Expect almost all 4th down and short distances to result in the offense staying on the field, Jeff Monken knows they're not winning without being unconventional, and he'll get as wild as he needs to improve his chances of winning.
Quarterback
The man leading the charge of the Army offense, is senior Quarterback Kelvin Hopkins, Jr.
Like most triple option QBs, Hopkins is feared much more for his legs than his arm, rushing for 1017 yards on 208 carries, for 17 touchdowns, good for 4.9 yards per carry.
Hopkins is a generous 5'10, but is muscular and tough enough to withstand the beating that he's inevitably going to take game in and game out. While he's most lethal with his legs, Hopkins has enough potential with his arm to keep defenses relatively honest. Last year he only completed 51 of 93 passes, for a 54% rate. That's more than acceptable considering he was 3rd in the country in yards per attempt with 11.0.
The only two that beat him? Heisman winner Kyler Murray, and runner up Tua Tagovailoa.
Hopkins has an arm that is strong enough to get the ball into solid windows and has the ability to take the top off a defense, which makes him the perfect triple option quarterback.
Against Rice last week, he had 21 carries for 80 yards and a touchdown and went 3-8 for 53 yards and the game winning score late in the 4th. Look for Army to avoid obvious passing situations so they can attempt to take the top off of the defense early.
Backfield
The Army backfield is a mixed bag of sorts. At slot back they have experienced senior Kell Walker leading the charge offensively. Walker had four carries for 25 yards against Rice and also pulled in a 17-yard touchdown catch late in the 4th. Walker has seen significant action all four years at Army and had 86 carries for 629 yards, 7.3 yards per pop, and six touchdowns his sophomore year for the Black Knights.
Last year, Walker missed a couple of games and his production slid a little bit, getting 67 carries, for 320 yards and no touchdowns. Walker will be the most explosive back, and provides a significant threat in their passing game, but Army would definitely like to see him return to old form.
Artice Hobbs IV is the slot back opposite Walker, and the junior has some explosive potential, but has only gotten 18 carries in his career, and remains untested against a defense like Michigan.
Fullback is a position that is a little up in the air for the Knights. The Knights lost a majority of their production from the position last year to graduation, and there's not a ton of proven experience remaining.
Senior Conor Slomka, who has tallied 125 carries for 550 yards over his career, was projected to start this season, but missed the Rice game, and is questionable for the Michigan game with an undisclosed injury.
Junior Sandon McCoy filled in reasonably well, and got 20 carries for 70 yards, but was unable to break anything of significance against Rice. Slomka is very good, and having him will be a boon for the offense.
Offensive Line
In the trenches, Army has an experienced and physical offensive line. One of the misnomers of the line is how small people assume they are, due to military restrictions. Those restrictions only apply to football players upon graduation, allowing the Black Knights to have some talent upfront. Yes, they are still undersized compared to places like Wisconsin or Iowa, but the line averages out to be about 6'4, 280 pounds, which gives them a solid mix of size, without losing the athleticism that's needed in their offense.
Peyton Reeder is a 6'6, 290 pound junior, and has the tall task of replacing former center Bryce Holland, but if Reeder is able to handle a defensive tackle or nose tackle without any help, it opens up a ton of lanes and allows for a lot of fullback freedom.
As a unit, the offensive line struggled quite a bit against Rice, but I think it's usually tough for a team with so many pieces to gel right away.
Receivers
At receiver, Army has an experienced bunch that will be utilized just as much for their blocking prowess, as they will be for their route running and catching ability.
If you can't block, you can't play, so Ambry Thomas, Vincent Gray, and LaVert Hill need to strap their pads on just a little bit tighter this week, because it's going to probably be the most physically imposing game on the perimeter that they'll see all season.
If the ball gets kicked on the option, the receiver blocks are what springs it from a 12 yard gain to a 60 yard touchdown.
Christian Hayes is the leading receiver coming back, tallying 152 yards and 7 catches. Army does utilize a tight end, but last year their entire tight end position hauled in just one catch for 14 yards, so their tight ends are just an undersized 6th offensive lineman.
Army did run a receiver reverse for 35 yards to Hayes that set up their first touchdown against Rice. So, that's a wrinkle to look out for on Saturday.
Army Defense
On the defensive side of the ball, the Knights return a ton of talent and experience all over the field, but one big loss that Army is facing, is losing Defensive Coordinator Jay Bateman to UNC this offseason.
Bateman transformed the defense into respectability, and helped them create big plays. Army lists itself in a base 3-4, that really looks and acts more like a 4-2-5 nickel defense or a 3-3 stack than a normal 3-4.
They'll play two interior linemen to clog up running holes inside, and have an end in a light stance so he can react and string plays out, as well as a RUSH linebacker standing where a defensive end will typically line up.
The WILL linebacker can come up to the line or kick out in coverage, and is occasionally replaced for an extra DB on passing downs.
The interior linebackers will cross key the offensive guards to take them to the ball.
The corners will play a boundary/field designation, and the safeties are in charge of taking away the middle of the field.
The Army defensive line and edge players play very hard, but for the second week in a row, Michigan's highly touted offensive line faces a foe that just can't match up with them physically.
Upfront
NG Rod Stoddard is listed at 5'11, 280 while NT Kwabena Bonsu is about 6'3, 260. What they lack in size, they make up for with motor. Neither guy is one to give up on a play, and Michigan's offensive line has to be sure to finish their blocks this week, because Stoddard and Bonsu pursue hard.
Jacob Covington and Amadeo West occupy the end/hybrid linebacker position, and while they don't necessarily have the pass rushing ability most people would value, they're both tough football players and are capable at setting the edge defensively. It'll be tough for whatever combination of Hayes, Runyan, and Mayfield to keep outside leverage consistently.
The reason Army doesn't need a ton of pass rushing ability in their defensive line, is because they like to get very creative with their linebackers and safety play, and are unafraid of sending guys on passing situations.
Part of the creativity of the Army scheme is their ability to send whomever they want, and drop hybrids into coverage to confuse offenses.
Linebacker
The man in the middle, Cole Christiansen, is the leader, captain and best player on the entire defense. Christianson is not only a three-year starter but was also named captain last year as a junior, which not only says a lot about his abilities, but also his leadership and attitude.
Christiansen tallied 12 TFL last year and is a big, physical linebacker at 6'2, 225. He's smart, and he's rarely out of position. He reminds me a bit of Mike McCray, in that he's smart and tough, but he's only an average athlete, nothing spectacular. He's utilized as a blitzer a decent amount, and it hides some of his lack of coverage ability.
Zach Charbonnet is going to have to have another good day in terms of pass blocking, because Christianson and Arik Smith are going to be given some green lights.
Secondary
The secondary is probably Army's biggest area of strength on their entire roster. Elijah Riley is a four-year starter at Boundary Corner, and through some quick research, I think he has the potential to be the first player since WW2 to start in four straight wins against Navy.
Riley's a physical corner, and tallied 7.5 TFL last year as a defensive back, which is a testament to his instincts and playmaking ability. He may be someone who will get to utilize the new waiver, which allows players with NFL interest to delay their active duty until after their career is over.
Jaylon McClinton lines up as the deep free safety for Army, and can cover a lot of ground quickly. He's a three-year starter with spot starting experience as a freshman, which provides the Knights with a ton of talent and veteran leadership in the secondary. McClinton is the only returning player to record an interception last year, and had 5 tackles.
McClinton and Riley had fantastic games against Rice, helping hold the Owls to 7-14 passing for 62 yards.
Field Corner Jahvari Bourdeau also had a nice game, with a pass breakup late in the game. The secondary is experienced and plays really hard, but honestly, Nico Collins, Tarik Black and the tight ends should be able to take advantage of their size and athleticism compared to the linebackers and secondary.
Riley is solid, but at best he's a fringe 6th or 7th round pick lining up against some of the best receivers in the country.
I think we're going to see some fireworks deep down the field.
Prediction
Much like last week, on paper, the Wolverines are a superior team in every facet of the game than their opponent. But Army is also a much more battle-tested team with a much better coach than MTSU. I expect Michigan to win relatively comfortably, but I think the score is a bit closer than people would guess because of how brilliant Army is at controlling the ball and winding clock.
Michigan 33 – Army 14
---
Hot Takes
In this section, I'll be giving some pretty random, unlikely, or just weird predictions about anything.
Last Week: 1 for 3
Two D/ST Touchdowns = 0 points
Three running backs get at least 8 carries = 0.5 points. Charbonnet, Turner and McCaffery got 8 carries. I'm giving myself a half point
Quinn Nordin is the field goal kicker = 0.5 points. Nordin handled PATs and Jake Moody took the short kicks, but I think Nordin may be used if they need a 50+ yarder, so I'll pat myself on the back a little bit again.
This Week:
Army is leading at the end of the first quarter

I think Army is going to throw a lot of stuff at Michigan on their first drive to see how they react and feel out the game, and we know they're going to be aggressive. This Hot Take basically revolved around me thinking that Army has a long, time crushing drive, limits Michigan to one possession, and goes into the 2nd quarter up 7-3

Ryan Hayes splits reps with Jalen Mayfield at RT

Jim Harbaugh is big on meritocracy, and after Hayes' dazzling debut last week, it's going to be hard to keep him out of the lineup. Jon Runyan is a senior, and someone that's earned the right to come back from injury as a full time starter, so I think Hayes and Mayfield push each other a bit.

Charbonnet has 125 yards, including another 40+ yard carry

He's going to get a bigger workload than last game, and he's looking like a bonafide stud already. Let him EAT. If he stays healthy and keeps the ball off the turf, he could challenge Mike Hart's freshman season rushing record.
Photo Credit: Tom Pennington/Getty Images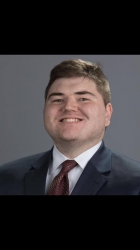 Latest posts by Harry Hillman
(see all)