John Beilein was known for many things during his 12 years at Michigan — three-point shooting, a placid demeanor, and folksy, upstate-New-York-farm-boy wisdom. Targeting five-star recruits was not one of them.
Three months into Juwan Howard's tenure, that's changed. The Wolverines' first-year head coach welcomed two to Ann Arbor on Friday: Walker Kessler, a 2020 center from Woodward Academy in College Park, Ga., and Jaden Springer, a 2020 guard who plays at IMG Academy in Bradenton, Fl. Four-star guard Zeb Jackson, who's already committed to Michigan, was in Ann Arbor as well.
Kessler and Springer are just the first of many, with 2020 guard Nimari Burnett (Chicago), 2020 forward Lance Ware (Burlington, N.J.), and 2020 forward Jace Howard (Miami, Fl.) also set for visits to campus this month.
Michigan is a finalist for a number of other highly-rated recruits who have not yet set official visits, including 2020 guard Josh Christopher (Lakewood, Ca.) 2020 center Mark Williams (Norfolk, Va.) and 2020 guard Moses Moody (Little Rock, Ar.).
No matter how many of Howard's targets actually end up in the Maize and Blue, it hasn't taken him long to make a statement — this is a very, very new era of Michigan basketball, at least on the recruiting trail.
What would Kessler and Springer bring to the court, however? MGoFish analyzes:
WALKER KESSLER
Vitals:
Height: 7'0
Weight: 235 pounds
2018-19 Statistics: 28 GP, 21.0 PPG, 11.9 RPG, 6.4 BPG, 1.9 APG, 1.0 SPG
Ranking: 15 in nation/3rd at position (247Sports), 13/3 (ESPN), 19/4 (Rivals)
Video:
Kessler made a visit to Ann Arbor last season, but after Beilein's departure to the Cleveland Cavaliers, Michigan appeared to fall out of the running. That didn't last long, and now the Wolverines find themselves contending with Auburn, California, Duke, Gonzaga and North Carolina for his services.
No one's ever been offered a scholarship off of a mixtape alone — the purpose of mixtapes is merely to show off a prospect's skill set. But boy, does Kessler have skills. He's the kind of player every modern basketball team salivates over — an absolutely giant, yet mobile, man with a sweet outside stroke.
That shooting touch is on display plenty here. Kessler doesn't do much creating his own shot from the perimeter, but he shows minimal hesitation from catching the ball to releasing. While the actual release is low and somewhat shot-put like, his jumper is quick and clean, with little excess movement and a consistent follow-through.
Inside, Kessler has an array of effective post moves, most prominently featuring an unblockable right-handed jump hook and smooth turnaround. He knows how to score with his back to the basket, and can work through traffic thanks to his good footwork and well-developed spin moves.
Kessler isn't an explosive athlete, but he's very agile for his size, and can handle the ball as well. He blows by opposing big men if they step out to the perimeter, and can grab the ball off a defensive stop and take it all the way to the rim (see 1:38 for an example).
What stood out to me most, though, was his overall offensive awareness. As you might expect considering he's seven feet tall, Kessler gets double-teamed often. He knows what to do in those situations, though: he keeps the ball where no one can reach it, and uses his body to shield off defenders.
You'll see this at 1:20, where he sees the double come, sheds one defender with a solid elbow, and step-back dribbles into a baseline jumper. Just as impressive was at the 4:25 mark, where he keeps the ball high, calmly dribbles to his left, and turns and fires a pass to a cutting guard for a layup.
Like most mixtapes, there aren't a lot of defensive highlights, but what I did see I liked a lot. Kessler has a very high motor, and he uses his height just as well as he does on offense, blocking shots by staying vertical and positioning himself well near the rim. This positioning, combined with terrific instincts, allows him to be an effective rebounder regardless of size or length.
Kessler's still growing into his body, and probably could use a bit more muscle to thrive at the Big Ten level, but he has all the tools already. All big men are a bit of a project. Not all big men — in fact, very few — have close to as much upside as Kessler.
JADEN SPRINGER
Vitals:
Height: 6'5
Weight: 195 pounds
2018-19 Statistics: 15.6 PPG, 4.0 APG, 4.0 RPG
Rankings: 13th in nation/3rd at position (247Sports), 15/3 (ESPN), 12/4 (Rivals)
Video:
Springer excelled as a freshman and sophomore at Rocky River (Charlotte) but transferred to the elite IMG Academy for his junior season. That move paid off, as he helped lead IMG to a national championship and a 31-1 record, while leading the team in scoring in two of their three games at the national championships.
Also currently in the running for Springer are Florida, Memphis, North Carolina and Tennessee, per 247Sports.
Springer fits into the archetype of a high-scoring lead guard. Physically, he has the requisite size and strength, and while not an explosive athlete, he's fast, smooth and coordinated, and with a good sense of how to use his body to get buckets.
The most on-display aspect of Springer's play is his mid-range game. While a de-emphasized part of many college and NBA offenses nowadays, Springer is an efficient and deadly scorer from that level regardless.
Springer won't blow past anyone — instead, he relies more on his smarts, elite change-of-pace, pump-fakes and ball-handling. He can lull defenders to sleep and elevate over them, releasing his shot at the highest point of his jump, or he can float into the lane and knock the ball off the backboard. His size gives him the ability to hit back-to-basket fadeaways as well, and he doesn't show any qualms about looking for others.
Continuing on this theme, Springer probes more than he attacks in transition. He has good acceleration and start-stop ability — on display at the 0:50 mark in the first video with a nice little floater — and can also finish in traffic (see 1:00 in the same video). His open-court speed will put defenders on their heels, which then lets him rise and fire with minimal obstruction.
When he does rise and fire, Springer displays a sound shooting form. He starts with his legs, popping off the ground and letting go the ball on his way up, giving him good range and a smooth, one-motion release. His guide hand rests somewhat high on the ball, but his right hand sits right under the ball for a perfect flick of a release, which makes for good arc and rotation.
Intangibles are another thing that can be hard to glean from a mixtape, but Springer's playing style itself gives a view of them. He's not particularly demonstrative, and his offensive game — with its fluid starts and stops and array of skills from 15 feet and in — radiates poise.
Springer might be ready to play — and score a good number of points in — college basketball already. His upside is a little bit tougher to project, but that shouldn't distract from what he is right now.
Photo Credit: Kelly Kline/Under Armour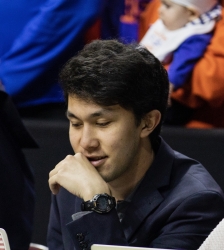 Latest posts by Jacob Shames
(see all)