For Juwan Howard, it's only ever been a matter of time.
Howard's name recognition, NBA experience and charisma made it inevitable that some of the country's top talent would be suiting up for Michigan in the near future. Thursday, the Wolverines' first-year head coach scored his first victory.
Isaiah Todd, a five-star power forward from Word of God Christian Academy in North Carolina, committed to Michigan on Thursday evening. Todd was choosing between the Wolverines and Kansas.
By any measure you choose, Todd is good. Like, really good. ESPN (No. 7 overall, No. 1 power forward), Rivals (10, 2) and 247Sports (14, 2) all have him ranked as a five-star, and the numbers bear that out too. At Trinity Academy in Raleigh, N.C. last season, he averaged 28 points, 15 rebounds and 5.4 blocks, and in 13 games with the Nightrydas Elite of the Nike EYBL this summer he averaged 18.3 points, 8.4 rebounds and 1.4 blocks while shooting 51 percent overall and 32 percent from downtown.
Todd, at 6'10 and 215 pounds with a wingspan of at least seven feet, has every skill the modern game prioritizes in a big man. He's unstoppable in the open court: too quick for most forwards, too lengthy for most guards and too athletic for everyone. He handles the ball extremely well for his size and is always a threat to pull up — while his shooting numbers are a bit inconsistent right now, extreme talent in high school often lends itself to shot selection that would be deemed bad otherwise. There's no question he'll remain an effective shooter at the next level.
On the defensive side, Todd's a terrific rebounder and shot blocker already, and as he strengthens and learns how to use his length, he should develop into a nightmare matchup on that end of the court too.
Todd's going to make his money scoring points and posterizing people, but for my money, his most impressive play in the below video came at 1:40: a chase after the ball followed by a no-look, backhand pass for a wide-open layup.
ESPN College Basketball Analyst Tim McCormick went one step above with his praise of Todd:
There's one hitch, however: there has been speculation that Todd won't go the college route at all. Similar to the route top prospect R.J. Hampton took last year, Todd has been rumored to be interested in playing professionally in Australia or elsewhere overseas before entering the NBA Draft when he's eligible.
Assuming Todd does ultimately come to Ann Arbor, however, not only did Juwan Howard ink a player with all the talent in the world, but he sent a message to the college basketball world at large — both recruits and other programs — that there are more dominos to fall, and that Michigan can still be considered, definitively, one of the nation's blue-bloods
Other recruiting notes:
Michigan is part of the final three for five-star IMG Academy guard Jaden Springer, along with Memphis and Tennessee. Springer recently told USA Today that his decision "could come any day now," but 247's Crystal Ball has him as a lock for the Volunteers.
The Wolverines have a better shot with Hunter Dickinson, a 7'2 center from Maryland, who has included Michigan along with Duke, Florida State and Notre Dame in his final four. Per Pat Lawless, Dickinson hopes to make a decision before the season. A consensus four-star recruit, 247Sports predicts a 67 percent chance Dickinson will take his talents to Ann Arbor.
Mark Williams will make his decision on Nov. 1. The big man from Virginia is deciding between Duke, Michigan and UCLA but there doesn't seem to be any possibility Williams won't end up a Blue Devil at this point.
2021 point guard Kennedy Chandler recently announced his top five schools on Twitter: Tennessee, Syracuse, Ole Miss, Florida State and Michigan, in order of official visit date. The five-star from Tennessee will be in Ann Arbor from Feb. 15-17 this winter.
Another five-star point guard in the class of 2021, Khristian Lander, will be taking a visit to Michigan this month. Indiana, Louisville and Memphis are also interested in the Evansville native.
Photo Credit: Jon Lopez/USA Today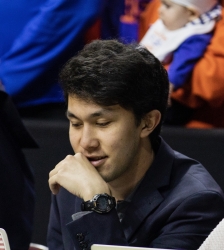 Latest posts by Jacob Shames
(see all)