Well, that was something.
Michigan beat Appalachian State, 79-71, in Juwan Howard's first game as head coach. For the bulk of the contest, the Wolverines barely looked threatened — until suddenly, they were, by a 32-6 Mountaineer run midway through the second half that cut the lead from 30 to four before Michigan salted the game away at the line.
Here's a hopefully-not-too-scattered collection of stats, notes and other things that came to my mind as I watched the game:
There are basically three angles to this game: Brooks (24 points, 7-of-15 shooting, five treys), Jon Teske (17 points, 13 rebounds and three blocks) and whatever that was in the second half.
When the Wolverines play teams like Appalachian State (teams that don't have any player above 6'9), Teske has usually been the best, or at least most impactful, player on the floor. That wasn't any different tonight. Teske had an absolutely comical 11 points and six rebounds by the first media timeout, and 15 points and 11 boards by halftime. That's just what happens when you're four inches taller than anyone guarding you.
In the past, this type of game has tended to be the only time Michigan would make a concerted effort to feed Teske in the post. Time will tell if that's different this year, but the Wolverines got him the ball and he went to work. Teske's never had more than the most rudimentary post-up moves, but he didn't need to be too sophisticated Tuesday. He did, however, nail a nice midrange jumper on a faceup and drilled a heat-check 3-pointer a couple of minutes in. If I had to, I'd say his stroke looks a tad better than it did last year.
Isaiah Livers started the game at power forward but Brandon Johns and Colin Castleton got most of the minutes there after Adrien Nunez, who started at shooting guard, committed two early fouls. Johns looked far more natural at the '4' than he did last season as an ill-fitting small-ball center, and his stat line of five points, three rebounds and two blocks shows that. Free from having to bang with the Big Ten's physical centers, Johns' explosive athleticism was on far fuller display.
For better or for worse, Livers appears to be the same Livers he was last season. If he got open looks, he knocked them down but didn't do much in the way of creating, with five turnovers to one assist. Handling the ball wasn't his game last year, and that hasn't changed. The transition opportunities Howard's offense will lead to should unlock another part of Livers' game, and he did bust out on the break on occasion, but it was always unrealistic to project him as a go-to scorer this season.
Brooks was the biggest revelation tonight, and it wasn't particularly close. It wasn't just that he hit five threes and led Michigan in scoring, but he was so assertive in doing so, hunting shots and locking his eyes on the rim the second he got the ball. None of Brooks' makes came with the slightest hesitation once he got an opening, and multiple of his attempts came off the dribble. You want more confidence? It was Brooks who the Wolverines put their trust in to finish the game at the free throw line.
Confidence is a fickle thing, coming and going at a moments' notice, and Brooks struggled with it last season. Thus, his progress has to be measured more in baby steps than anything else. But if Brooks can sustain close to that level of confidence, he'll probably remain among the Wolverines' three leading scorers.
It's not like it's a secret, but Michigan needs Zavier Simpson out there quite badly. Even against Appalachian State. David DeJulius and Brooks were just a bit less firm, a bit less steady, a bit less decisive with the ball in their hands, and the offense stagnated at times after Simpson left with two fouls in the first half.
About those fouls: it's gotta be refreshing, after so many years of griping, for Wolverine fans to not have to automatically brace for the worst when a key player picks up their first foul early in the game.
Simpson didn't even have one of his vintage games, either, committing six turnovers against six assists. His fingerprints just cover so much of this team's identity on and off the court. That's one of the few things Howard's hire never was going to change.
A large number of possessions started out with Simpson or DeJulius walking the ball up before giving it off to Teske, Johns or Castleton at the top of the key. Usually from there, the ball went back to the point guard, where a succession of screens around the perimeter, on and off the ball, ensued along with crisp passing from Simpson and others.
Michigan had issues against zone defenses last year, but it shredded the Mountaineers once they went to a 3-2. The main culprits for last season's lack of success against the zone were a tendency to stand in one spot and jack up the first semi-open three, and that was what ended up hurting the Wolverines when Appalachian State started its run. But Teske's playmaking from the top of the key opened up a great deal of success as Michigan moved the ball around the Mountaineers' zone setup.
I'll be honest: for the bulk of the Mountaineers' comeback, I was also trying to watch Kansas and Duke, and was only half tuned in. Seems like I wasn't alone.
I realize I haven't given a lot of capital-T Takes here, and that's the way it should be. I'm not about to make any judgments on the Wolverines' season based on one November game against a team from the Sun Belt. Michigan won. The tenor of the game changed in the blink of an eye. Soon, we'll probably all forget about it. We'll have to hope.
Photo Credit: Marc-Grégor Campredon/MGoBlog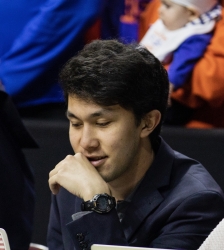 Latest posts by Jacob Shames
(see all)