A week after losing out in its pursuit of Walker Kessler, Michigan got some good news in its efforts to secure another prized big man.
Mark Williams, a four-star center in the Class of 2020, told Stockrisers' Jake Weingarten his three finalists last night. The schools include Duke, UCLA, and the Wolverines.
Per Weingarten, Williams will be in Ann Arbor for an official visit this weekend. He's scheduled to visit Duke in three weeks and already visited UCLA in August.
The 7-foot, 225-pound Williams is from Norfolk, Va. and played last year at Norfolk Academy before transferring to the prestigious IMG Academy in Bradenton, Fla. for his senior season. He averaged 19.7 points, 11.2 rebounds and 3.7 blocks as a junior.
While Michigan making Williams' top three is certainly a positive, it probably won't matter in the end. 247Sports' Crystal Ball predictions give Duke an 88 percent chance of securing his services. Williams' older sister, Elizabeth, played for the Blue Devils from 2011-15, and per 247Sports' Tracy Pierson, those around Williams feel that his announcement is an indication that he wants to make his choice as quickly as possible. Two of Williams' best friends, Henry Coleman and Jalen Johnson, have committed to Duke as well.
That being said, Williams' recruitment is another indication of the culture and program new head coach Juwan Howard wants to build. Unlike his predecessor, John Beilein, Howard's gone after a plethora of highly-touted players, including multiple big men, his specialty.
So far, Howard has been able to use his Fab Five credentials and NBA experience effectively on the recruiting trail — an extremely positive sign for Michigan.
"Juwan Howard has played my position at the highest level," Williams told Stockrisers. "Just knowing that he's been there and can help me get there and knows moves that he can teach me. He always tells me how he works with the bigs in practice and just knowing he has NBA experience makes it intriguing."
Michigan remains in the mix for other top prospects
Hunter Dickinson, a four-star center, made his official visit to Michigan on Sept. 7. Per Weingarten, the Wolverines have an assistant coach in with him this week, a week after their entire coaching staff visited him at home in Maryland. 247Sports has Michigan's chances of landing him at 67 percent, which would certainly soften the blow of losing out on Kessler and Williams.
Assistant Phil Martelli, who has been targeting Williams, was in recently for five-star guard Jaden Springer, per Weingarten. Springer is making an official visit to Tennessee this weekend, which is slated to be his final official visit. Memphis, Tennessee and Michigan are the three finalists for the IMG Academy product.
The Wolverines are hosting two other official visits of their own, along with Williams. Howard traveled to Huntington, W.V. to check out four-star forward Jaemyn Brakefield, the 38th-ranked player in the Class of 2020. Brakefield is expected to be on campus along with Howard's son, Jace, a three-star forward.
Last weekend, five-star forward Isaiah Todd and four-star guard Moses Moody visited Ann Arbor.
Juwan Howard and Michigan's 2020 basketball recruiting efforts look like they're about to pay off in the not-so-distant future. Stay tuned for the latest updates.
Photo Credit: 247Sports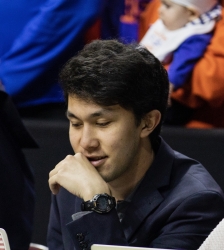 Latest posts by Jacob Shames
(see all)