With the 2016 class starting to finally take shape, the staff has really started to extend offers to 2017 targets. However, it's still extremely early so putting together this Team 138 Best Guess Recruiting Class was difficult.
That being said, check out my April prediction for the 2017 Michigan football recruiting class:
1. QB Dylan McCaffrey, 6'5″ 200lbs. Littleton, CO (Valor)
– McCaffrey is the son of former NFL receiver Ed McCaffrey and was the first 2017 quarterback offered by Harbaugh. He has the size and arm that will draw offers from just about every program in the country (though he only holds two right now). With the early offer and interest, I really like Michigan's chances to land the Colorado star.
2. QB Andrew Marty, 6'4″ 205lbs. Wyoming, OH (Wyoming)
– Marty's an underrated quarterback out of Ohio that visited this fall. He has a very similar playing style as Jim Harbaugh (good arm, mobile and makes plays after a play breaks down) and I think that will resinate with the Michigan head coach. With the staff likely taking two quarterbacks in this class and Marty already interested in the Maize and Blue, I like the Wolverines chances here.
3. RB Allen Stritzinger, 6'0″ 180lbs. Warren, MI (De La Salle)
– Stritzinger is one of the best players in the midwest and backs in the country. He is a slashing, home run hitter of a back that would be a nice compliment to the multiple power backs on the roster already. Some analysts could see him slide over to corner but he let me know that Coach Wheatley has been the coach he's spoken with the most, which likely means the staff sees him at running back. He also let me know an offer could come in the near future. And when that happens,  I believe they'll become the team to beat.
4. RB Antjuan Simmons, 6'1″ 205lbs. Ann Arbor, MI (Pioneer)
– The Pioneer star is quickly becoming one of the most sought after 2017 recruits in the state thanks to his ability to make plays at both tailback and linebacker. He's an athletic, power back that is being targeted by Coach Wheatley and if an offer is extended, it looks like they'll be the heavy favorite for the Ann Arbor native.
5. RB/ATH D'Andre Swift, 5'9" 195lbs. Philadelphia, PA (St Joseph's)
– Swift is listed as the #1 running back in the class, according to 247Sports, and is one of the top guys on the staff's running back board. While he will be a very tough pull, he happens to be good friends and teammates with 2015 Michigan signee Jon Runyan Jr. With the staff desperately needing game breakers and speed on offense, look for them to go all in to try and land Swift.
6. WR/ATH Greg Johnson, 5'10" 185lbs. Los Angeles, CA (Hawkins)
– Johnson is one of the most versatile and talented players in the country, regardless of class, and recently landed an offer he and his teammates (2017 WR Joseph Lewis and 2018 WR Jalen Hall) had been waiting on from the Wolverines. The talented duo want to "start a legacy somewhere else" and have already planned to visit Ann Arbor this spring ($). If/when they get on campus, expect the staff to really put on a show and make the trio top priorities in the class.
7. WR Joseph Lewis, 6'2″ 190lbs. Los Angeles, CA (Hawkins)
– Lewis is one of the three Hawkins high stars that Michigan has a very good shot with. He will be apart of the group visiting Ann Arbor this spring and if the staff can impress the three talented recruits, Michigan will have a good shot at landing all of them.
8. WR Donovan Peoples-Jones, 6'1″ 175lbs. Detroit, MI (Cass Tech)
– DPS is the top player in the state and one of the best receivers in the country. He also happens to be from the top in-state pipeline, Cass Tech, and looks to be high on the Wolverines after landing his offer. It's still early but according to 247'S Steve Wiltfong, he is the #1 target overall for the staff in 2017.
9. WR KJ Hamler, 5'9" 155lbs. Farmington, MI (OLSM) 
– Hamler is an explosive athlete and one of the top players in the state. He has the speed and athleticism to make big plays at receiver or as a return man. Though he has yet to land a Michigan offer, he seems to be very high on the Wolverines. If an offer comes, they'll likely be the new favorites over MSU.
10. TE Jimmy Jaggers, 6'3" 237lbs. Roseville, CA (Roseville)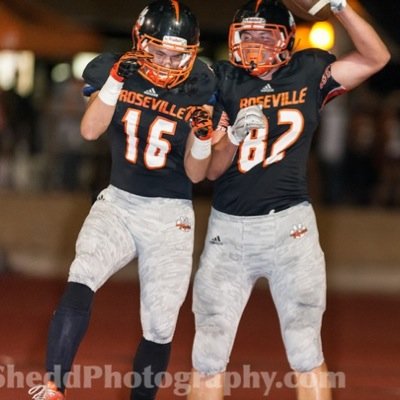 – The tight end position is very difficult to predict since there aren't too many guys on the national radar, let alone Michigan's radar. However, if there was one guy that has impressive tape and looks to fit the Harbaugh tight end, it's Jaggers. He is a big bodied, tough, strong blocking tight end that can also make plays in the passing game. Add in being from the staff's favorite state to recruit and I believe he could become a target moving forward.
11. TE Carter Dunaway, 6'6" 225lbs. Bloomfield Hills, MI (Brother Rice)
– Dunaway is the son of former Michigan tight end Craig Dunaway and brother of 2015 preferred walk-on Jack Dunaway. So, when he landed his offer from Harbaugh himself, Im shocked it's even taken this long to commit. He's about as good of a slam dunk on the recruiting trail.
12. OT JaRaymond Hall, 6'5″ 255lbs. Oak Park, MI (Oak Park)
– The in-state star is starting to make a name for himself in the recruiting world after a bit of a breakout season for Oak Park. Though he's very raw at the moment, he has the natural born athleticism and size that helped land him an offer from the Wolverines. And thanks to that offer, it looks like Michigan is the heavy favorite here.
13. OT Jake Moretti, 6'5" 265lbs. Arvada, CO (Pomona) 
– Moretti is another top target out of Colorado and looks to be very high on the Wolverines after recently landing an offer. He's already hoping to visit Ann Arbor this summer and admitted he's "very high" on Michigan ($). If things go well on his visit, there's a good chance the Wolverines cement their place near/at the top of his list.
14. OL Emani Mason, 6'4″ 268lbs. Detroit, MI (EEVP)
– Mason is another top ranked Detroit prospect and will be a national recruit (ranked #33 overall per 247Sports). He has the size, power and athleticism to play all over the line though he's listed as a tackle. If Michigan extends an offer early on, their chances go up even more.
15. NT Juan Harris, 6'4" 356+lbs. West Union, IA (North Fayette)

– The two time Iowa decommit picked up his Michigan offer while visiting Ann Arbor in March and looks to be one of the top targets on the 2017 board.  After his visit, he told me he "loved" everything about the visit and is high on the coaching staff. If they keep pursuing him as a top target, things look pretty good here.
16. DT Bryce Brand, 6'2″ 267lbs. Detroit, MI (Walled Lake Western)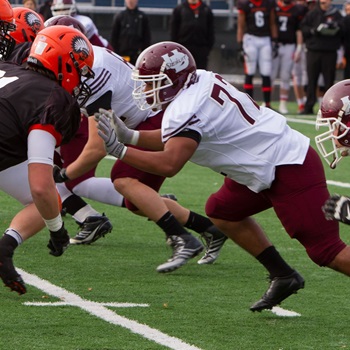 – Brand is an in-state product that has already visited and caught the eye of the coaching staff. His athleticism at his size has them very intrigued about where he could play if he joins the Wolverines. In an interview with Scout's Allen Trieu, he discussed his early spring visit to Ann Arbor and his conversation with Harbaugh where he told him he thinks he could play both sides of the ball as a defensive tackle and full back ($). If/when an offer is extended, it looks like Michigan would be the heavy favorites.
17. DL Corey Bolds, 6'3" 260lbs. Paramus, NJ (Paramus Catholic)
– Bolds is another top talent out of Paramus Catholic and, like his teammates, he is very interested in Michigan. He landed his offer while visiting with the other top NJ targets in late March and it looks like they are the odds on favorite to land the versatile defensive lineman.
18. DE/OLB Corey Malone-Hatcher, 6'3″ 235lbs. Saint Joseph, MI (St. Joseph's)
– CMH has been one of the top recruits in the state since his freshmen year and has been high on every fan's list for awhile now. He has the size, athleticism and versatility to be a star as a pass rusher at the next level, and with an offer from the Wolverines, he looks to be leaning towards joining the Maize and Blue. It's not a slam dunk, but he's a "must get" recruit in this class IMO.
19. LB Drew Singleton, 6'2″ 215lbs. Paramus, NJ (Paramus Catholic)
– While Singleton has yet to receive a scholarship or public interest from the Michigan staff, his former coach is now on the staff and he is said to be the next big thing out of Paramus Catholic. With his former head coach apart of the recruiting staff, I could see him become a main target at the linebacker position for the Wolverines.
20. LB Josh Ross, 6'1″ 210lbs. West Bloomfield, MI (OLSM)
– The younger brother of current Wolverine linebacker James Ross III, Josh may be even better than his older sibling. He is one of the most coveted recruits in the state and is extremely high on Michigan, especially with Harbaugh keeping Greg Mattison on staff. There's a good shot he's the first member of this class if the 2015 season goes well IMO.
21. LB Kyle Bolden, 6'1″ 205lbs. Cincinnati, OH (Colerain)
– Another younger brother of a current standout linebacker, Kyle is the younger sibling of starting MLB Joe Bolden and has a very similar game as his at the same age. Both are aggressive and smart, which will draw the staff. There hasn't been too much contact yet but I believe that will come when they start to target 2017 recruits. With an offer, I believe Michigan will be the clear cut leader.
22. CB/ATH Ambry Thomas, 5'10" 160lbs. Detroit, MI (King)
– Thomas is another Detroit defensive back that will likely be a top in-state target for the Michigan coaching staff moving forward. He is one of the most explosive players in the class and with some more seasoning will likely shoot up the class rankings. If/when the staff offers, the Wolverines should be the favorites since he grew up rooting for the Maize and Blue ($).
23. CB Lamont Wade, 5'10" 185lbs. Clairton, PA (Clairton)
– Wade is one of the best players in the country and a top cornerback on the board. He has the ability to be a game changer and happens to consider Michigan his "dream school", even after the coaching change. Once an offer is extended and a visit takes place, I feel like the Wolverines could be his favorite going forward.
24. CB Donovan Johnson, 5'9″ 165lbs. Detroit, MI (Cass Tech)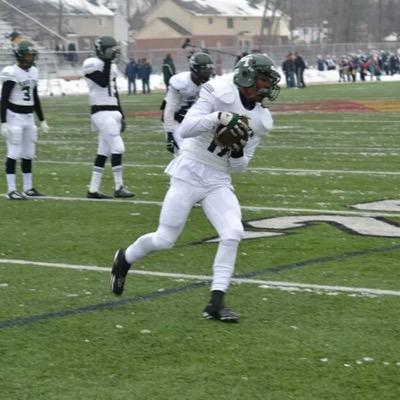 – Johnson is the next big thing at defensive back for Cass Tech and, even though it's early and he has yet to land an offer, I believe Michigan will be very high on his list once the recruitment begins. He has size to gain but his coverage skills are top notch and would be a nice fit in Ann Arbor with the high need for corners.
25. S Paris Ford, 6'2″ 175lbs. Pittsburgh, PA (Seton La Salle)
– Ford was one of the first 2017 offers from the new staff, and for good reason. He's a top talent in the class and has close proximity to the state (Western PA). After landing his offer, he told Wolverine247's Steve Lorenz he was at a loss for words ($). He also spoke with The Wolverine's Tim Sullivan and let him know he grew up a fan of the program and he plans to be at Michigan a lot ($). If the staff makes him a priority, I really like their chances at landing him.
26. S Isaiah Pryor, 6'2" 190lbs. Lawrenceville, GA (Archer)
– Pryor has quickly become one of the top ranked targets on the 2017 board for the staff and looks to have Michigan high up on his list as well. He made visits in back to back weekends, including the Spring Game, and looked to have a fantastic time. If the staff continues to make him their #1 priority, I really like their chances.
Latest posts by Garrett Fishaw
(see all)