After Michigan's worst performance of the year in front of their best recruiting visitors list of the year, a lot of Michigan fans lost their cool. Some were swearing off the team like they just went 3-9 and not 9-3 while others figured this loss would mean top recruits would drop UM down their list. Well, that's not the case and, since I know some fans love for me to tell them how to think, slow down a bit and listen to Bob Marley:
While Michigan lost to both of it's main rivals at home (in devastating fashion), going 9-3 after a 5-7 season and having a shot at the B1G Championship and CFB Playoff in the final week of the regular season is what most hoped for in Harbaugh's first year and hardly anyone was predicting, besides me. Add in what the staff had to work with and overall, I believe it was a good season.
As for the whole recruiting thing……
Don't Fret Just Yet 
Recruiting visits are tricky. While having the team play well in the game helps, I honestly don't believe the outcome of the game matters too much.
Most recruits are watching their positions to see how they would fit in the system and what kind of an impact they could make if they ended up at that school. The outcome is not as big as the atmosphere of the stadium, the feel they get from the fanbase and all of the other things they are on their visit to see, including the campus, facilities and, in Rashan Gary's eyes, the food.
If a recruit is truly interested in the program, they've been paying attention to the team all season long so one loss shouldn't sway their decision.
As 2017 King (MI) ATH Ambry Thomas perfectly told Wolverine247's Steve Lorenz ($):
But the fact they did lose doesn't mean anything in my recruitment. That stuff doesn't matter to me if I'm not physically out there on the field. I still think Michigan is heading in the right direction."
After sharing messages with several other visitors, including the Newton trio (Kurt Taylor, JJ Holloman & Jaquan Henderson), 2017 ATH Collin Smith and 2018 QB Allan Walters, they basically said the exact same thing and thoroughly enjoyed their visit to Michigan.
On top of that, one of the top players in the country and visitors from this past weekend, 2016 Elbert County (GA) ATH Mecole Hardman, spoke with Rivals' Woody Wommack about how much he liked his visit. He talked about the normal things like the campus, the Big House, the Peppers comparison, and the Harbaugh, and even said Michigan will "definitely one of the teams that will be there until the end" ($).
It's Flipping Season!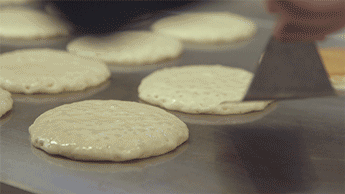 With all of the coaching changes going on this year and really starting to pile up now with the regular season wrapped up, it's officially flipping season. Coaches, like Harbaugh, will start to go after commits and top recruits from other schools even more.
And we saw how it's worked out right away with one of the top targets on their board, King (MI) CB Lavert Hill, who decommitted from Penn State soon after Harbaugh and cornerbacks coach Mike Zordich left his home after an in-home visit:
— Ghost (@VertHill21) November 30, 2015
Four-star CB Lavert Hill told me #Michigan coach Jim Harbaugh and secondary coach Michael Zordich just left his house for an in-home visit.

— Josh Newkirk (@JoshNewkirk7) November 30, 2015
Now, Hill has been expected to decommit/flip to Michigan for awhile now but the fact that his decommitment literally came minutes after Harbaugh left his house is a fantastic sign for UM. He's expected to make his announcement at the Army All-American game and, like I said before, if it's to anyone but Michigan, I'll be absolutely shocked.
As for another top target that is/was a Penn State commit, Rockford (MI) K Quinn Nordin visited Michigan again and is looking more and more like eventually being a part of this class.
Multiple visitors let me know that he was one of the top targets for them and they feel good about UM's chances after speaking with him. Add in what both The Michigan Insider's Sam Webb and Scout's Allen Trieu are hearing and (if you read into this kind of stuff) him removing all PSU stuff from his Twitter profile, and it just looks like a matter of time.
The only question remaining is if he'll be a full scholarship player or take a grayshirt, like The Wolverine crew heard.
The other recruiting visitors that Michigan is hoping to flip both happen to be USC commits.
Lake Gibson (FL) DL Keyshon Camp, who spoke with Scout's Corey Bender about his trip. While he didn't seem to enjoy the cold very much but did let him know that, while he's still committed to USC, he's very high on Michigan ($).
My thoughts on Camp: If the staff feels like they're out of the Chris Daniels sweepstakes (and according to a source, they may get that message soon as my source is hearing it's "all but a done deal" to Oklahoma), they may push even harder for the USC commit. Not that they aren't at the moment but I feel like if they make sure he knows he's a priority in this class, the chances of flipping him go up even more.
USC commit numero dos (that's Spanish, if you didn't know), is Saraland (AL) WR Velus Jones. Scout's Chad Simmons caught up with him to talk about his visit to Ann Arbor and things are looking very good all of a sudden for UM as he raved about Harbaugh and the Wolverines ($):
I am still committed to USC right now, but I am going to make the best decision for me. It will happen as soon as I am ready.

I may already know my school, but I just have to be sure"
That decision could come at anytime and could really make things interesting in the 2016 class. Jones is clearly a top target and looks to be an immediate take, as does Miami Senior (FL) WR Keyshawn Young who looked very likely to commit this past weekend. Though he held off, it looks like the only thing that will keep him out of this class would be his spot being taken.
Would Jones take his spot? That's yet to be known but there may not be a more interesting position to watch as Michigan's 2016 class comes to a close than at wide receiver. Stay tuned.
The Flip Side (Get it?) 
With the staff looking to turn back into the Flipmode Squad, other teams are looking to do the same to current Michigan commits.
The most likely candidate to do so is Farmington (MI) LB David Reese, who's story is well known by now (wants to enroll early but Michigan doesn't have a spot for him at the moment). Because of that, he's taking all of his official visits and now it just looks like a matter of time before he tweets out a decommitment announcement.
Reese isn't the only commit taking visits either as Owls247's Matt Vender is reporting that Cooper City (FL) DL Rashad Weaver has set his official visit to Temple for mid January ($).
Nauta Good Move by Georgia 
The biggest news on Sunday came out of SEC country when Georgia let go of head coach Mark Richt after 15 years and a 9-3 season.
Why does this matter? Well, Michigan's top offensive target on the board, IMG Academy (FL) TE Isaac Nauta, was reported to be favoring his home state Bulldogs. The only chance UM looked to have outside of a change of heart was a coaching change.
And with that out of the way, I fully expect Michigan to put the full court press on Nauta.
It will obviously come down to who UGA hires but with Alabama DC Kirby Smart and Houston HC Todd Herman looking like the favorites to land the gig at the moment, that could really help Michigan's chances. Not only because one has zero head coaching experience while the other runs a spread offense, both would have to quickly build a strong enough relationship with Nauta in a short amount of time.
And we've all seen how tough that can be. Remember how easily Michigan fans thought Harbaugh would be able to land Chris Clark, the top tight end recruit in last year's class?
The way I look at it, the longer UGA goes without making a hire, the better. If they quickly land Herman, he'll have a good amount of time to keep Nauta and the rest of their class intact. If UGA wants Smart, they may have to wait a little longer as Alabama is extremely likely to play in the CFB Playoff which could hurt their chances with retaining some commits.
Either way, it's a wait and see with Nauta. Yes, I believe Richt's departure hurts UGA's chances but I don't think Michigan is the clear cut favorite because of it. Though I do believe they can make a big move here while Georgia searches for a new head coach.
New Offer 
Michigan offered one of the top players in the sophomore class and a likely top target moving forward in 2018 Camp Hill (PA) TE Zack Kuntz during his visit this past weekend:
Perfect ending to Thanksgiving weekend with my 〽️ichigan family with an offer‼️#GoBlue pic.twitter.com/z24GwdJU8h

— Zack Kuntz (@zackkuntz_717) November 29, 2015
Basketball Recruiting
Beilein's 2016 class looked like it was going to be another showstopper with multiple elite commitments. However, things changed and they ended up signing a couple plan B targets. But one of those underrated signees, Pickerington Central (OH) SG Ibi Watson, is starting to really blossom this season, according to Ohio's top recruiting analysts:
Michigan basketball fans should be excited about Ibi Watson. He's a different dude this year compared to last. Playing w/ a mean streak

— Zach Fleer (@ZachFleerLGHL) November 29, 2015
I think Ibi Watson is the best 2016 wing in the state. No shade to Cumberland, Frankie or anyone else…I just love his game.

— Will Bennington (@3rdCoast_Newt) November 29, 2015
While the football staff hosted 50+ recruits over the weekend, the basketball program had a visitor on campus as well as they hosted 2018 St. Michael's (CN) F Danilo Djuricic. And the kid can definitely do one thing UM basketball badly needs, block shots:
Photo Credit: AP Photo/Tony Ding
Latest posts by Garrett Fishaw
(see all)