In dominant fashion, #18 Michigan kicked off its 2020 season with an eye-opening win over #21 Minnesota under the lights in Minneapolis. The Wolverines were led by a stellar performance from first time starting QB Joe Milton, a four-headed run game, and some big plays from the defense.
Michigan 49 – Minnesota 24
Here are my takeaways from Michigan's season opening win:
1. Feels a Little Different
There are wins each season that feel like the changing point. The win that feels like the team is on the path to getting over the hump (aka beating Ohio State, winning the Big Ten, and becoming a truly elite program). Now I am in no way saying that is what this win was or those things will happen this season. It wasn't and those aren't happening.
But this win was a great sign. It showed that Joe Milton is ready for the gig. It showed that this team is fast as hell. It showed meritocracy is legit. It showed that Ed Warinner is the truth (again). It showed that Michigan can dominate a good team on the road under the spotlight. And most importantly, it showed that Harbaugh has built a roster that is able to reload instead of rebuild.
This was a win that felt like it could be a sign of things to come.
There are plenty of things to clean up including missed tackles, bad drops, pass coverage, and probably the entire kicking and punting game. But this was a welcomed sight for a team with so many questions.
2. Too Bad it's Not a Big Win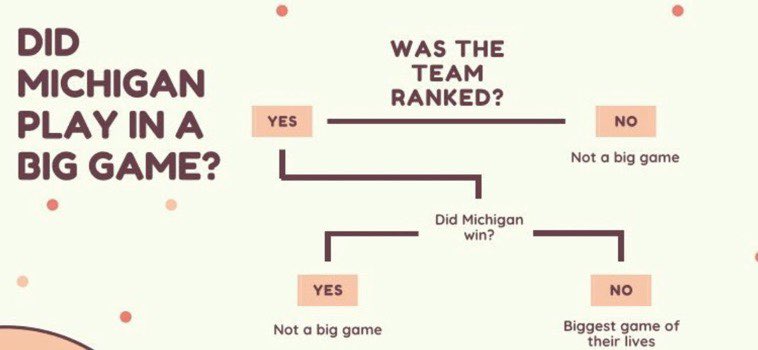 All joking aside, this was a big win. No, Minnesota isn't a world-beater but they're a good team that returned one of the best quarterback-receiver combinations in the country and, oh yeah, the Gophers were the favorite in this game when lines opened.
But Michigan is just much better.
More talent up and down the roster, better coaches, better schemes, better performance, better jerseys. It was all Michigan in this one as the Wolverines put together one of their better performances of the Harbaugh era.
3. Stock Up
I'm not going to say he's going to be better than Jabrill Peppers or Khaleke Hudson but boy oh boy, that was one hell of a first impression for the first time Viper starter. That includes him throwing up on the field multiple times.
7 total tackles, 5 solos, 1.5 TFLs, and 1 crushing sack that caused a fumble/interception that Donovan Jeter took to the house and gave Michigan a lead they never gave up. Oh, not to mention a 66-yard kick return on a squib kick. He's arrived and looks like he'll be a game-changer for this defense.
Joe Milton
No, he didn't put up the stat line like Wisconsin's first-time starter, Graham Mertz. But Milton played a much better team and did exactly what the game required of him. He was kept his composure throughout, leading the team down the field after every Minnesota score (besides the 1-play Charbonnet TD) with timely throws and runs. It should only get better with every game he plays.
Even as arguably the highest-rated NFL prospect on the team, Paye increased his stock even more on Saturday night. "Unblockable" is a good way to put it. He was used all over the line by Don Brown and was eating. Finishing with 2 sacks, 3 TFLs and 4 solo tackles, he was able to completely disrupt the quick passing attack of the Gophers. He'll be a top 15 pick this spring.
Who was going to lock down the second cornerback position was one of the bigger questions heading into this game. And I think Green answered that one pretty obviously.
Matching up with multiple receivers including Rashod Bateman, Green made several big plays in coverage and in run support. He was only credited with two pass breakups but I believe it was more like 3-4, all of which were on big moments. He was a big reason why Tanner Morgan was held under 200 yards passing for the game.
The forgotten position when Josh Gattis arrived, Mason showed how important it can be to have a brawler ready to block anyone and everyone in the run game. He had too many good blocks to count but it was the athleticism he showed on the first Michigan touchdown of the season as he was up-ended but had the wherewithal to get the ball over the pylon before going out of bounds.
Offensive Youths
Zach Charbonnet (SO), Blake Corum (FR), Roman Wilson (FR), Erick All (SO), Mike Sainristil (SO), Giles Jackson (SO), AJ Henning (FR). Did I miss anyone? There were a lot of underclassmen that made big impacts for the offense in this game. It's an early look at the #SpeedInSpace Josh Gattis has been dreaming up and what this offense will feature moving forward.
Empty Road Stadiums
Do I believe Minnesota not being able to have fans helped this young Michigan offense? 100% yes. The Minnesota fan base was thrilled about this season and would've been pretty wild on Saturday night if they were allowed in. But they weren't and this Michigan team benefited from it.
If this stays the theme throughout the season, it could continue to help this squad as trips to Indiana, Rutgers and Columbus are on the schedule. Obviously, only one of those has any type of home-field advantage.
4. Stock Down
The junior kicker was likely a little tired after all of the kicks he had to take in this game. 3 field goals, 7 extra points, and (I believe) every one of the 8 kickoffs. But that's not an excuse for missing the three 3 pointers. He has to be better or Quinn Nordin needs to get his chance against Michigan State, which should see plenty of kicks as well.
Khakis
So long to the signature look. It'll be back at some point but the staple of Harbaugh's style was shelved for the season opener. And as I would tell anyone who chooses navy blue over khaki pants, good call.
Let's not get into his microphone under the mask look. Though I did say he'd wear something noteworthy as his mask in my preseason predictions.
Preseason Assumptions
Michigan can't beat a ranked team on the road, Penn State is a top 10 team, last year's results mean anything towards this year's, Rutgers is an automatic W. Lots of things people were expecting but were proven wrong in week one.
There is still 7 regular season games left on the schedule which means plenty of time for teams to go back to their normal ways but week one was an eye opener for plenty of people. Myself included.
Highlights
What were your takeaways from Michigan's dominant season opening win over Minnesota? Raise your expectations for the season? Let us know in the comment section below?
Photo Credit: David Berding/Getty Images
Latest posts by Garrett Fishaw
(see all)