It's officially game week for the 2020 Michigan football season. Felt like it may never show up at one point but here we are and this season should be exciting. This will be a new-look Michigan team that'll feature fresh faces throughout the two-deep.
Hot takes and bold predictions are coming in from all corners of the internet. So, to get you ready for the season, here are some of my own:
Harbaugh wears something noteworthy for a mask
A simple navy blue mask with a little Block M on it just doesn't seem like Jim Harbaugh's personality. Question is, what will he wear? Maybe a khaki mask? A mask with the Harbaugh family portrait on it? #EnthusiasmUnknownToMankind? A social justice message? An Andy Reid face shield? Or will he go all out with a full football helmet with visor/mouth guard or even better, the Murderwolf mascot helmet?
Whatever it is, keeping it on will be most important. This isn't Tennessee or Florida. Big Ten Commissioner Kevin Warren and University President Mark Schlissel are going to be keeping a close eye on it. And so will the world because…Harbaugh.
Only One Game is Postponed
COVID is starting to spread around college football before the Big Ten even gets its first game in. More than 20 games have already been postponed or canceled due to the virus including both Group of Five and Power Five teams. Notre Dame couldn't keep it away, Nick Saban had a false-positive test, Dan Mullen gave the virus the finger and the virus clapped back as a boatload of Florida players and coaches have tested positive, including Mullen himself.
Some Big Ten schools have already had to shut down team activities this summer. And even though the Big Ten played the precaution card and waited until October 24th to start the season, it seems like more of a when not if it'll hit the conference again. But will Michigan be able to avoid it? Unfortunately, it doesn't matter if one team is able to stay clean. There are 13 other teams in the conference they have to worry about.
I almost feel like I'm being optimistic by saying only one game will be postponed with the way the virus has been hitting the college football landscape. Here's to hoping I'm wrong and the season goes off without a hitch.
Michigan's 2020 Defense will be Better than 2019's
There are a lot of questions surrounding Michigan's defense heading into this season. Don Brown's defense has been torched too many times in big games. It's not just a scheme thing or just a talent thing. As the saying goes, takes two to tango, or something like that.
There doesn't look to be a lockdown corner on the roster (just yet) and it's unknown just how much depth there is on the defensive line.
The front four of Aidan Hutchinson, Kwity Paye, Chris Hinton and Carlo Kemp should be one of the best in the conference but Michigan will need quality production out of the likes of Taylor Upshaw, Luiji Vilain, David Ojabo, Donovan Jeter and Mazi Smith.
Behind the line, Michigan is in great shape. Cam McGrone is an All-Big Ten level linebacker in the middle, Josh Ross returns to man the weakside, and then you have some talented newcomers in Michael Barrett (Viper), Ben VanSumeren (SAM) and then freshmen Nikhai Hill-Green and Kalel Mullings should get plenty of run as well.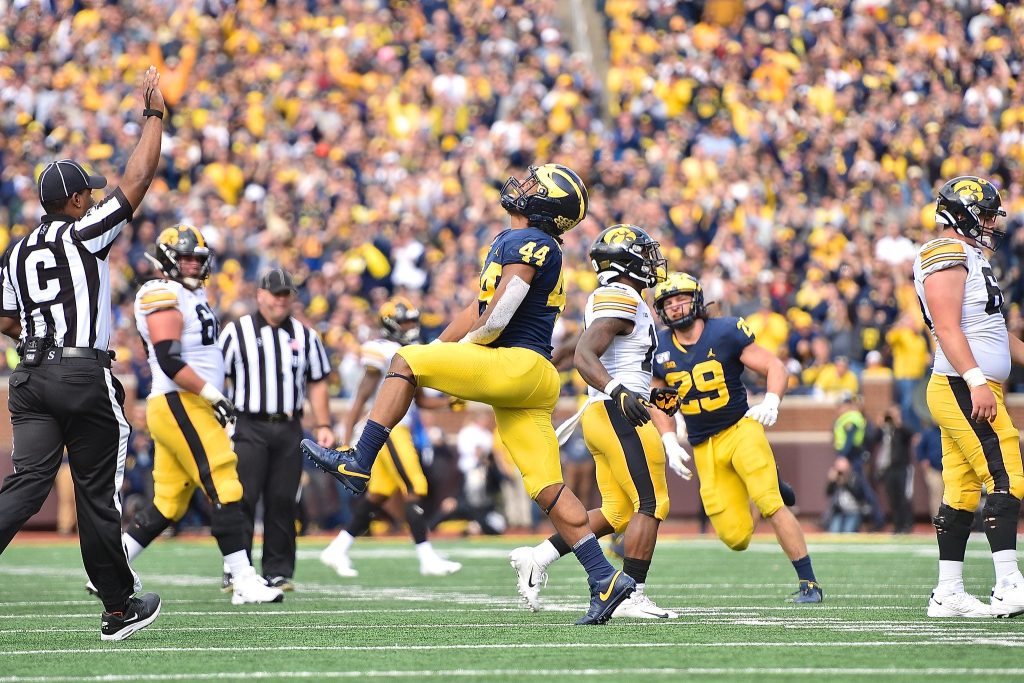 The biggest question is the secondary. Lavert Hill and Josh Metellus are in the NFL and Ambry Thomas decided to get an early start on his draft process. That means two new starters at cornerback and a new starter at safety. Luckily one of the team's best players, Dax Hill, will step into the safety role alongside senior Brad Hawkins. At cornerback, Vincent Gray made plenty of noise in 2019 and will be the #1 guy. Opposite of him, it looks like it could be a committee to start the season as Sammy Faustin, Gemon Green and DJ Turner, and Jalen Perry have all received praise by the coaching staff.
On top of the influx of young talent, I see the coaching upgrades really showing out even in this crazy offseason. Brian Jean-Mary and Bob Shoop are both very talented coaches who bring a ton of experience to the coaching staff.
Even with fresh faces all over the two-deep and some tough matchups on the schedule, I see the 2020 defense being better than 2019's, which finished 5th overall in total team defense in the Big Ten.
Milton is named All-B1G 2nd Team QB
I wouldn't exactly call the Big Ten "stacked" with quarterback talent this fall, especially after Wisconsin's Jack Coan went down with a preseason foot injury. Ohio State's Justin Fields is one of the best players in the country while Minnesota's Tanner Morgan, Indiana's Michael Penix, and Penn State's Sean Clifford made plenty of noise with their 2019 play. But let's just say I'm not buying the hype too much on the other three. Good? Yes, but I don't believe any of them are THAT good.
Enter, Joe Milton.
Michigan's new favorite hype machine. Big bodied, big arm, athletic, hard worker, film junkie. With up and coming weapons and speed all over the offense and Josh Gattis' playcalling, Milton should have the chance to put up memorable numbers. If the wins follow, he should get proper postseason recognition.
Bold takes are always fun, especially heading into such a unique season like this COVID-shortened 2020 season. So, let's see your hottest and boldest takes for the 2020 Michigan football team in the comment section below!
Photo Credit: Patrick Barron/MGoBlog
Latest posts by Garrett Fishaw
(see all)