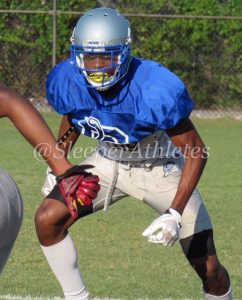 Michigan is No. 2 on the Top Six list that just came out from 2018 cornerback Stanley Garner from Dillard High School in Fort Lauderdale, FL. Garner, a two-sport athlete also playing on the Panthers state championship basketball team is ranked as a 4-star by many recruiting services.
Garner, 6'3″ 180, also listed Tennessee, Clemson, Alabama, Louisville and Kentucky.
Garner told me he will be visiting Ann Arbor before the season starts.
I've been watching Stanley since his freshman year and at both Dillard and Coconut Creek High School, where he transferred for his junior year but came back to Dillard after the old Coconut Creek head coach took another job. Stanley can play both sides of the ball, he has great hands, awareness, ball skills and would prove to be a huge asset to the Wolverines if he decides to commit.

Latest posts by Michael Robinson
(see all)