For the first time in a long time, Michigan has gone more than a couple days without landing a commitment. But that dry spell shouldn't last long. Most believe Harbaugh will receive a happy phone call on Wednesday (24th) when DE Khalid Kareem announces his decision. And that should kick off a fun day as a large group of east coasters will be visiting Ann Arbor on the same day.
Should you expect more commitments this week? I believe so.
Swinging for the Fences
With the 2016 class filling up quickly, plenty of Michigan fans started to worry that there wouldn't be any spots left for the top ranked targets. However, there are some recruits that are "must takes" for the staff, including:
The former Kansas State commit has looked like a possible Wolverine ever since he decommitted from the Wildcats not too long after landing his offer from Michigan. Add in his father being from Detroit and a big Michigan fan already, the staff just needed to get the Kelly's on campus to solidify their place on his list. And it looks like the staff may have done even more than that.
Kelly told TheMichiganInsider's Sam Webb that this was "his best visit" so far thanks in part to a meeting with head basketball coach, John Beilein ($).
While a decision is not expected to be made for quite awhile, there aren't many situations where I see the staff not waiting for Kelly. He has that rare blend of size and athleticism that would make be a perfect fit at buck linebacker in Durkin;s defense.
One five star talent that is much more of a target than people think is Long Beach Poly (CA) ATH Jack Jones. He recently spoke to Rivals' Adam Gorney about his recruitment and visit schedule, which includes an official visit to the Ann Arbor ($):
"The only one I know for sure is Michigan,"
This is big news and a big opportunity for the staff to sell him on playing college ball in the midwest. But they'll need to really put on a show to pull a top Long Beach Poly player off the west coast.
Quick Hitters
One name that a lot of fans may have forgotten about is Euless (TX) DT Chris Daniels, who just so happened to spend his freshmen year in Muskegon, MI and grew up rooting of the Wolverines ($). And he just told ESPN's Tom VanHaaren that he will be visiting Michigan in the next month.
2017 Arvada (CO) OL Jake Moretti visited Ann Arbor this past weekend and I caught up with him soon after. It was short but he let me know it was an "awesome" visit and raved about the staff. He's already one of the top lineman in the class and should be a top target for the staff moving forward.
Offers 
2016 CB Sir Patrick Scott

Scott is not only one of the best names in the class but he's a very good corner that has the size and athleticism the staff wants in their corners. I caught up to him after landing his offer and he told me it's "huge" for his recruitment and he's already considering a visit. The biggest competition looks like Wake Forest at the moment, so if the staff cranks up the pressure, he could become a legit option to join the class.
2016 CB Jayvaughn Myers

The brother of the #1 wide receiver in the class, Nate Craig-Myers, Jayvaughn has been on a tear over the last month after picking up offers from the likes of Florida State, Florida and Auburn. So, it may be very tough for the staff to pull him out of SEC country, but they obviously wanted to throw their hat in the ring before it was too late.
Next Cass Tech Star
2018 ATH Kalon Gervin is a name to remember out of Detroit (MI) Cass Tech, especially after posting these ridiculous numbers at this past weekend's Toledo camp: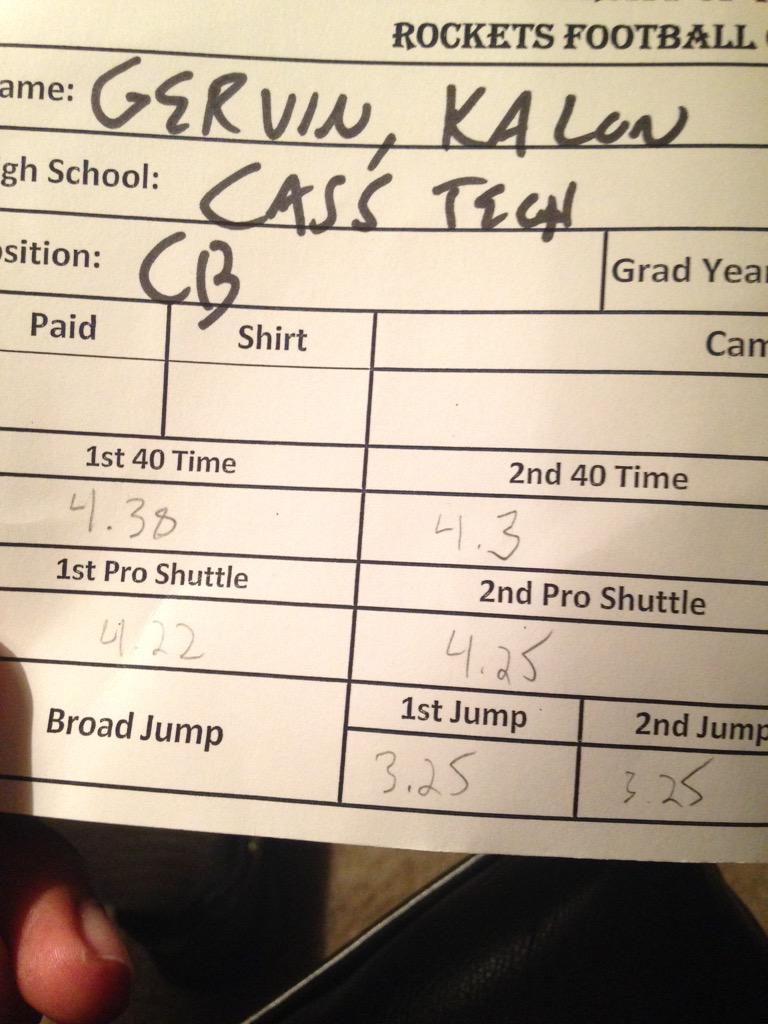 Latest posts by Garrett Fishaw
(see all)