Back to reality. After 10 days of vacationing in Northern Michigan/Detroit, I am back in Atlanta and will be devoting a ton of time to the site thanks to a nice little opening in my work schedule. So, look for plenty of content each and every day (as long as that submarine starts to surface a bit).
Here's just a normal summer sunset in Northport, MI. I suggest going whenever you get a chance: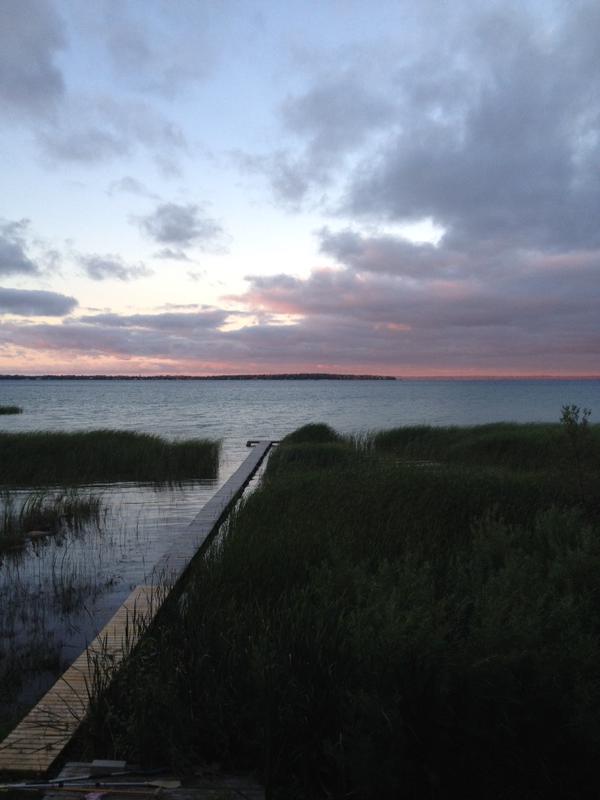 As for the latest surrounding Michigan football, basketball and recruiting, this past week had a ton of breaking news. Since I was unable to really dive into it, I'm covering as much as possible Inside the Fish Bowl.
Ahhhh, Michael Jorda-aaaaah-n 
I hope you understood that header. If not, it's a Kevin Hart joke.
Anyways…….
Big House. Big plans. Welcome to #TeamJordan @umichfootball. #GoBlue https://t.co/elqGkDowH6

— Jordan (@Jumpman23) August 13, 2015
The biggest news out of last week was Michigan football becoming the first ever college football program to be apart of Jumpman/Team Jordan. And this is huge.
Someone told me once that there are pecking orders within brands and NCAA. Michigan getting Jordan shows where they're at in order

— Tom VanHaaren (@TomVH) August 14, 2015
Michigan football is also going to be Jordan brand with Nike. Heard Charles Woodson and LaMarr Woodley were involved.

— Chris Balas (@Balas_Wolverine) August 13, 2015
Why did Michigan football get changed to Jordan brand. MJ himself called up Harbaugh & said he wanted to make it happen.

— Darren Rovell (@darrenrovell) August 13, 2015
Coaches and recruits are also really excited about the big news:
Head Coach Jim Harbaugh 
Thanks MJ! It will be an Honor to share our sideline with you. https://t.co/ZCDIXvhD0m

— Coach Harbaugh (@CoachJim4UM) August 13, 2015
TE Coach Jay Harbaugh 
https://twitter.com/JayHarbaugh/status/632001800195952640
Recruiting Coordinator Matt Doherty 
— Matt Doherty (@MDohertyBLUE) August 13, 2015
2016 RB commit Kingston Davis 
https://twitter.com/_King_LD/status/632003273185169408
2016 DT Chris Daniels
Congrats to Michigan Wolverines being the first & only team apart Of the Jordan Family #GoBlue #MichiganFootball #Jordan

— Chris Daniels 7 (@clicclac97) August 14, 2015
https://twitter.com/clicclac97/status/632312374196858880
2016 CB David Long (Stanford commit)
Michigan's Jordan unis are going to be cold man… I'm already knowing man.

— David Long Jr. (@dee_knowz) August 14, 2015
Back to the Future
In their last attempt at the University of Michigan football jersey, Adidas may have finally got it right. With the request and guidance of head coach Jim Harbaugh, the Wolverines will don throw back, all-white jerseys on the road in 2015:
Actual jerseys Michigan will wear on the road. Heard this is by Jim Harbaugh's request: 1974: https://t.co/OIKUqfZMhG pic.twitter.com/8loJ7UvA9W

— Chris Balas (@Balas_Wolverine) August 15, 2015
While the clean white tops would look great with the normal maize pants, Michigan is going full 1974 and rockin' the white pants as well:
The pants: pic.twitter.com/udd3aGHjhf

— Chris Balas (@Balas_Wolverine) August 15, 2015
Balas was the first to break the story and was backed up with the first full look at the away jersey from graphic designer Aaron Bills and recruiting coordinator Chris Partridge:
Straight Facts! pic.twitter.com/bcms6icJVU

— Chris Partridge (@CoachCPartridge) August 16, 2015
As for my opinion, I absolutely love the white tops. They're perfect and what I was hoping for when the first sneak peek was released this spring. But for the white pants…..
I'd much rather see the Maize pants here but if this is a one year thing, oh well. To go along with that, I believe they'll be a hit with recruits and players. White out jerseys are very popular and should look sharp under the lights in Salt Lake City on September 3rd.
So Long 
Michigan offensive lineman Dan Samuelson says he's transferring from Michigan. "My time at the University of Michigan is done."

— dennis fithian (@dennisfithian) August 15, 2015
Samuelson was not a huge surprise to transfer out of Michigan after not seeing much of the field in his first two years with the program under Hoke and not looking to be in the fold to play much under Harbaugh in 2015. However, it was a little strange to see him decide to decommit this late in the process. But, like always, you have to wish him the best with the rest of his football career.
WR Bo Dever 
Sad to say my career as a player has come to an early end due to medical reasons. I would like to… https://t.co/RqNKBSNO1n

— Bo Dever (@DeverJR_3) August 16, 2015
Named after Michigan legend Bo Schembechler, the walk-on receiver was a player to watch this fall for Michigan. He flashed plenty of signs during his limited playing time and with the However, because of "medical reasons", he has called it quits. Once again, you have to wish him the best moving forward.
Camp Notes
Injuries
Every program in the country suffers horrible injuries throughout camp and Michigan was dealt a huge blow in the first week as standout nose tackle Bryan Mone broke his ankle and will likely be out for the entire 2015 season:
Michigan's starting defensive tackle Bryan Mone broke his ankle in practice yesterday. Likely out all of 2015. Mone is from Salt Lake City.

— Andrew Gorringe (@AGorringeScout) August 13, 2015
While Mone is a gigantic loss, he luckily has his redshirt available and should be able to come back in 2016 ready to make a big impact upfront for Durkin's defense.
Besides Mone, there was an injury rumor surrounding possible breakout star, freshmen TE Tyrone Wheatley Jr, that was running rampant on Twitter and was finally confirmed by Wolverine247's Steve Lorenz ($): 
The original fear was that he tore some ligaments in the knee, but upon further review and an examination, he has a knee sprain and is expected to miss only a few weeks instead of the entire season."
Wheatley was a name that multiple Michigan insiders were hearing very good things about, including reports that he was seeing time with the 1st team. So, news of his injury not being too serious is big. Look out for TWJr this season once he's 100% again.
Who's the #1 Running Back? 
While most Michigan fans are keeping a close eye on the quarterback battle in camp, everyone should also be tuning into the four headed monster that will likely be the main difference between a successful and unsuccessful 2015 season, the running backs.
And there are contradicting reports on just who will be Tyrone Wheatley's featured running back.
According to The Wolverine's Michael Spath, his sources have let him know that RS Sophomore RB Ty Isaac is "making a move" for the #1 spot ($):
Isaac has been the best running back the past few days" and notes that when he brings his 'A' game there is no one on the team that can match his combination of size, speed, vision and hands."
I've always believed Isaac was the most well-rounded running back on the roster but injury issues this spring kept him off the field. Thanks to those injuries, he's still likely playing catch up on the competition, which includes experienced juniors Derrick Green and DeVeon Smith.
And the latter is who TMI's Sam Webb is hearing may be out front at the moment ($):
Hearing that Deveon Smith has a slight edge on Ty Isaac early, followed by Derrick Green."
Now, Webb also said it's not "clear cut" and there is plenty of time left in camp for this to play out. If I had to guess, I'll say Isaac is the featured back vs Utah but Smith and Green see plenty of action throughout. While Drake Johnson sees the field later in the season as he makes his way back from injury.
Fish-tradamus? 
Remember last week when I made some bold predictions on Harbaugh's first fall camp at Michigan and some things that may come out of it and players who could break through?
Well, I wasn't 100% right and may not be right by September. But for now, things are looking very good for two of my predictions including Durkin going with a "three safety" defense and freshmen WR Grant Perry seeing the field early.
According to TMI's Sam Webb, Michigan has the depth and talent to run the 4-2-5 thanks to what Durkin has to work with in the secondary ($). I predicted that the staff would start the season with Lewis and Lyons at corner, and Peppers, Wilson and Hill manning the safety spots, and that looks like a very real possibility at the moment barring any injuries or camp breakouts.
Another name that I predicted to be a breakout star during camp is senior DB Jeremy Clark as he moves from safety to cornerback. And according to The Wolverine's Michael Spath, he could end up starting opposite Lewis at corner ($).
As for Perry, there have been multiple reports about the former Brother Rice star's first college camp, including Wolverine247's Steve Lorenz hearing that he's taking reps with the first team ($). I predicted that Perry would end up starting as the punt returner from day one so hearing that he's a top option at slot receiver early on means he has to be very likely to see time on special teams this fall.
So, am I a psychic? Maybe. I used to get hit in the head a lot as a child and, according to Cal Naughton Jr, that's a good way to get super hero powers. Read a comic book:
What If Gary Goes Elsewhere?  
From day one of the Harbaugh era, the nation's #1 player, Rashan Gary, has looked like a very good option to end up at Michigan. Though I believe he still ends up in the Maize and Blue, several recruiting analysts are starting to believe more and more that he'll end up in the SEC (most believe at Auburn).
So, if that ends up happening, who will fill that void in the 2016 class?
I believe that guy was just on campus last week: Trinity (TX) DT Chris Daniels.
https://twitter.com/clicclac97/status/630885919072079872
https://twitter.com/clicclac97/status/630865591587446784
Daniels spent his freshmen season in Muskegon, grew up cheering for the Wolverines and still has family in the state. Sounds like he's destined to don the Maize and Blue, right? I believe the odds of him ending up in this class have gone up a lot after his visit to Ann Arbor especially with the staff in need to defensive tackles in the 2016 class and Gary looking like more of a question mark.
Quick Tw-Hitters (Once Again, I Hate Myself) 
Nauta to See the Paul Bunyan Rivalry 
The nation's #1 tight end, Isaac Nauta, has been committed to officially visiting Michigan this fall no matter what and he released his schedule which includes a trip to Ann Arbor on October 17th:
— Isaac Nauta (@inauta18) August 14, 2015
Now, I know that most recruiting analysts believe he's destined to end up staying at home and playing for Georgia but until he signs on National Signing Day or Michigan stops recruiting him, I believe the Wolverines have a very good chance to land Nauta. And if Harbaugh has Team 136 rolling and can knock off MSU, that could be the perfect recipe here.
Stewart Sets his Return Date 
2016 WR Donald Stewart has been high on Michigan for a long time now and will have their chance to land a commitment this November when he takes his official to Ann Arbor:
https://twitter.com/Donald_Stewart8/status/632354637778145280
Stewart has went from a likely commitment to a bit of a long shot after landing his offer from Stanford and loving his visit to Palo Alto. However, with his ties to Recruiting Coordinator Chris Partridge and the New Jersey feel to the 2016 class, the Wolverines look to still be a legit option here (if a spot is available).
Jones Still Very High on Michigan 
2016 LB Jonathan Jones has been a very familiar name for Michigan fans as he's publicly named the Wolverines his leader soon after landing his offer during the spring, and they look to remain in the same position today:
https://twitter.com/KingCaarlos/status/630448196456706048
After deciding to not commit while visiting Ann Arbor this summer, I removed him from my Best Guess Recruiting Class because of the lack of positions and the amount of targets on the board. However, it's looking more and more likely that a spot will be available when he makes his decision later in the fall (if not later), so he may find his way back onto the BGRC in the near future.
Howard Ducks the Ducks 
In shocking news, 2016 WR Theo Howard announced via Twitter that he has decided to decommit from Oregon and open up his recruitment.
ATTENTION❗️❗️ pic.twitter.com/fr6f8qO459

— Theo Howard (@theohoward2) August 17, 2015
While Howard was very, very high on Michigan before giving his pledge to the Ducks back in March, it would take an official visit and a big push from the Wolverines to pry him away from the west coast.
Black on Board for Brawl with the Buckeyes 
2017 WR Tarik Black, who happens to be very high on Michigan, announced his plans to be in Ann Arbor for "The Game".
https://twitter.com/LetmeRockk_/status/633088921367408640
Look for the staff to continue to make him a top receiver target, along with Cass Tech's Donovan People-Jones, in the class.
Get Out of Town 
In a bit of shocking recruiting news, USC's freshmen QB Ricky Town has decided to transfer and received his release from the Trojans:
Breaking: Former 2015 5 Star QB Ricky Town has requested a transfer from #USC. Coach Sarkisian verbally agreed to Ricky Town's decision.

— Coach Warren VP (@DemetricDWarren) August 16, 2015
Before rumors start to flood Twitter, there is no smoke or anything so far surrounding Town transferring to Michigan even though he was an early target for the staff when they took over in late December.
Harbaugh loves competition and wants as many arms in the race as possible but I believe there is a damn near 0% chance he ends up in the Maize and Blue (unless he's rocking some new Jordan's) especially with so many quarterbacks expected to be on the roster in 2016 already.
Bridges Sets his Return Trip 
Five star small forward and recently offered target, Miles Bridges has his official visit to Ann Arbor set and, of course, TMI's Sam Webb heard it first:
board tidbit from this morning… hearing 2016 Huntington (W.Va.) Prep 5-star SF Miles Bridges slated to officially visit Michigan Oct 10th

— Sam Webb (@SamWebb77) August 16, 2015
Bridges is the top (only?) wing target on the board and happens to be very good friends with top point guard target Cassius Winston. And with the offer in hand, things look good for the Wolverines moving forward.
Latest posts by Garrett Fishaw
(see all)