We're not going to talk about it. Alright? I know what happened, I saw it with my own eyes, I'm still waiting to wake up from the nightmare but, at the same time, I'm also moving on. I don't wanna talk about it.
But we can talk about how the recruiting trip went for Michigan's top targets that were able to make it to Ann Arbor for the game.
Check out the reactions from the official and unofficial visitors:
2016 TE Isaac Nauta (Buford, GA/IMG Academy) 
From all reports, Nauta really enjoyed his time in Michigan and also tweeted this out on his way home:
Michigan Visit was awesome! #Goblue 〽️

— ICE ❄️❄️❄️❄️ (@inauta18) October 18, 2015
Nauta spoke with Scout's Chad Simmons soon after he left Ann Arbor and told him he came away "surprised" ($):
This visit opened my eyes, Michigan moved up my list, and everything was great there.  The football program is going in the right direction and a Michigan degree carries a lot of weight."
The nation's top tight end also talked about how he was accompanied by several family members who live in Grand Rapids, Michigan, how it was a great visit and how this visit definitely improved the Wolverines standing on his list. On top of that, he was also able to speak with Jake Butt about how much he enjoys playing for Harbaugh.
After speaking with Nauta, Simmons tweeted out that Michigan made a "BIG move" after this official visit.
I've thought Nauta was a very realistic option for Michigan for quite some time because of his perfect fit in the offense and the family ties to the state but after hearing about how well everything went, I believe the Wolverines are at least tied at the top for Nauta.
Wolverine247's Steve Lorenz is hearing something similar ($).  
2016 WR Dylan Crawford (Rancho Santa Margarita, CA/Santa Margarita Catholic)
Out of the official visitors, Crawford looked to be the most likely to end up in Michigan's 2016 class and this visit definitely helped their chances of doing just that. While I or anyone else have been able to get in touch with Crawford (at the time I'm writing this), he tweeted out several positive things, including his ability to pick up a girls number at the Detroit airport:
Definitely gonna have to visit michigan again, cuz I just finessed on the digits — VI (@kekoa_cRAWford) October 18, 2015
He also tweeted out a picture of him and Jim Harbaugh:
〽️ #GoBlue pic.twitter.com/XP7Fk116pZ

— VI (@kekoa_cRAWford) October 18, 2015
Along with that, Michigan WR commit Ahmir Mitchell threw on his Twitter recruiting hat to try and land the "missing piece" to their receiver puzzle.
Crawford looked likely to stay out west to play his college ball but after his 2nd visit to Michigan, I wouldn't be shocked to hear that the Wolverines are the now the out-right favorites to land the talented playmaker.
2016 CB David Long (Los Angeles, CA/Loyola) 
Long was the only official visitor committed elsewhere this weekend but from the looks of things, that may not be the case for long. The Stanford commit spoke with Scout's Greg Biggins about his first visit to Michigan and absolutely raved about his time in Ann Arbor ($). On top of that, he mentioned how he's thinking about opening up his recruitment to make sure he's making the right decision:
I'm still committed but I'm also thinking about maybe opening things up a little to make sure I'm doing the right thing. It's such a huge decision and I want to make sure I'm 100% comfortable with it. You can't go wrong with Stanford and I know that but I just want to be totally sure about this."
Clearly Michigan and Jim Harbaugh blew him away on his trip. 247Sports' Ryan Bartow was also able to speak with Long and, like he has continued to tell analysts, he had a great time during his visit and even said that Coach Harbaugh was "probably one of the coolest coaches I've met" ($).
#GoBlue pic.twitter.com/PP4yyYq4x4 — David Long Jr. (@dee_knowz) October 18, 2015
Out of the official visitors, Long may have had the best trip. With Harbaugh and the staff staying on him from right after they took over, the visit going about as well as possible and the uncertainty of his commitment to Stanford, things are looking good for him to be in my next BGRC.
2016 DB Lamar Jackson (Elk Grove, CA/Franklin) 
I'm expected to speak with Jackson soon about his trip but he did let me know before the game that the visit was going "pretty great".
He also tweeted a couple very positive things about his visit:
Team played great time to clean up and get to the airport I'm off to Ann Arbor #Michigan #GoBlue #Official 〽️〽️〽️〽️〽️〽️

— LAMAR JACKSON (@lamar_cla1) October 17, 2015
Ann arbor was great ready to get back home I enjoyed my visit and all the coaches this weekend #Goblue

— LAMAR JACKSON (@lamar_cla1) October 18, 2015
Jackson is a name I've been mentioning for some time now as someone not to sleep on. He's high on Michigan and this visit helped that out even more.
As for the other visitors, I was able to speak with a bunch of them about how their visit went and what they thought about the game:
2016 K/P Quinn Nordin (Rockford, MI/Rockford)
On how the trip went: "Good"
About the game: "Blake played amazing I'm very proud of him! He will continue to have great success throughout this season!"
2016 ATH Armani Posey (Detroit, MI/King) 
"Well one thing I absolutely loved about the game was the atmosphere and the excitement. It was probably one of the greatest college games I've seen so far."
2016 WR Jordan Brewer (St Joseph, MI/St Joseph) 
"Visit went great the game environment was unbelievable. I enjoyed it big time. Great game from both sides. The last play I couldn't even speak (about) what happened. Corey (Malone-Hatcher) and I just looked at each "like what just happened". Coach Fisch and I was talking he wants me to come back down in a couple of weeks"
2017 RB commit Kurt Taylor (Covington, GA/Newton) 
"My visit went great. I committed this week and I got a chance to spend some time with Coach Harbaugh.
The game was awesome. Even though we lost. The experience was priceless. 111,000 fans were amazing"
On how Coach Harbaugh reacted: "He was so excited. I really mean excited. He made me feel special"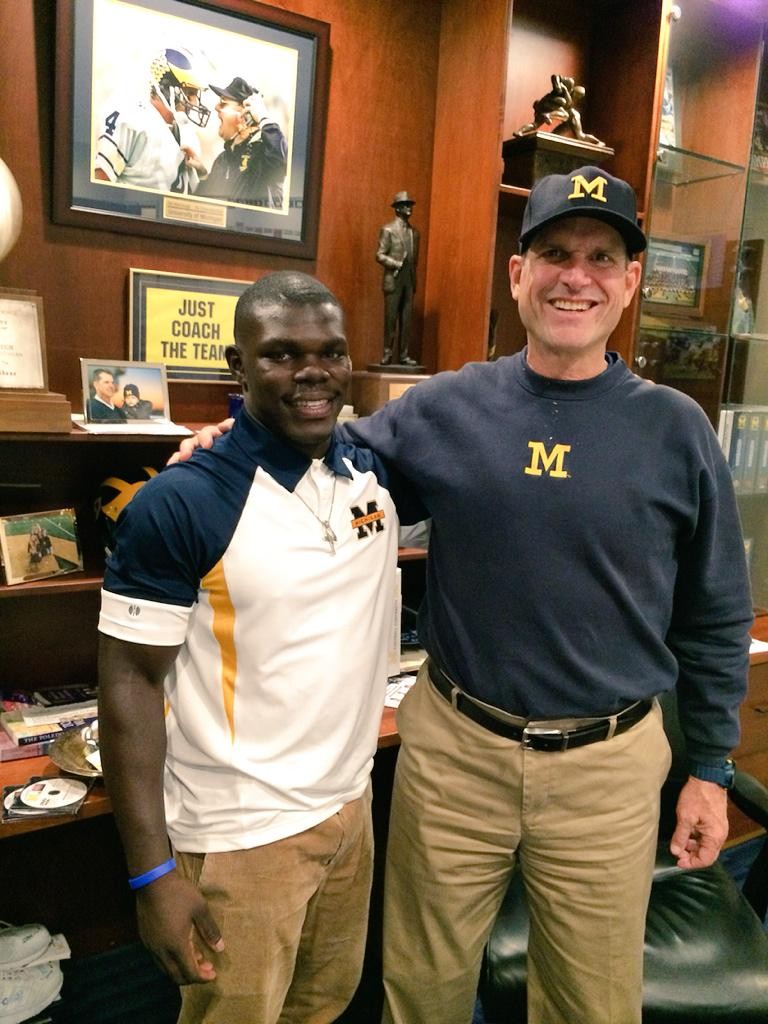 2017 LB Derrick Hubbard (Ann Arbor, MI/Pioneer) 
"The visit was great, i saw a lot of people. I met Desmond Howard which was awesome and it was a crazy atmosphere. It was definitely the biggest crowd for a football game I've seen.
It was really fun and I enjoyed it a lot. I look forward to visiting again"
2017 TE Keegan Cossou (Greenville, MI/Greenville) 
"Visit went well I had a great time again and the atmosphere at the big house was outstanding as always, also despite the loss I love how quickly Coach Harbaugh has began to turn things around"
2018 CB Reggie Pearson (River Rouge, MI/River Rouge) 
"The visit was awesome. Never experienced anything like it before. Coach Campbell was cool. He knew exactly who I was and made me feel as if I was at home. The U of M atmosphere was like no other. The fans are die hard and the players seemed happy, that really stood out to me. The game awesome, I've never had great seats to a game like the coaches at Michigan gave me (50 yard line 4th row). U of M had the game won, but one mistake can destroy a entire week's work in a game of that magnitude. Michigan will be a powerhouse sooner than later. Had a great time. #GOBLUE!"
I'm still waiting on several more visitors to get back to me about their visit. So make sure to follow me on Twitter, @MGoFish, so you won't miss a single update. 
Photo Credit: Mike Carter-USA TODAY Sports
Latest posts by Garrett Fishaw
(see all)