How will Michigan be able to compete with so much roster turnover? Can Harbaugh win the big games in November? Will the freshmen be able to contribute right away? How in the world has any team ever performed well with so much young talent?
Those are just a few of the questions that have been thrown out there about the 2017 Michigan football team. And, while some are legit questions, there is a lot of ridiculous noise out there about Jim Harbaugh "having to win" this season and not finish 3rd in the Big Ten East to prove his worth in Ann Arbor.
Well, challenge accepted. As I believe the hate towards Harbaugh only fuels his cooky fire (he may even borrow Mark Dantonio's Costco card to pick up his pallet of chips for the team's shoulders) and this season will just be the preview of what's to come for the Michigan football program moving forward.
Every national analyst expects Michigan to take a step back this season because of the loss of "starters". But there's a lot of returning talent and returning production:
Michigan returns
98% of passing yards
58% of rushing yards
26% of receiving yards
39% of all purpose yards
41% of points scored
38% of total tackles
37% of tackles for loss
35% of sacks
44% of turnovers (INT, FF, FR)
It's easy to say Michigan will struggle. And, at times, they will with such a young roster. But I don't believe it will be anywhere close to the level that some are believing.
So, here it is. My 2017 Michigan football full season prediction, which includes full breakdowns of each and every game that the Wolverines will play this season.
September 2nd vs Florida at AT&T Stadium (1-0)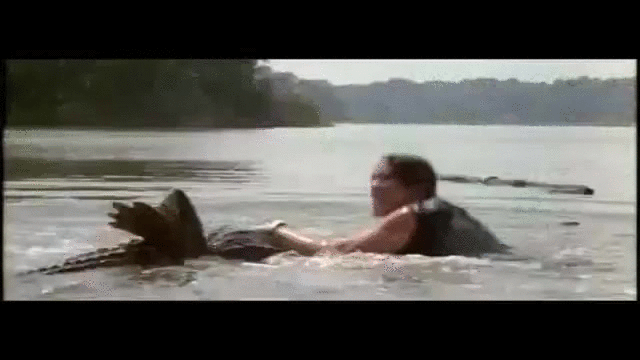 Can the Wolverines slow down the Gators? That's the old question that, for some reason, continues to be a talking point for SEC fans and analysts. Even after Michigan trounced Jim McElwain and Florida in the 2016 Citrus Bowl, 41-7, and UM owns the all-time series against the Gators, 3-0, which includes a win over the savior himself, Tim Tebow.
So, can Michigan take care of business and beat the Gators, yet again? Yes. And I believe the world will be put on notice quickly what Michigan's defensive front four and youngsters can do.
This match-up between two top 25 teams but, like the Coaches Poll shows, the Wolverines will be the better team on the field. Florida does indeed have plenty of talent throughout its roster, including RB Jordan Scarlett, WR Antonio Callaway, OT Martez Ivey, DE CeCe Jefferson and S Marcell Harris (injured). But, like the 2016 beat down, this game will come down to Florida's offense vs Michigan's defense and whether redshirt freshmen QB Felipe Franks will be able to make enough plays.
I'm betting on Don Brown here.
Not only will Florida be missing its best and most explosive player in WR Antonio Calloway and top RB Jordan Scarlett (as well as at least eight other players) due to suspension, but there are still big questions about UF's offensive line. And when you think about the amount of pressure Don Brown will have cooked up with his new weapons, the Gators will be struggling to get the ball in the end zone throughout the game (outside of maybe a deep ball or two from Franks). Not to mention, I think Michigan's offense will have a much nicer showing than people are expecting and Harbaugh will be even more motivated after McElwain's comments.
There aren't any excuses. Michigan has to punish the shorthanded Gators in front of a national audience.
September 9th vs Cincinnati (2-0)
One of the smaller but still interesting story lines of the season will be Luke Fickell's 2nd crack at the Wolverines as a head coach, as well as this being the first ever meeting between Michigan and Cincinnati.
Though Fickell should have a nice career with the Bearcats, this has the looks of being the first blowout of his UC head coaching career. And it could be an ugly one as I see Harbaugh opening things up and not take his foot off the gas until pretty late to help get the young team as many reps as possible in front of a sold out Big House crowd. That includes big games from Wilton Speight, Donovan Peoples-Jones, Chris Evans and Zach Gentry.
Cincinnati's new up-tempo offense may be a little something to deal with at times, I don't see new OC Mike Denbrook turning 123rd scoring offense in 2016 into a huge threat in his 2nd game. Don Brown will be licking his chops for this match-up.
Michigan

59 –

Cincinnati

0
September 16th vs Air Force (3-0)
 
Air Force's flexbone, run-heavy offense will mean a lot of hits on the quarterback. So, you know the entire defense is going to excited for this one. Rashan Gary, Chase Winovich, Luiji Vilain and Kwity Paye have a day (you're welcome) and cause mayhem on the Falcons offense.
Even with the defense playing very well, things could be a little tighter than expected in the first half as the offense struggles to get things going. Quinn Nordin shows off his leg strength with multiple first half field goals. But it doesn't last too long as the offensive line starts to open holes and Speight and his receivers start to click, leading Michigan to a big win over Air Force.
(and yes, I know Top Gun was about the Navy, but when you have the chance to use an Iceman gif, you use an Iceman gif)
Michigan

42 –

Air Force

17
September 23rd at Purdue (4-0)

 
Though Lansing State Journal's Graham Couch picked Michigan to lose this game, I just don't see that happening. It'll be Jeff Brohm's first game against Jim Harbaugh and the Wolverines. And I don't see it going very well for them, even though West Lafayette has caused some problems for UM over the years.
Purdue QB David Blough threw 21 interceptions in 2016, which is pretty terrible. Look for Dr. Blitz to let the dogs lose on him all day, forcing tough throws against Michigan's young but super athletic secondary. This should lead to plenty of turnovers and great field positioning for the Wolverines. And, as bad as the Boilermakers offense was in 2016, the defense was even worse (110th in 2016). This could get ugly if Speight and the running game are on.
October 7th vs Michigan State (5-0)

 
It's amazing how much things have changed in this rivalry since Jim Harbaugh was hired. I'm not saying it was the #HarbaughEffect but…..it was the #HarbaughEffect. Michigan is now on its way back towards the top of the college football world and Michigan State is plummeting after a 3-9 season in 2016 and all of its off-season news. And this should be another big blow to the Spartans 2017.
The Wolverines get the Spartans in the Big House and, even with plenty of talent remaining on the MSU roster, there just isn't enough depth to hang with Michigan, who will be starting to hit their stride.
If Michigan starts to pull away, Harbaugh may keep the foot on the gas to make sure there aren't any slight 2nd half scares.
Michigan

 38 –

Michigan State

14
October 14th at Indiana (5-1)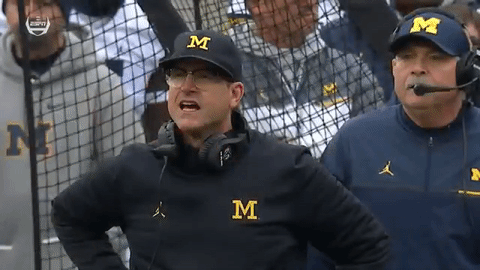 Hitting their stride, huh? Welp, that's normally right when the upset of the season can happen. And I'm predicting it to happen in a mid-October trip to Bloomington, where Michigan has had plenty of problems in the past.
This is the biggest trap game of the season. Perfectly sandwiched between two emotional games and right in the middle of the season when undefeated teams can drop their guard just a bit.
Indiana has a nice trio of offensive weapons with QB Richard Lagow, WR Simmie Cobbs and TE Ian Thomas that could give Michigan's young secondary fits. Along with the young offensive talent showing signs of inexperience, this one could be a tight one. One that comes down to the wire and involves a late turnover that costs Michigan the game.
October 21st at Penn State (6-1)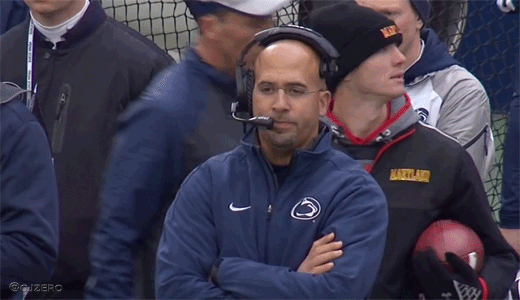 Huge game. At night. In the white. It'll be a fun one, like every time these two get together under the lights in Happy Valley. Even though PSU has a ton of preseason hype and easily one of the best players in the country, in Saquan Barkley, and the stadium will be insane, and Michigan is replacing a ton of veteran leadership with a lot of young, unproven talent, that 49-10 beating in 2016 is still on my mind.
This game will not be like 2016. Penn State has a solid squad that will be playing with a ton of confidence. Adding in their high preseason ranking and a pretty easy out of conference schedule, there's a good chance the Nittany Lions are a top three team by kickoff. And, if Michigan follows my season prediction, the Wolverines will be a top 10 team as well.
If that doesn't sound like the perfect time for Harbaugh to get his "first big road win" at Michigan, I don't know what does.
Thanks to a dominant showing by the Wolverines defensive line against both Saquan Barkley and Trace McSorely (similar to 2016), a huge game from Hidgon and a, whataya know, former Penn State commit Quinn Nordin field goal in the closing minutes, I see Michigan quieting a raucous White Out crowd. It'll be a close, tough battle that will get the momentum heading the right direction again.
This loss would also move James Franklin to 0-4 against the Wolverines.
Penn State

24 –

Michigan

27
October 28th vs Rutgers (7-1)

 
After beating the hell out of the Scarlet Knights last season in New Jersey, I see Harbaugh doing something similar to the social media rival in front of a Big House crowd. Not just because Michigan is more talented, top to bottom, in both on the field and coaching talent, but because Rutgers beat writer Ryan Dunleavy, for some reason, decided to go after Jim Harbaugh and his lack of releasing a roster.
As we saw in 2016, Harbaugh doesn't mind blowing the doors off of Rutgers. And I think it'll happen again this season. This time, in front of a home crowd, Speight, O'Korn and Peters all see the field and throw for multiple touchdowns.
November 4th vs Minnesota (8-1)
The Battle for the Little Brown Jug is full of caffeine as intensity levels will be at an all-time high as Jim Harbaugh and PJ Fleck meet for the first time. It's really too bad this isn't just a steel cage match. Not only would it be fun to see, it would also likely be closer than the first meeting between the two should will actually go.
I am a firm believer in Fleck but I think he needs a year or two to really get his guys into the program. That's not saying 2017 won't be a successful year for the Gophers, I think this game will be interesting to start. But the talent differential will end up taking over as Harbaugh's squad should be just as, if not even more, motivated to keep the rivalry trophy in Ann Arbor.
Michigan

45 –

Minnesota

20
November 11th at Maryland (9-1)

 
Durkin gets his second crack at his former boss but, even on his home turf, Michigan comes to town with momentum and swagger. Though it can be a dangerous combination, the lack of offensive talent will continue to hurt the Terps against Don Brown's extremely aggressive, confident defense.
I expect Caleb Henderson to start the season at quarterback. Will he still be starting or healthy by this point of the season? That's been a big issue for Maryland over the last couple of years. Whether he's healthy or not, Michigan's front seven is going to have another showcase game. He may want to sit this one out.
Maryland

14 –

Michigan

31
November 18th at Wisconsin (9-2)

 
Under the lights at Camp Randall, two top five teams meet up with the world watching. But, unlike in Happy Valley, I don't see this one going in Michigan's favor. Not only is this the fourth big game of the season for this, now more experienced, but young team, it's one of the toughest night game environments in all of college football.
I see this game being higher scoring than 2016's 10-7 defensive showing but a similar, hard nosed battle.
Michigan owned Wisconsin on the stat sheet last season but couldn't execute when it mattered most. And the Badgers are missing some key pieces from last season's Division Championship team, including DE TJ Watt (NFL) and LB Jack Cichy (injured). This will be a game that Wolverine fans talk about for years to come as a last minute touchdown, failed hail mary, and a "Jump Around" that will give Michigan fans nightmares for years to come as Harbaugh gives a little more fuel to the haters who say he can't win big games in November.
Wisconsin

34 –

Michigan

27
November 25th vs Ohio State (10-2) 
Revenge. No matter the record, Michigan comes into this game with pay back on its mind. Everyone and their mother knows about the controversial spot and lack of penalties against the home team last season. Harbaugh was clearly pissed about how it was officiated and let it be known in his presser. That is why I think this season's game will be even more intense than the last season's, which was an all-timer.
And I think Michigan wins.
Ohio State has one of the best rosters in the country and returns a lot of key pieces from last year's CFB Playoff team. That includes QB JT Barrett, who has always given the Wolverines fits. But it hasn't really been with his arm as much as it has been with his legs.
In 2015, he threw for 113 yards and ran for 139.
Last season, he threw for 124 yards and ran for 125.
It's a pretty wild stat when you think about the receiver talent and pass catching tailback talent that he's had around him. But more than anything, it shows me that Michigan lacked the necessary foot speed all around the field to contain Barrett. Guess what is a huge upgrade for the Wolverines this season? Speed all throughout the defense. From Rashan Gary at defensive end to David Long at cornerback, Devin Bush Jr. at linebacker to Josh Metellus at safety, Michigan's defense can play from sideline-to-sideline. And that's what I think will be the deciding factor in this game.
Don Brown and the Michigan defense gives Barrett fits all game through the air and on the ground and only struggles a bit with JK Dobbins, Parris Campbell and Mike Weber, while Speight has a nice game and the offensive line finishes off the game late. Though it's bittersweet as OSU still heads to the Big Ten Championship with only one conference loss and an eventual third CFB Playoff appearance.
Michigan

35 –

Ohio State

24
Orange Bowl: December 30th vs Clemson (10-3)
Another year outside of the playoff but also another year playing a big time opponent in a high profile bowl game as Michigan heads back to the Orange Bowl to take on the defending National Champions.
Both teams are full of elite young talent and have extremely bright futures heading into 2018. So, this game will be a good one. Plenty of explosive plays from both offenses, turnovers created by both of the aggressive defense, and another last second score that decides the game. But, like Florida State, this one goes against the Wolverines. However, it doesn't do much to slow down the Michigan hype train heading into the off-season.
Final Record: 10-3 (7-2), 2nd in the Big Ten East
Three straight 10 win season for Jim Harbaugh at Michigan and (yayyyy) a 2nd place finish in the Big Ten East. This would be a very nice season for Michigan, in my opinion, for a team full of so much youth. But it's really the stepping stone that could lead the program into years of Playoff appearances as the team will return the heavy majority of its starters and contributors in 2018, where they'll be a preseason top 3-5 team and will be a popular pick to win both the Big Ten and National Championship.
Offense PPG: 39.7 ppg (compared to 40.3 in 2016)
Defense PPG: 18.8 ppg (compared to 14.1 in 2016)
What do you think about my 2017 Michigan football season prediction? Too optimistic? Not optimistic enough? What is your season prediction? Let us know it all in the comment section below!
Photo Credit: Bryan Fuller/MGoBlog
Latest posts by Garrett Fishaw
(see all)