For a minute, I ask you to put aside 2016. Put aside Wilton Speight versus John O'Korn, put aside Harbaugh, and put aside Rashan Gary and his impending career of doom on the defensive front. I know it is a tall task given the high expectations and surrounding excitement with Team 137. The college football season is so close, I can almost smell it, so I don't have a lot of time to get nostalgic and squeak in this existential crisis that I'm sure everyone wants to read. I hope you'll take some time out of your daily musings of power rankings, position breakdowns, and season previews to untie your shoes with me and really appreciate what Denard Robinson meant to Michigan football.
The time between Lloyd Carr's departure and Jim Harbaugh's return is a dark point in Michigan's history where few fans choose to return (myself included). It was 7 years with coaches that were either ill-fit or ill-equipped to lead the leaders and best, 7 grueling years in which Michigan only beat MSU once, OSU once, and only one bowl win, and an athletic director whose (seemingly) only concern was the dollars and cents. If you've read John U. Bacon's latest book, Endzone, you'll certainly understand how much different Michigan football was under Dave Brandon.
When I think back to Michigan football from 2008-2014, I often overlook Shoelace and how many times he electrified the Big House with another 75-yard touchdown run, and only think about the first sub-.500 team in over 40 years. I think about being embarrassed in the rivalries and banging my head against the wall in frustration that Rich Rod and Brady Hoke kept trying to squeeze square pegs into round holes.
In 2010, I began my own collegiate career and because Michigan wasn't the same Michigan of the early 2000s, I didn't mind missing a game now and then. I caught the tail end of the triple overtime thriller in 2010 against Illinois, I half-heartedly watched the M00N game and other than the Sugar Bowl or the Under the Lights game, I really can't think of a game around which I planned my day like I do now.
Say what you will about me being a fair-weather fan during those times, but because of the abrupt 180-degree turn around from the Lloyd Carr days (in both quality and culture), Michigan football was losing its importance in my life. Because this was before I really understood football and before I saw anything more than wins and losses, I just lost interest. And I missed out on one of the most electrifying players in Michigan history.
Back when Michigan was a powerhouse 10-20 years ago, their brand of football was very simple. From Brian Griese to Chad Henne, from Tim Biakabutuka to Mike Hart, opponents knew what was on the opposite sideline: a bruising running game paired with a precise aerial attack, complemented with a stout and astute defense that made Michigan equally hard to stop and hard to score on. It may have made for some routine football, but (excuse my language) damn, did it work. It was one of the best stretches in program history; 3 Rose Bowl berths in 4 years and the 2006 "Game of the Century", which left 14-year old Bill in tears.
Enter Rich Rodriguez, spread offense wizard and evil heretic in the eyes of Michigan football breeders, who would try to fix want wasn't exactly broken and bring the colorful spread offense to a (relatively) monochromatic Michigan team. Things went haywire, he was canned after three years, we hired a coach who referred to injuries as booboos and was a $3.5 million babysitter. It got ugly, and I tuned out.
But somewhere in between that circus of mockery was a young all-purpose back from Deerfield, Florida who came to Michigan for that exact spread offense. Names like Tate Forcier and Nick Sheridan have faded into memory, but Denard Robinson forced himself into the memories of Michigan fans everywhere when he fumbled his first career snap and then promptly delivered it to the house against Western Michigan in 2009 (I actually was lucky enough to witness that live). And then, despite 7 years of abysmal football and records that Michigan fans of all ages were not used to, that same young man from Deerfield, Florida ran his way all over the Michigan record books.
It's a weird thing, really. Denard made so many defenses look foolish but Michigan just couldn't produce the same win totals that Jake Rudock could. For as frequently as you see his name in the official record book, you'd think Michigan was a top-10 team year in and year out, but I think the popularity of his name is more due to his being forced to put the entire team and offense on his back, and boy, did he ever rise to the challenge.
After four years of being Michigan's starting quarterback (well, three-ish years and then a weird limbo hybrid position when Brady Hoke finally made up his mind that Devin Gardner was going to be the quarterback), here are Robinson's final ranks at Michigan:
Team History

5th most rushing attempts (723, 1st among QB)
5th most rushing yards, single game (258 at Notre Dame in 2010)
4th most rushing yards, single season (1,701, 2010)
2nd most rushing yards, career (4,495, behind Mike Hart's 5,040)
2nd most yards per carry, career (6.22, behind Jon Vaughn's 6.29)
5th most rushing touchdowns, single season (16, 2011)
3rd most rushing touchdowns, career (42)
T-1st most 200-yard games in a career (5)
T-2nd most 100-yard rushing games in a season (9, 2010)
5th most passing yards, career (6,250)
1st in average gain per play (7.31 yards per play)
1st in career average gain per game (219.3 yards per game)
1st in total offense, single season (4,272) and career (10,745)
4th most touchdowns scored, career (42)
6th longest run from scrimmage (87-yard run against Notre Dame in 2010)
Back to back Schembechler Award winner (Team MVP)

Big Ten History

Most rushing yards by a QB in a game, single season, and a career
Most total offense in a single season

NCAA History

Only NCAA quarterback with 1500 passing and rushing yards in the same season
Most rushing yards by a QB
I think because Denard brought such a vastly different brand of football to Michigan, I didn't pay as much attention as I did to Chad Henne or Mike Hart, and nowhere nearly as much as I should have. Michigan doesn't have rushing or even dual-threat quarterbacks; Michigan's quarterback was meant to be a slow, lead-foot bumbler who could sling the ball a mile across any defense. John Navarre's best trait is that he ran a 8.33 4-yard dash and he still is one of the best QBs in history! That's Michigan football!
If Denard Robinson chose Harbaugh's Michigan, then he probably would have been exclusively a slot receiver or maybe a punt returner; something where his speed would be on display and his slender frame wouldn't be jeopardized. For as great as he was, he was quite interception prone, but Denard wasn't a typical Michigan quarterback, he threw when he had to, not because the game called for it.
Defenses knew that he was just going to run, run, and run some more, but they still found themselves chasing after him more often than they did helping him up off the ground after they tackled him. I feel terrible that I didn't pay more attention to him when he was at Michigan, but hey, I'm appreciating him now if that counts.
Now you can return to the 2016 hype, but I wanted to make sure that we all knew where we came from. Even though Michigan as a team was a pushover for the better part of those 7 seasons, we got to watch Denard Robinson swiftly and effortlessly weave his way in and out of linemen, linebackers, and secondaries alike; a blur of untied maize and blue topped off with bouncing dreadlocks. He's still a name of recent memory, but will likely live on much longer than that in the history books and the stories we look back on with a fond nostalgia.
Even though the Alabama drubbing, the Mississppi State embarrassment, and multiple MSU and OSU fiascos will fade like other single game performances, I implore you to look back fondly on Denard Robinson, who did indeed attack the day with enthusiasm unknown to mankind. Michigan football isn't so much a team as it is a way of life, and even when the chips were down, Denard Robinson was the perfect embodiment of that team and that way of life.
So to answer my question, no, I did not appreciate Denard Robinson enough, even though I have the away #16 jersey (it was on sale after he graduated). But, when Michigan is on top of the world in 2016, I can look back a few years in the past and thank one of the greats who still made me smile in a dark stretch of frustration. Michigan's expectations are through the roof this year, and now, more than ever, it's time to eat.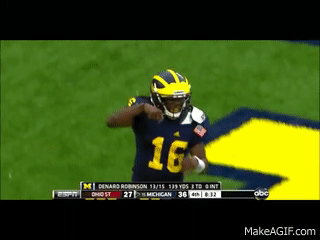 What do you think about Denard? Do you think you appreciated him as much as as he should have been? Let us know in the comment section below!
Header photo: Rick Osentoski-US PRESSWIRE

Latest posts by Bill Getschman
(see all)