I know, I know. It was just Rutgers. But sometimes you need a layup to get out of a funk. And that's exactly what Michigan needed after getting a much-needed wakeup call from Wisconsin.
Luckily, the lowly Scarlet Knights were there waiting.
This one was a beating from start to finish. It got so bad, that is was the final straw for Rutgers as they fired head coach Chris Ash the day after the game.
After a rough one last week, enjoy the highlights of this one:
Rutgers 0 – Michigan 52
Here are my biggest takeaways from the 2019 Michigan-Wisconsin game:
1. Good Call, Gattis
The much talked about move from the booth to the sidelines may have seemed a bit overdramatic to some but it may have been the best call of the season from Josh Gattis.
He's able to talk directly to his receivers and help them out during the game, just as he does in practice. But it's also the passion that he brings to the sideline that was needed. It's been a bit stagnant on that side of the ball but having a guy that coaches with his heart on his sleeve can wake guys up. And that clearly happened.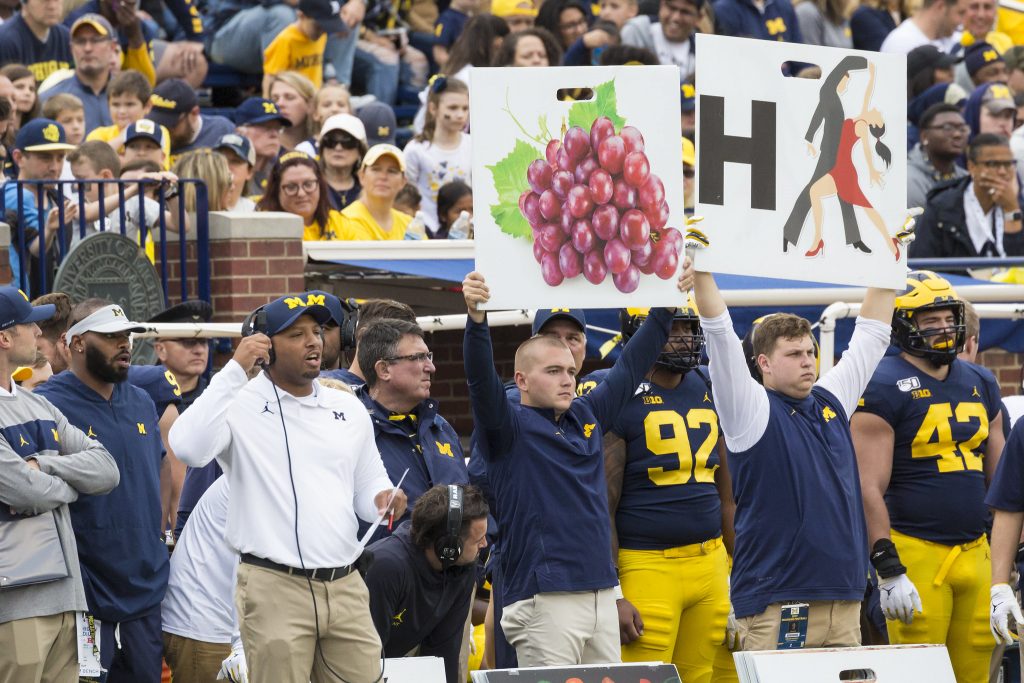 I know, it was just Rutgers but…the offense scored all seven touchdowns, that included scored twice in every quarter, four of which were quarterback runs (finally), a long catch and run from Nico Collins, a Christian Turner score, and a flash of the future from two freshmen in Joe Milton and Giles Jackson. It was a well-rounded, nearly mistake-free offensive attack that was a breath of fresh air.
Now, let's see if the confidence and clean football can show up this upcoming weekend against the Hawkeyes.
2. First Shutout Since 2016
I know, it was Rutgers but this was a statistic that blew me away. And funny enough, the last time Michigan's defense pitched a shutout was against, guess who? Rutgers 78-0 in 2016.
Rutgers offense is bad and mistake-prone but the defense has been riding the struggle bus as of late and this pit stop was another confidence builder. That's a huge thing for an athlete, especially for a group of athletes that were gashed for just under 500 yards last week by the Badgers.
Michigan only allowed 152 total yards to Rutgers.
Like Josh Gattis, Don Brown needs to follow up this positive performance with another when Iowa comes to town on Saturday.
3. Stock Up
Quarterback Play

Like clockwork, Michigan's offensive struggles were followed by calls for a change at quarterback. But that was taken as motivation from Shea Patterson as he put up his best game of the season (I know, it was just Rutgers). Finishing 17-23 for 276 yards and four total touchdowns (3 on the ground). One part of his game that really shined but will be overlooked was his ball fakes on read options and play-action passes.
It was also a good showing for temporary backup Joe Milton, as he showed off his big arm and legs in his three second-half drives.

Defensive Line

After struggling to make an impact in the first couple of games of the season, Rutgers offensive line was the perfect test for Kwity Paye, Josh Uche, Aidan Hutchinson and the rest of the line made an impact throughout the game, especially on passing downs. Rutgers QB Artur Sitkowski was hit so many times, I'm pretty sure everyone felt bad for him.

Cam McGrone

Meet the future of Michigan's defense. McGrone moved into the starting role following another early-season injury for Josh Ross, and it may be an interesting call what the starting linebacker position looks like once Ross returns. Wouldn't be surprised to see the staff get Ross and McGrone on the field together as much as possible.

Daxton Hill

My 2nd biggest gainer of this game. The super frosh got more run in this one and used his elite speed to make plays on defense and special teams. Harbaugh said it in his press conference, expect to see a lot more of Dax Hill going forward.
Ronnie Bell

The weird Ronnie Bell haters were eating some crow in this one as the sophomore has become a favorite target for Patterson. And came up big each time in this one. The four headed monster he helps creates on the outside for this offense will only get better as the season goes on.

2020 USC Defensive Coaching Staff

Chris Ash was fired following this game and will probably get demoted a bit on his next job. Whether it's as a defensive coordinator or a positional coach, I wouldn't be surprised to see it be in Southern Cal with his old pal, Urban Meyer.
4. Stock Down
BTN's recruiting knowledge

Whoever gave the broadcast crew their recruiting notes on Artur Sitkowski clearly just looked at the offer list and jumped to some conclusions. No, he didn't turn down Jim Harbaugh and Michigan for Rutgers. At one point, he did look to be the staff's top QB target in the 2018 class but then things cooled after moving down to IMG Academy in Florida. He ended up committing to Miami while Michigan added Joe Milton to the class. When he backed out of that commitment, he ended up choosing Rutgers. Hopefully, his next head coach can make sure that wasn't a bad decision.

Offensive Line Dominance

It was better but it was Rutgers. That's pretty much the theme of this entire article but I expected even more out of this offensive line in this one. They've underwhelmed this season and against a decent at best defense, the offense only put up 141 rushing yards. Yes, they were giving rests to Zach Charbonnet and Christian Turner throughout the game but still, I'm waiting to see that dominant performance that this line is talented enough to deliver.

Playing with Ice Skates

The training staff may need to look into Jordan Glasgow's heelies or ice skates or whatever he was wearing in the first half of this one. Getting shook multiple times in the same game is pretty rough.

Superman Celebration

I fully respect the Cam Newton Superman celebration, it's one of the best out there but with the potential to be scoring a lot of touchdowns, Milton may need to create something of his own to get that branding going. He's flashed the physical tools to be a superstar. Might as well get the marketing started early.
Photo Credit: Patrick Barron/MGoBlog
Latest posts by Garrett Fishaw
(see all)