There hasn't been this much hype going into a Michigan football season since 2007. And while that started with the worst loss in school history, the odds of that happening again is very low.
Unlike 10 years ago, the Wolverines don't have to worry about the FCS National Champs coming to town (btw, good luck with North Dakota State, Iowa). Harbaugh and crew welcome the Rainbow Warriors to town to start the season and end it on the road in Columbus, where UM hasn't won since 2000. In between, Michigan will spend 8 of the 10 weeks in the comforts of the Big House.
Is this the year, Michigan officially returns to prominence with hardware? It's a very real possibility. The main question that needs to be answered is how will the starting quarterback play be throughout the year? Whoever it is will have to beat both Michigan State and Ohio State this fall, something Michigan hasn't done since 2003.
Will Speight or O'Korn be able to lead the Wolverines to Indianapolis and further?
Here is my 2016 Michigan football season prediction. Love it, hate it, rip it apart, I don't care. Just remember, last year, while I didn't get each game correct, I nailed the final record, including a win over an SEC team in the BWW Citrus Bowl.
Check it out below:
September 3rd vs Hawaii (1-0)
To kick off Harbaugh's 2nd season at the helm, the Wolverines get a tired Rainbow Warriors team that makes the trip all the way across the Pacific and United States. Oh, by the way, their first game just so happened to be played in Australia again Cal.
Even without the long distance flights, Hawaii is coming in with a brand new head coach and ranked 118th in the FPI (Football Power Index). QB Ikaika Woolsey and RB Diocemy Saint Juste made some nice plays against Cal but the Warriors offense struggles mightily with turnovers. They had 5 against the Bears and it could get even uglier against Don Brown's defense. On top of that, UH's defense is one of the worst tackling defenses in the country.
Though they are a team to never take lightly, Michigan shouldn't have much of an issue here as the likes of Jehu Chesson, Jake Butt and DeVeon Smith put up a very nice stat line. Expect a big, comfortable win for the Maize and Blue.
September 10th vs UCF (2-0)
The 2nd week of the year features another first year head coach coming to town with a team that Michigan shouldn't struggle with too much. UCF is coming off of a winless season last season (no, really) and is the #100 team on the FPI this year.
While this game should be another blowout for the Wolverines, UCF has a lot of athletic players that should make Scott Frost's Oregon-like offense dynamic. However, it's unlikely that it will be even close to running full tilt by the 2nd game of the Frost-era. Look for Don Brown to ramp up the pressure on this spread offense and put his guys in position to blow up the spread and possibly see the first Don Brown O. Add in the Michigan offense having a big advantage in terms of talent over the Knights defense and this game should be another comfortable day for the UM faithful.
Look for the Wolverines to take the Knights and Scott Frost to school.
September 17th vs Colorado (3-0)
The first real test for Michigan comes in the form of the program that still haunts Wolverines fans' dreams thanks to Kordell Stewart's ridiculous Hail Mary back in 1994. But while this is the best out of conference team on the schedule, there isn't a Slash in the backfield for the Buffalos.
The Buffalos are a much more talented team than the two previous opponents (#55 in FPI). However, they are not as big of a threat as they would have been with Davis Webb at quarterback. The staff will now hope for Sefo Liufau, who happens to be coming off Lisfranc fracture last year, to revive an offense that struggle in 2015. With those questions at quarterback and the Michigan staff and players likely taking their game to the next level with better talent in town, I don't see another heartbreak happening here.
Look for Harbaugh to put some points up on his good friend, Jim Leavitt, and his defense.
Michigan

 38 –

Colorado

 17
September 24th vs Penn State (4-0)
After blowing out their out of conference opponents, the Wolverines welcome the Nittany Lions to Ann Arbor. And PSU could be coming in a bit beaten up. They'll play both in-state rivals, Pitt and Temple, prior to this game which should have put a ton of pressure on James Franklin's team and first time starting quarterback, Trace McSorely.
That early schedule mixed with coming to Ann Arbor to play a hot Michigan defense should have McSorely feeling his name more than ever. UM was all over Christian Hackenberg last year in Happy Valley and it could get even worse for the PSU QB this year. Expect Don Brown to draw up plenty of blitzes on McSorely but he'll also likely try and take Saquon Barkley out of the game and make the QB beat his top level defensive backfield and rushing defensive line. Not sure I like those odds for PSU.
Though I believe this will be one of the closest games of the year (PSU is 33rd in FPI), Michigan's defensive depth and offensive talent differential should show out when push comes to shove.
Michigan

 28 –

Penn State

 20
October 1st vs Wisconsin (5-0)
For the first time since 2010, Michigan plays Wisconsin. But unlike that year, Michigan should be the favorite to win this game.
The Badgers come to Ann Arbor ranked 37th in FPI in Paul Chryst's 2nd year at the helm and, though he still needs some more time to get his team in place, this should be a hard nosed game. Wisconsin's consistently one of the best rushing teams in the nation thanks to their talented tailbacks and big uglies up front. That combination should make the trenches the main focal point throughout the game.
Though they have the talent up front, it's the passing game that they'll need to it's A game to keep this one close. In 2015, the Badgers only scored more than 30 points four times and scored 17, 6 & 7 points in their 3 losses. That's not very good.
It should be a tough, hard hitting match up but because of Michigan's talent level at the skill position and the defense at home, I see the Wolverines moving to 5-0 and ending the Badger's mini 2-game winning streak in the series.
Michigan

 17 –

Wisconsin

 7
October 8th at Rutgers (6-0)
The biggest rivalry game on the schedule, according to Rutgers fans. Michigan will make their way back to New Jersey, but this time it's not to sign their top recruiting talent. The Wolverines will get their first look at the #AshEra and it will be in fine fashion. Rutgers will be doing a "Stripe Out" night game to try and enhance the game day experience. But, unless something big happens, it may not go over very well.
Rutgers is 69th in FPI and in the first year under former Ohio State defensive coordinator, Chris Ash. They're bringing in a new spread offense, which should still be working out a lot of kinks by the time this game rolls around. Their defense will likely be pretty solid with Ash at the helm but it shouldn't be able to keep up with the Wolverines offense.
The Scarlet Knights will come out swinging but Michigan's superior talent and coaching should lead UM to a big 2nd half and nice win in New Jersey.
Bye Week (6-0)
The bye week comes at the perfect time for Michigan. Right in the middle of the season, injured players will be able to rest up and the team can turn focus to the 2nd half of the schedule, which should be a real doozy.
October 22nd vs Illinois (7-0)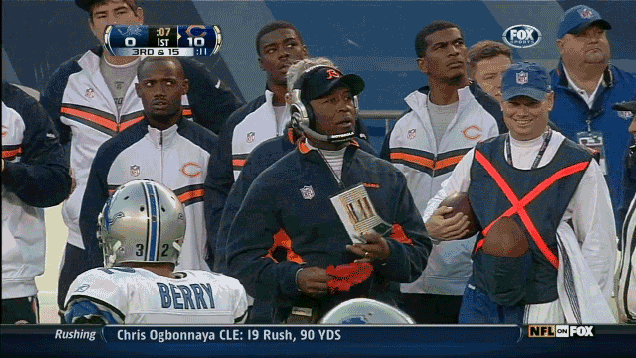 The first battle of former NFL head coaches as Lovie Smith brings the Illini into the Big House. This will actually be the first game the two have ever coached against one another and won't be the last. Though, Smith may not want to see Harbaugh again as Michigan should put on a show in front of the homecoming crowd.
Illinois comes in #75 in FPI and a ton of questions on offense and defense. Wes Lunt is a proven talent but hasn't completely put it all together just yet in his career. It doesn't help that his top weapon, Mike Dudek, tore his ACL for the 2nd straight season this past spring. Ke'Shawn Vaughn is a name to watch in the backfield after putting up nice numbers last season. Look for Don Brown to rush Lunt like crazy to create turnovers, which Michigan's defense should be much better with this season. As for the Illini defense, there are a couple play makers in both the front line and defensive backfield that Smith will utilize but they shouldn't be too much of a problem for the UM offense.
Michigan's homecoming goes off without a hitch as Lovie Smith challenges the blowout.
October 29th at Michigan State (8-0)
In the words of Ace Ventura and Drew Hallett, it's time for Michigan to "exorcise the demons!" Everyone remembers what happened last year so there's no need to bring it up again. Best believe, Michigan remembers better than anyone and will have extra motivation going into East Lansing to take on the Spartans. And I believe that motivation will be more than enough to get UM over the hump.
Michigan State is 32nd in FPI which is much lower than previous years thanks to the questions on offense. Mark Dantonio will once again have to replace his longtime starting quarterback to go along with replacing nearly MSU's entire receiving core. Losses on the offensive line will be tough to replace as well though running back LJ Scott should help hide some of that inexperience. The Spartan defense is always one of the best in the country and, though they aren't what they once were in years past, they have a lot of talent throughout the depth chart. Look out for Malik McDowell to be an issue all game long for the Michigan offensive line. Though I'm sure Jedd Fisch and Tim Drevno will have a plan on limiting his impact.
Scott and McDowell will do their best to make a huge impact but the experience difference between Michigan's starters and MSU's will be the difference. After the Spartans have taken multiple shots at UM, IF Harbaugh gets up, look for him to pile it on until the final whistle.Though it's hard to see this game getting too far out of reach for either team.
Michigan State

 17 –

Michigan

 23
November 5th vs Maryland (9-0)

After a big rivalry week, some would look at this game as a trap game. I am not one of those people. Maryland is coming to Ann Arbor with former UM defensive coordinator DJ Durkin at the helm but most of the same talent that was shutout at home last season. While Durkin will want to beat his former guys, he'll need a ton of help to do so.
Maryland comes in at #72 in FPI thanks to a questionable offense. The Terps struggled mightily last season because of poor quarterback play and shotty offensive line play. Michigan's defensive line dominated at the point of attack and should do the same again on this day. It could be another ugly one for QB Perry Hills. Maryland does happen to feature one of the most electric defensive backs in the country, Will Likely, and will have Durkin's system in place to improve their play, the talent just doesn't look to be there to keep up with the Wolverines weapons.
Durkin has a bright future at Maryland but he has a ways to get there. Michigan starts off a little slow but controls the clock and wins easily after a big 3rd quarter.
Michigan

45 –

Maryland

10
November 12th at Iowa (10-0)
In 1997, Michigan made its way to Wisconsin for, what was supposed to be, one of the toughest games of the year. However, Michigan came in flying high and knocked off the Badgers at Camp Randall. I see this Iowa match up in a very similar light.
After an undefeated regular season in 2015, Iowa comes in at #34 in FPI as Kirk Ferentz brings in one of his most talented rosters in years. QB CJ Beathard is one of the top quarterbacks in the country and will very likely be one of the top 5 quarterbacks taken in the 2017 NFL Draft. He also happens to have some talent around him in RB Akrum Wadley, RB LeShun Daniels and WR Matt VandeBerg. On defense, there's talent all over the place but all eyes will be on 2015 Jim Thorpe award winner CB Desmond King. It should be one hell of a matchup between King and both Amara Darboh and Jehu Chesson.
This is a game that could go either way but I believe Michigan will be on a roll heading into this week with their confidence booming. Harbaugh and the offense lead the Wolverines to a statement win as the hype train hits overdrive as UM is firmly in the CFB playoff rankings.
November 19th vs Indiana (11-0)
If you're looking for a legit trap game, here it is. Indiana is perfectly sandwiched between Iowa and OSU, and they also happen to be one of the B1G programs that have given Michigan the biggest headaches over the last decade. That includes last year where Michigan needed a goal line stand to hold off the Hoosiers.
The Hoosiers come in at #70 in FPI (one spot behind Rutgers) even though Kevin Wilson's offense puts on a show each and every year. But he'll have to replace several top players, including QB Nate Sudfeld and RB Jordan Howard. Will the likes of QB Richard Laglow and RB Devine Redding be able to keep that high powered offense running correctly? The system is set up to score points but when push comes to shove, it's hard to see a Michigan defense (if healthy) get gashed for big gainers like in 2015. As for IU's defense, they've been horrible for awhile and won't be much better this year.
IU always gives Michigan fits. And when you add in the trap game aspect, the first half could be much closer than UM fans want to see. But thanks to depth, experience and talent, Michigan's offense puts up a ton of points and the defense gets more than enough stops to top the Hoosiers.
November 26th at Ohio State (11-1)
Everything will come down to Michigan's final game of the regular season. Just like it's supposed to. And this final game should have more riding on it than any other since the 2006 when the Wolverines and Buckeyes fought in Columbus for a trip to the national championship. That game obviously didn't turn out too well for Michigan and, I hate to do it, but I can't see UM winning this trip either.
Ohio State comes in at #15 in FPI after losing 12 NFL draft picks, including RB Ezekiel Elliott, WR Braxton Miller, WR Michael Thomas and LT Taylor Decker. Not to mention several of their top defensive standouts. So, everything is set up for Michigan will to win big thanks to the experience level, right? Not so fast. OSU still has QB JT Barrett in the fold and former Michigan commit RB Mike Weber has superstar written all over him. Add in the very high possibility that this game could determine the B1G East champ and this is set up to be one to remember.
Going into the game, I believe OSU will be sitting at 10-1 and just hitting their stride. Urban Meyer is one of the best in-game coaches in the country, which will help make up for on-the-field experience differences. Though he'll still need his young talent to make some big time plays, I think the home field presence will be bigger than some think. This is highly unlikely to be a blowout like in 2015 but I'm going with an even worse way to lose. I'm predicting a heartbreaking loss with a last second game winning field goal by OSU's walk-on kicker.
Ohio State

27 –

Michigan

 26
Rose Bowl vs Stanford (12-1)
In the most talked about match up of the bowl season, Jim Harbaugh takes on his former program and pupil, David Shaw. Because of OSU winning the B1G and getting into the playoff (in this prediction), Michigan gets the bid to the Rose Bowl to take on Nerd Nation after they won the Pac 12 but missing out on a playoff bid. And it should be a good one.
Stanford is #21 in FPI and returns one of their most talented players in program history, Heisman trophy runner up and brother of 2017 Michigan commit QB Dylan McCaffrey, RB Christian McCaffrey. Along with the talent all throughout the defense, the Cardinal would arguably be the most talented team UM would face. But this is a big year for Michigan and after the staff showed what they could do after getting a month to prepare for Florida, I like their chances against anyone in a bowl game.
Don Brown proves his worth more than ever as he limits McCaffrey to his lowest total yards total of the season and Jake Butt has a huge game to lead Michigan to their first Rose Bowl win since 1997.
Michigan

33 –

Stanford

24
Final Record: 12-1 (8-1) 2nd in the B1G East, Rose Bowl Champs
What do you think about my full game-by-game season prediction for the 2016 Michigan football team? Let us know you think and put your season prediction in the comment section below! 
Photo Credit: Brian Spurlock-USA TODAY Sports
Latest posts by Garrett Fishaw
(see all)